Dee Dee Bridgewater, Ronnie Scott's |

reviews, news & interviews
Dee Dee Bridgewater, Ronnie Scott's
Dee Dee Bridgewater, Ronnie Scott's
Interpretative reimaginings of Billie Holiday represents jazz singing at its best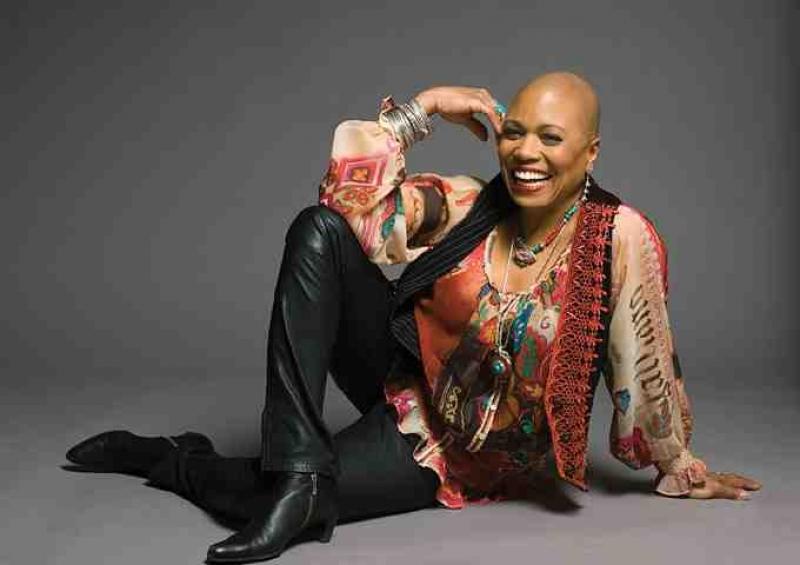 An incomparable understanding of the Billie Holiday oeuvre: Dee Dee Bridgewater
It's not every night that an artist proposes locking the doors and having "one giant orgy of love", but then Dee Dee Bridgewater has always had a singular take on things. This sold-out gig at Ronnie Scott's was one of those rare, did-that-really-happen-or-am-I-dreaming evenings where performer and audience reciprocally move into some kind of magical, harmonious alignment.
The singer was performing material from Eleanora Fagan (1915-1959): To Billie With Love From Dee Dee Bridgewater, chosen as one of my Albums of the Year in theartsdesk's 2010 New Music Round-up and a worthy Grammy winner earlier this year for best jazz vocal album. I described this homage to Billie Holiday as containing "some of the freest, most powerful, most deeply felt singing of Bridgewater's career", and that impression only deepened hearing the material live. It represents the high-water mark of a life-long journey for the singer.
Kicking off with the coruscating polyrhythms of "Lady Sings the Blues", the majestic sweep of the first set ranged from a bittersweet "Lover Man" to a worldly-wise "Don't Explain" - never has the line "You're my joy, you're my pain" been freighted with such emotion - to the hard-hitting blues of "Fine and Mellow", one of the great Holiday originals. Bridgewater, as she reminded us herself, has turned 60 ("60 is the new 40, you know"), and while she may not make quite so many vertiginous leaps in the upper register, her scatting (a virtuosic "trombone" solo on "Them There Eyes"), phrasing and timbral range – she used her gravelly blues shout to brilliant effect – remain robustly intact.
Bridgewater clearly understands the Holiday oeuvre and psyche like no other vocalist. In the 1980s she starred in Stephen Stahl's play Lady Day, a one-woman show based on Holiday's autobiography. Running in Paris and London, where it garnered the singer an Olivier Award nomination for Best Actress, it allowed her to really dig deep into Holiday's story. As anyone who has seen the singer live will know, she has the voice down pat. In an eerily accurate imitation of Holiday's signature timbre, she teased the audience towards the end of the first set about needing to go to the bathroom ("Let's all go together," Billie/Dee Dee suggested).
Opening with an inventive reimagining of "A Foggy Day" (Dee Dee really needn't have worried if we were "sick of this song"), the second set was similarly chock-full of interpretative insight: the wide open spaces the singer created in "Good Morning Heartache", the freewheeling puissance of "Mother's Son-in-Law", the immense depth and pure feeling she brought to "God Bless the Child". Following a request for "a beautiful song" – er, where had they been for the past two and a half hours? - Dee Dee dusted down "My Funny Valentine" as an encore and even managed to cast fresh perspective on this tired old warhorse. Now that really is quite an achievement.
The singer's terrific band included pianist Edsel Gomez (writer of the exquisitely crafted arrangements), Craig Handy on tenor sax and flute, Kenny Davis on bass, and London's own Shaney Forbes on drums.