Saints and Sinners: Britain's Millennium of Monasteries, BBC Four |

reviews, news & interviews
Saints and Sinners: Britain's Millennium of Monasteries, BBC Four
Saints and Sinners: Britain's Millennium of Monasteries, BBC Four
Dr Janina Ramirez throws light on the Dark Ages
Dr Janina Ramirez at Skellig St Michael, off Ireland's west coast, home to one of Europe's oldest surviving monastic settlements
When in Hilary Mantel's Bring Up the Bodies Thomas Cromwell exclaims in exasperation, "to each monk, one bed; to each bed, one monk. Is that so hard for them?" he sums up the state of moral decay into which the monasteries had apparently lapsed by the time of their dissolution.
They had, we are told, become dens of iniquity, the monks indulging in every vice and pleasure they were supposed to abstain from, and in command of such monstrous power and wealth that it is hard not to feel that maybe Henry VIII had a point.
Much as we tend to think of the monasteries as essentially medieval, the monastic ideal was flourishing in the British Isles a full millennium before Henry VIII and Thomas Cromwell ended the party in the mid-16th century. Before the great Benedictine monasteries there were hermits, whose adherence to a life of deprivation and isolation in the far-flung reaches of Ireland and Scotland was inspired by Christ's suffering in the desert, where he battled Satan for 40 days and 40 nights. But as hermits inevitably attracted sightseers and followers, they began to form communities of sorts, founded on the principle that "monks came together to be alone".
Making her way gamely to the extraordinarily inhospitable Skellig St Michael (main picture), not much more than a large rock off the west coast of Ireland, and the site of an ancient and very well preserved collection of monks' cells, was Dr Janina Ramirez, whose difficult journey, despite a motor boat and fine weather, really emphasised the isolation of the place. Her astonishment at the harshness of the life these hermits must have endured was clear, although archaeologist John Sheehan grimly reminded her that a lifetime would not have been long, with most inhabitants dying in their 20s and 30s.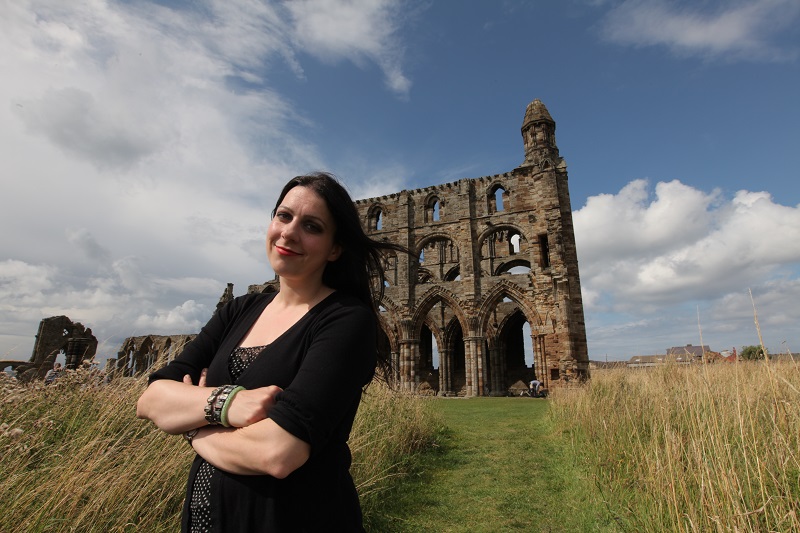 Frankly, a lot of these visionaries and zealots would today probably be diagnosed with psychological disorders, something that Ramirez politely sidestepped, and in her quest to find out more about the monkish persona, she went to visit the abbot of Mount St Bernard Abbey in Leicestershire. Now, it must be said that Dr Ramirez is not your average early medieval art historian. This is an area of academe that tends to be characterised by tweed and excess nasal hair, and the overly-curious antiquarians who get into trouble in MR James's ghost stories. Ramirez, in contrast, is, in the nicest possible way, what in Nineties Cambridgeshire we called a greb – or to put it another way, she wouldn't look at all out of place hanging about Camden Market. She certainly made quite an impression on Father Erik Varden, who probably doesn't get many chances to chat to women, certainly not one as winsome as Ramirez, and their discussion about the challenges of monastic discipline and Father Erik's "primary appetites" made slightly uncomfortable viewing.
The narrative was well-crafted, and highlighted how, even very early on, monks were only ever just one remove from power. When King Oswald established the Celtic monastery at Lindisfarne in 635AD, British monasticism was set on a trajectory that would bring untold influence and riches, but also ultimately its destruction. At Lindisfarne the monks were, for the first time, no longer concerned solely with securing their own personal salvation but were in the service of secular patrons, safeguarding the souls of the Anglo-Saxon kings. The monks were guardians of knowledge and learning; aside from crumbling buildings and fortifications, Christianity was all that remained of the Roman occupation and the monasteries were the last bastions of civilisation, the Lindisfarne Gospels remaining an astonishing monument to their achievement.
Ramirez's evocation of Britain as a violent, barbaric place, where the physical remains of the Roman occupation still loomed large, was a compelling backdrop as she described the struggle that took place between the homegrown hermetic tradition and the newer Benedictine monasticism introduced at Canterbury by the Italian monk St Augustine in around the year 600. This European import was based not on solitude but on community, and in its remarkable discipline and organisation it used the Roman army as its template. The ultimate triumph of the Benedictine model was as much a political decision as a spiritual one, Ramirez explaining that "the European union of monasteries would give access to classical knowledge and diplomatic networks."
As the first buildings to be made of stone since the Romans had left Britain 250 years before, the new Benedictine monasteries must have been truly awe-inspiring. But by reintroducing basilicas with crypts reminiscent of the ancient catacombs of Rome, the Benedictine clerics stilled dissenting voices by conjuring an almost romantic vision of the not so distant past.
Christianity was all that remained of the Roman occupation and the monasteries were the last bastions of civilisation
rating
Share this article