Wang, LSO, Tilson Thomas, Barbican |

reviews, news & interviews
Wang, LSO, Tilson Thomas, Barbican
Wang, LSO, Tilson Thomas, Barbican
Birthday gala celebrates a long and fruitful collaboration
Michael Tilson Thomas - perfect chemistry with the LSO
Michael Tilson Thomas is in town to celebrate his 70th birthday. And he's with old friends – he's been working with the London Symphony since 1970, including six years as principal conductor. There is still plenty of chemistry here, and the orchestra's strengths perfectly complement his, the clarity and boldness of his interpretations given voice in the orchestra's precise ensemble and rich sonorities.
The concert was a gala event with a retrospective feel, and each piece was well chosen to highlight an aspect of the long and fruitful relationship.
Colin Matthews' Hidden Variables ticks many boxes. The orchestral version was commissioned by the LSO and premiered by them under Tilson Thomas. It also skilfully mixes American and European traditions, gently mocking the Minimalism of Reich and John Adams by setting it in a more gritty and European Modernist context. Tilson Thomas, of course, is more than comfortable in the soundworld of John Adams, and is also apparently broad-shouldered enough to accept the good-humoured jibe. A newspaper review quoted in the programme said that the orchestra were known to give their best for Tilson Thomas, and so it proved. The invention and textural intrigue of Matthews' score made it the perfect vehicle for their collective virtuosity. Sadly, much of that detail was lost to the Barbican acoustic, but this was still a spectacular performance.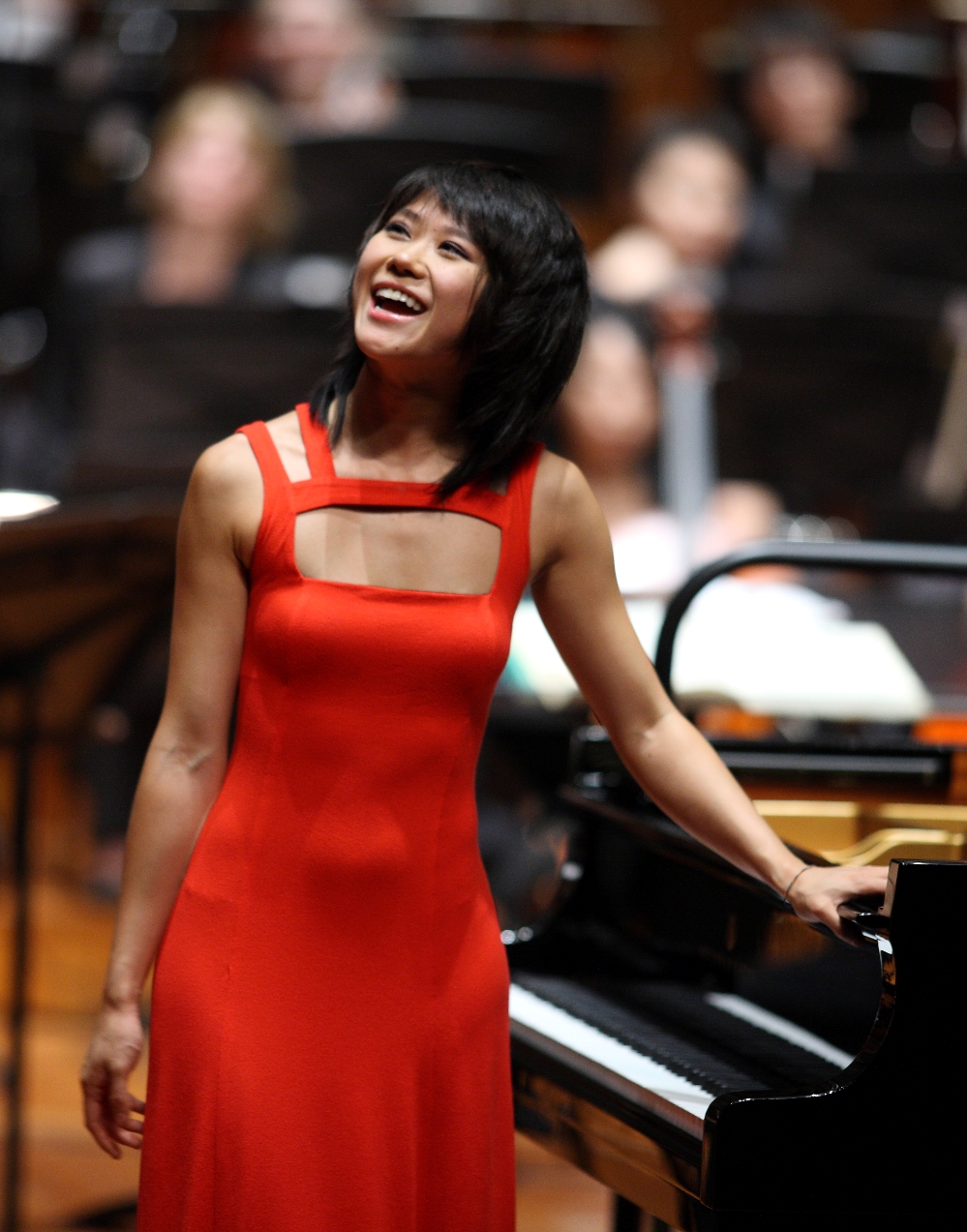 Yuja Wang (pictured right by Wang Xiaojing) is another longtime Tilson Thomas collaborator, and so another natural choice for the programme, especially for the Gershwin Piano Concerto. Texturally, this is the exact opposite of the Colin Matthews – everything here is about clarity and direct impact. Wang's slender physique belies an impressive muscularity of tone, and the clarity and precision of her articulation allow her to project Gershwin's melodic lines with ease. Add to that the ever-precise and focused LSO sound, expertly marshalled by Tilson Thomas, and Gershwin was clearly in safe hands. A special mention for principal trumpeter Philip Cobb, who yet again demonstrated why he is this orchestra's most valuable asset. His laid-back solos set the mood for the slow movement with a natural swing and a wide but controlled vibrato that was absolutely ideal. And the best illustration that he had hit the mark was the broad smile right across Tilson Thomas's face as soon as he sidled into the first phrase.
There was plenty to enjoy in the Shostakovich Fifth Symphony that made up the second half, although here the interpretation seemed more partisan. Tilson Thomas gave a powerful and often emotive reading, but one that was much cleaner, less angst-ridden, than those of the Russian conductors who dominate this repertoire with London orchestras. As ever, the relationship between conductor and orchestra yielded impressive results: the gradual build up of intensity through the first few minutes, for example, perfectly combined Tilson Thomas's sense of line and texture with the orchestra's controlled tone and carefully graded dynamics. The second movement was pleasantly dance-like, again with little in the way of angst: this was more a Ländler with unusually heavy bass. Rarely has Shostakovich sounded so Mahlerian.
With plenty of ebb and flow to the slow movement, the LSO strings really shone, as did harp soloist Bryn Lewis at the end. The finale was an appropriately grand affair, varied in tone and mood, but clearly heading to a valedictory close. There was precious little irony here, but plenty of emotional engagement nonetheless. Tilson Thomas gave us his version of this much contested symphony, and it proved compelling, not least for the superlative orchestral performance. The LSO gave their best for him, just as they have for decades.
As ever, the relationship between conductor and orchestra yielded impressive results
rating
Share this article