Napoleon, BBC Two |

reviews, news & interviews
Napoleon, BBC Two
Napoleon, BBC Two
Historian Andrew Roberts analyses how the Little Corporal came to rule an empire of 40 million people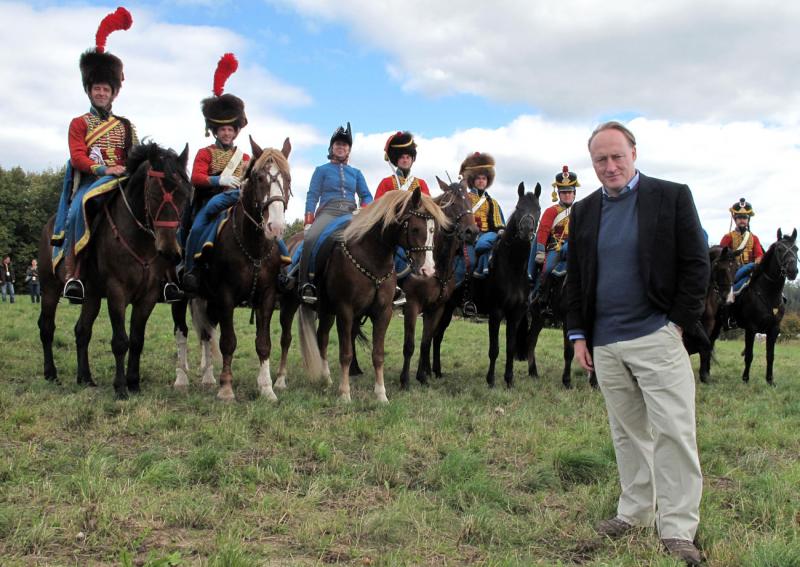 Andrew Roberts at a reenactment of the Battle of Borodino, a pivotal moment in Napoleon's invasion of Russia
It is irresistible to watch Andrew Roberts, the ambitious historian of one of history's most ambitious figures, narrating a three-part account of his hero's life and times. He is giving us a superb analysis of Napoleon Bonaparte's gifts, flaws, insecurities and achievements.
The first instalment opened with a glorious sunset over the South Atlantic, and several views of the dramatic scenery of the volcanic island of St Helena where the exiled Napoleon was held for six years, 4,000 miles from home, as the prisoner of the British, until his death in 1821 at the age of 51. We saw pivotal moments through some of the countless paintings which recorded every publicly momentous occurrence in the life of the man Roberts describes as the greatest lawgiver, administrator and soldier of modern times. Next we back-tracked to the ceremony in which Napoleon, the archetypal self-made man, crowned himself Emperor in Notre Dame in 1804. And then we returned to the very beginnings (below, Bonaparte Crossing the Great St Bernard Pass by Jacques-Louis David, 1801).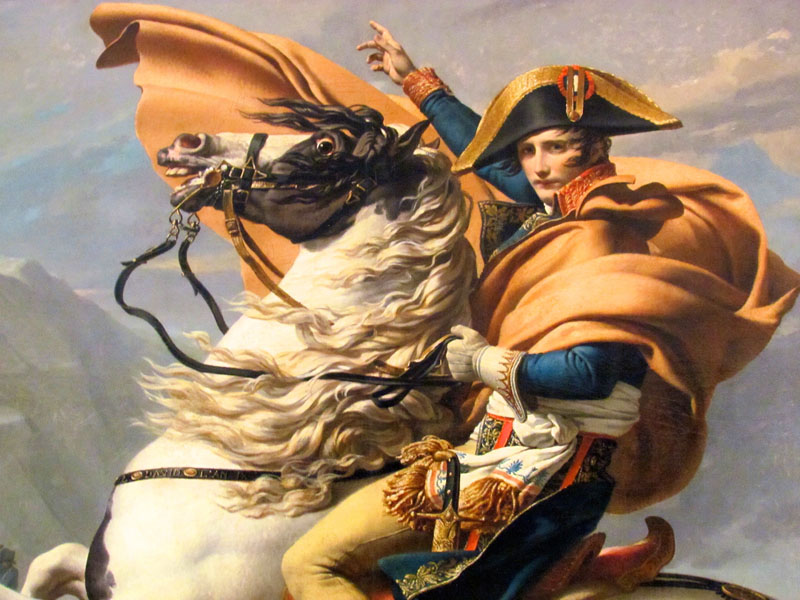 Napoleon, a Corsican provincial, was scorned for his crude French accent when only a schoolboy of nine at his French military boarding school; when only 15 he was to bear familial responsibility for his widowed mother and seven siblings. His career in the French army led to his first ruthless and successful act of military triumph, and Roberts walked the streets of Paris to show us how Napoleon and his cannon put down the threat to the revolutionary government in 1795, even firing on the church where the wounded had taken sanctuary. He killed hundreds at point-blank range with grapeshot. His troops were outnumbered five to one, yet he only lost 30 men, and averted civil war.
Along the way various myths were glossed, teased and sometimes revealed as long-held misunderstandings. What has been billed as one of the world's great romances was evidently not, or at least it was infatuation on one side, and calculation on the other. Josephine, his first wife, was the daughter of a Martinique plantation owner, and living in France as the divorced widow of a guillotined aristocratic French general. Having been incarcerated and barely escaping execution, she sought security; Napoleon sought access to the highest of political salons, through Josephine's society networks including many a grand lover.
It was an alliance of convenience, but Roberts read us the yearning letters of Napoleon to his capricious, greedy, amoral wife, showing the great military strategist in the throes of the puppydog love of a tormented adolescent. They married in March 1796, after knowing each other for only six months. At his wedding, for which he was three hours late, he gave his bride a golden medallion, inscribed "To Destiny".
Roberts delivered a painlessly detailed account of Napoleon's campaign against the Austrians in northern Italy, and in particular the strategy by which he surrounded the Austrian army and took the bridge over the river Ader into Lodi (pictured above, behind Roberts). This was followed by the taking of Mantua after an eight-month siege (even though Napoleon far preferred manoeuvres to sieges), and his arrival in Milan. He inspired his men with oratory; they nicknamed him "The Little Corporal". Northern Italy was fined and looted – the art mostly went to the Louvre – to support the fragile economy of France, at that point nearly a failed nation. Before moral outrage overtook us, Roberts, with a smile, reminded us of the myriad origins of the British Museum's collections.
We also witnessed the failed Egyptian campaign to gain influence in Ottoman-held Egypt – an attempt to sabotage the British command of the Eastern Mediterranean and its trade routes to the East. Napoleon set sail in May 1798 with over 400 ships and 37,000 men, but it wasn't enough and he was defeated at the Battle of the Nile (pictured below). On an Egyptian beach there occurred the massacre of possibly 4,000 prisoners of war, which Roberts regards as the greatest brutality Napoleon perpetuated, and which would now be considered a war crime.
This first instalment ended at the moment in 1799 when in a bloodless coup d'état Napoleon declared himself First Consul, neatly trapping the ruling Council of France with tales of defending them from a perfidious British plot, and becoming his beloved secular nation's political as well as military leader. How he was then for a few short years to rule an empire of 40 million, with a 400,000-strong Grande Armée, is a story to be told in the subsequent two programmes. Roberts portrays Napoleon as a revolutionary social progressive, provoking the forces of the reactionary absolute monarchies which surrounded republican France.
The music by Nick Norton-Smith, was rather splendid: militaristic, triumphant, atmospheric, and cleverly punctuating succeeding episodes. But as with too many television programmes, it was so loud at times as to dominate and drown out the narrative. A little moderation please.
Roberts read us the yearning letters of Napoleon to his capricious, greedy, amoral wife, showing the great military strategist in the throes of the puppydog love of a tormented adolescent
rating
Share this article