Love & Mercy
Love & Mercy
Bittersweet biopic portrays Beach Boy Brian Wilson as a sensitive Californian Amadeus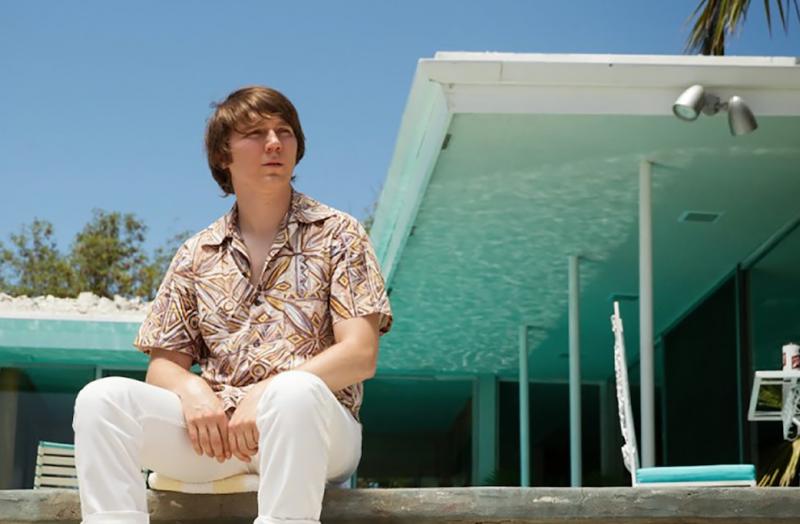 Paul Dano: capturing young Brian's combination of sweetness, awkwardness, and sheer creative joy
The pop-genius-as-self-destructive-lost-soul biopic is this year's genre du jour. We've already had documentaries on Amy Winehouse and Kurt Cobain, while coming down the pike are dramatised bios of NWA, Hank Williams, Elton John, and, again, Cobain.
Now
Love & Mercy
, a fictionalised life of Brian (Wilson), presents the Beach Boys' resident composer of gorgeous pop classics like "God Only Knows" as a sort of Californian Amadeus, an otherworldly savant through whom sublime music pours while he tries to escape from the domination of a stern father. As with all such biopics of artists, it helps to be a fan of the work, but Wilson is a sufficiently sympathetic central figure and the story compelling enough to appeal beyond aficionados.
Director Bill Pohlad (a producer of Brokeback Mountain and 12 Years A Slave) increases the story's resonance by focusing on two key episodes in Wilson's life: the making of the visionary album Pet Sounds and his subsequent breakdown; and, two decades later, his escape from the clutches of manipulative psychotherapist Eugene Landy – played with lip-smacking relish (and a dollop of ham) by Paul Giammatti – thanks to the love of a good woman.
Like Todd Haynes's I'm Not There (and indeed, sharing screenwriter Oren Moverman with it), the film dispenses with realism by having the Different Ages of Brian played by different actors, though at least there are only two, unlike the Dylan biopic's seven.
An excellent Paul Dano (main picture and right) captures young Brian's combination of sweetness, awkwardness, and sheer creative joy. The Sixties Wilson seems to have it all — the beautiful Los Angeles pad, the loving wife, money rolling in, bandmate brothers and cousins to enjoy it with. But he still bears the scars of his relationship with his abusive father Murry, who deafened him with a blow to the right ear and kept him at the piano producing carefree music about "Fun, Fun, Fun" and cars and girls. Ironically, the poet laureate of the surf scene rarely got near the beach. No wonder the hallmark of Wilson's best songs is an intense wistfulness.
When Wilson decides to abandon the lucrative, mainstream Beach Boys formula to pursue his personal vision, Murry strikes back with a lethal "no one will remember you in five years." Wilson is also undermined from within the band by his cousin Mike Love, a sort of Murry-lite, who is similarly opposed to straying from the commercial path.
As in other accounts of the band, Love is depicted as an overbearing jerk, but at least he has a personality. The other Beach Boys are ciphers, even Wilson's troubled brother Dennis, who had his own dramatic struggles with drugs and falling into the orbit of a malign charismatic figure, Charles Manson.
But Wilson perseveres, and in fact the film's most entertaining scenes are the "classic albums"-like sequences where he's in the studio putting kirby grips on piano strings or instructing cellists (for hours) to get the exact sound he wants for Pet Sounds, spurred on by the determination to be more innovative than both the Beatles and Phil Spector
It is here among the ace studio musicians that he finds an alternative family who really appreciate him. As Carol Kaye, who played bass on the album, told me earlier this year, "Brian heard things in a funny way, and it worked."
However, outside the studio, Wilson's grip on reality is loosening, effectively conveyed by an increasing cacophony interrupting the music he is trying to bring into being, a situation not helped by his ingestion of LSD. Always on the shy and retiring side, he takes to his bed – not for nothing was one of his best songs called "In My Room" ("there's a world where I can go/And tell my secrets to") – and barely stirs for the next two decades.
Intercut with this depiction of Wilson at his creative peak are scenes of the Eighties older Brian, a burnt-out case who the scheming Landry keeps over-medicated while draining him of his money, like one of those poor bears caged to be drained of their bile. Murry is finally gone, only to be replaced by an equally maleficent, controlling father figure, the leader of a cult of one who exercises total control, isolating his lone follower from family and friends.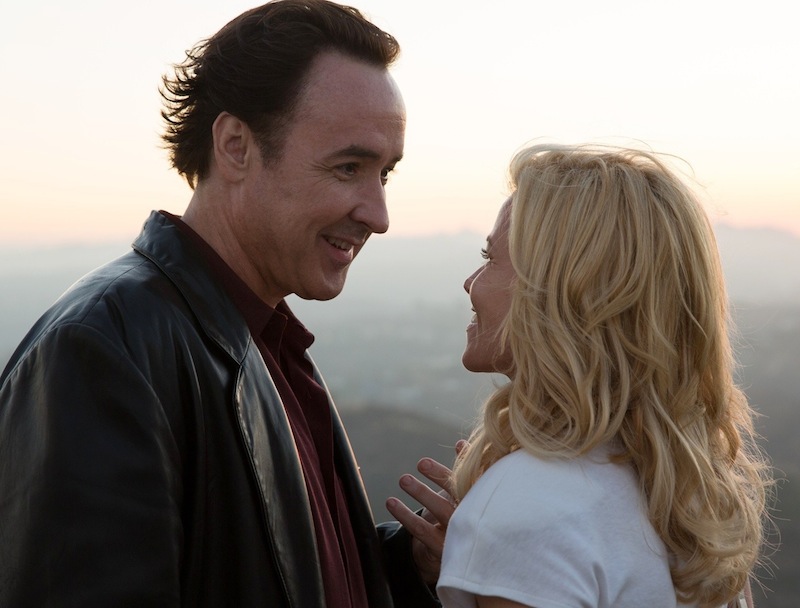 Luckily, Cadillac saleswoman Melinda (a sensitive Elizabeth Banks, pictured left with Cusack), whom Wilson has met while car shopping, grows to love the reclusive musician and manages to free him. Not only is she leggy and blonde, she's also resourceful, smart, loyal, and understanding.
While a wonderful thing for Wilson personally, such perfection does not make for a dramatically interesting character. Love & Mercy was clearly made with official approval (the real Wilson turns up to sing the title song under the credits) but it seems that while the film's subject had no trouble with his own flaws being shown, the lady wife had to be presented as a picture of unblemished saintliness.
In general, the Eighties characters are too neatly divided into Heroes and Villains. And John Cusack's older Brian shares with Dano the original's out-of-sync quality but seems rather too cool and sexy (JC just can't help it), though this does make it more believable that his dream California Girl would fall for him.
Unlike those of so many troubled geniuses, Wilson's story ends happily. But the most significant part of the happy ending is omitted – shortly before the millennium, another group of appreciative ace LA studio musicians lured Wilson back to the stage, treating the composer with love and respect (and mercy), playing the music with consummate skill, and introducing him to new audiences. "I just wasn't made for these times", Wilson sang from the heart, but perhaps he has finally found his moment.
The poet laureate of the surf scene rarely got near the beach. No wonder the hallmark of Wilson's best songs is an intense wistfulness
rating
Explore topics
Share this article