Trofonio's Cave, Bampton Opera |

reviews, news & interviews
Trofonio's Cave, Bampton Opera
Trofonio's Cave, Bampton Opera
A country-house opera comes to London with a fast-paced Salieri show
Wednesday, 16 September 2015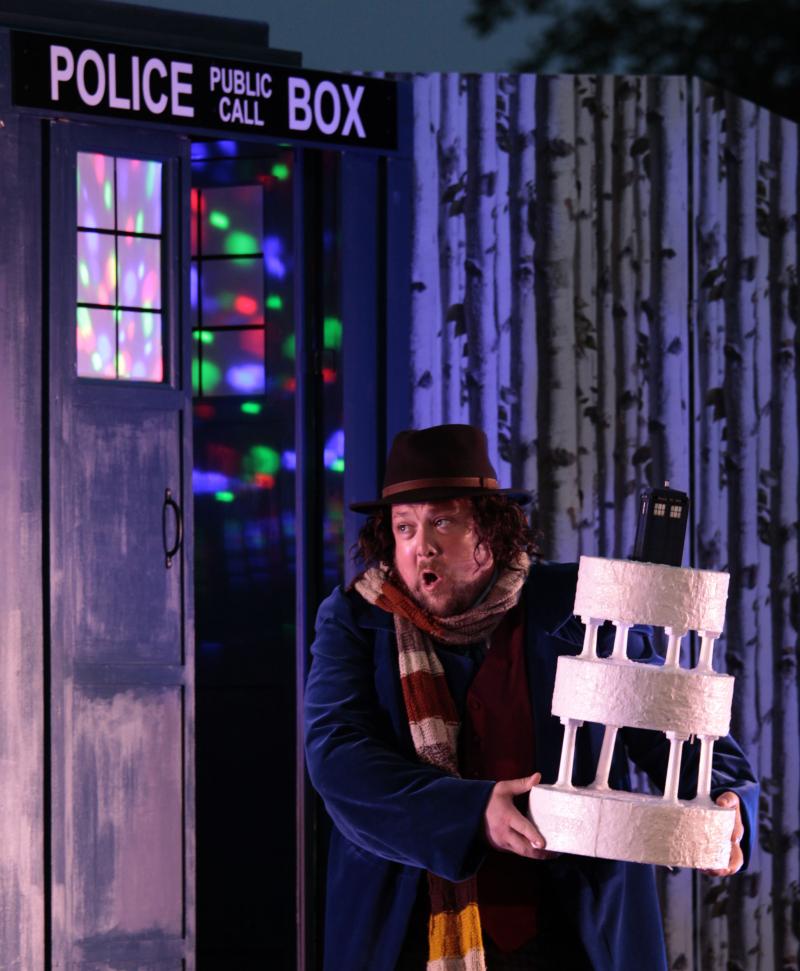 Trofonio (Matthew Stiff) outside his cave, in Bampton Opera's production of Salieri's farce
Antonio Salieri. Mozart's nemesis – wrong. Beethoven's teacher – right. Unjustly neglected in his own right – maybe. Bampton Opera have put some flesh on the bones of his reputation with an English-language production of La grotto di Trifonio, first performed in Vienna, October 1785. They have done Salieri proud: we can see for ourselves why he is who he is.
He wrote a later operatic entertainment whose title encapsulates the tension at the heart of opera: First the music, and then the words. So, first the music. It's heady stuff. Richly chromatic, sumptuously orchestrated, easing in and out of dissonance with the same mastery of craft that he uses to blend horns and bassoons on the composer's palette, or accompany a lovely tenor aria with a bass running gently beneath tweets and trills from soft flutes that later turn up in the slow movement of Beethoven's Pastoral Symphony. Paul Wingfield's direction of the Chroma Ensemble was fleet and well-pointed, keeping the trumpets down and giving free rein to some fine continuo playing from Marek Ruszczynski.
'Trofonio's Cave' is six characters in search of a drama; 'Così' is where they find it
Then the words. The plot is a calculated comedy of confused identities, stuffed with popular tropes and archetypes to hit the operatic jackpot of the day. Two sisters, one serious, one frivolous? Check. Both in couples, split by misunderstanding? Check. A magus-figure of outlandish power and uncertain motives? Check. Around this time a "Let's make an opera" handbook was written in which Gottlieb Stephanie, librettist to Mozart for Die Entführung aus dem Serail, passed on his wisdom to aspiring librettists and composers. Though Salieri and his librettist Giambattista Casti were too experienced to need Stephanie's help, it's as if they studied every word and then wrote Trifonio's Cave, with arias, duets and ensembles all present and correct. More to the point, it seems impossible that Mozart and da Ponte didn't sit in the Burgtheater in 1785 to watch, listen and learn. Così fan tutte was first staged there five years later.
The translation is the work of the Bampton Opera's co-artistic directors, Gilly French and Jeremy Gray, made with the experience of staging the UK premiere of Salieri's Falstaff in 2003, and many other classical-era rarities since then. It's as quick and witty as Jeremy Sams' work for ENO, and no less susceptible to the kind of cognitive dissonance that arises from an 18th-century plot, updated in Gray's own staging to a Coward-era setting of tea-dresses and tweed, in which a character can exclaim "Alas and alack" one moment, followed hard by "He's just a charlatan, a nutcase", like the waterbottle on the mantelpiece in Downton. At least, thanks to superb diction from all the singers, every word came through, and without the aid of surtitles.
That character is Aristone, the sisters' father, and James Harrison made the best of his blustery aria to open the second act. The Fiordiligi-prototype is Ofelia, sung earlier in the summer by Anna Starushkevych, but visa problems prevented her from rejoining the company for this performance at St John's Smith Square; she was bravely replaced onstage by the assistant stage manager, Marieke Bernard-Berkel, and the part fearlessly sung from the wings by Catherine Backhouse.
Ofelia's sister is Dori (da Ponte could have tried harder there), who may not have Ofelia's vocal pyrotechnics but Aoife O'Sullivan stole the show nonetheless, with good comic timing and a warmly poised lyric soprano. Before venturing into his cave (cue more smutty translation), they were joined by Trofonio (Matthew Stiff) for the score's "Soave s'il vento" moment. Opening with a gravely imposing D minor pronouncement, Stiff had the required vocal gravity. As Ofelia's fiancé Artemidoro, Christopher Turner made a convincing transformation from heroic oaf back to ardent philosopher, trading smart banter with his fellow-suitor Nicholas Merryweather (as Plistene, pictured above, with Aoife O'Sullivan).
The evening flew by but, if anything, the familiarity it afforded with the material and context of da Ponte and Mozart's partnership only increased my appreciation of their originality. Salieri's vocal lines can be pretty adventurous, but they are pretty all-the-same. Where he was content with sweet harmony in the pit and confusion on stage, Mozart/da Ponte fused the two. Trofonio's Cave is six characters in search of a drama; Così is where they find it.