Pelléas et Mélisande, English Touring Opera |

reviews, news & interviews
Pelléas et Mélisande, English Touring Opera
Pelléas et Mélisande, English Touring Opera
A deft chamber arrangement makes for an unusually intimate production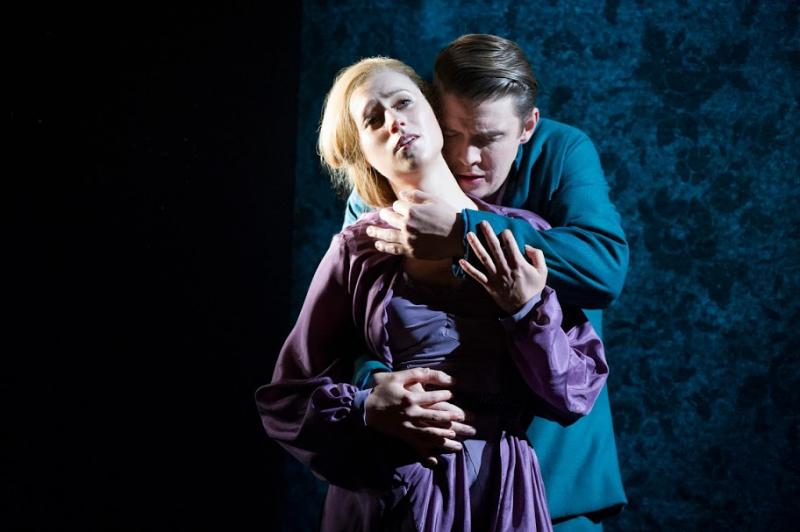 Pelléas (Jonathan McGovern) and Mélisande (Susanna Hurrell) embrace with ambiguous affection
Shorn of several scenes, characters, and a large portion of the orchestra, the question was always whether English Touring Opera's Pelléas et Mélisande was going to thrive in its new intimacy and intensity or shatter with the pressure. The answer sits somewhere between the two, in a production where some orchestral deficiencies are supplemented by a strong cast and bleeding cuts are – at least partially – staunched by an elegant, understated production.
The deep jewel tones of Oliver Townsend's sets give the Kingdom of Allemonde a soft-focus, underwater gloom. Everything in this unchanging landscape is caught in stasis, suspended between worlds. Though I question the wisdom of setting one of the most insistently outdoor of operas in an abstract interior (an overturned filing cabinet serves as well and cliff), this gently Pre-Raphaelite world of printed wallpapers, tumbling skeins of hair and knightly conflicts adds a framing narrative to Maeterlinck's story: are these people playing at legends or truly living them?
Both Hurrell and Conway court the ambiguity of Mélisande's infidelity
In a neat echo of Maeterlinck's own original production, part of the stage is obscured behind thin mesh, blurring the action behind it, and rendering it, initially, with a clever trick of lighting, two-dimensional. The effect is of characters stepping from a painting – a sense not greatly shaken by the action that follows.
Susanna Hurrell's nervy, fragile Mélisande is all saucer-eyes and uncertainty – a timid creature barely civilised during her time at the castle. A fuller, more grounded voice than we often hear in the role lends an edge to this innocence, however, and both she and Conway court the ambiguity of her infidelity. Whether she is more sinned against or sinning remains tantalisingly unclear; when she protests the innocence of her love for Pelléas we believe her. The only sour note in Conway's direction sees Mélisande kiss Michael Druiett's king (at its best in the crooning delicacy of the final act) with unnecessary fervour, complicating one of the opera's only straightforwardly tender relationships.
The opposing points of the love triangle – Stephan Loges's Golaud (pictured right) and Jonathan McGovern's Pelléas – are both strong in their magnetic tug on Hurrell's Mélisande. McGovern's boyish appearance is matched by an immensely attractive, tenorial baritone that opens up at its top end with unexpected warmth. His dynamic with the older, more rooted Loges – sternly beautiful in his anger – is natural and unforced, only equalled for charge by the interactions between Loges and Lauren Zolezzi's Yniold – chamingly unaffected and sweetly sung. Only Helen Johnson's Geneviève jars, with some linguistic awkwardnesses.
Annelies Van Parys's arrangement takes Debussy's score down to just 14 parts. Texturally it's a miracle of allusive flexibility, if anything intensifying the work's French accent with its deft reworkings and instrumental groupings. Its thinner textures do, however, demand truly soloistic chamber playing, something lacking here on opening night. Conductor Jonathan Berman failed to generate the necessary flexibility to carry his band across Debussy's tricky transitional thresholds, and this, coupled with some tuning and ensemble issues, led to some bulges spoiling the score's fluid lines.
ETO have taken a risk here, but it's one whose pay-off will only increase as the run continues and the music settles. The chance to hear a Pelléas this good at venues right across the country is rare, and one that should be seized.
Texturally this arrangement is a miracle of allusive flexibility, if anything intensifying the work's French accent
rating
Explore topics
Share this article