Squeeze & John Cooper Clarke, Symphony Hall, Birmingham |

reviews, news & interviews
Squeeze & John Cooper Clarke, Symphony Hall, Birmingham
Squeeze & John Cooper Clarke, Symphony Hall, Birmingham
New Wave veterans add Country and Western vibes and come up smiling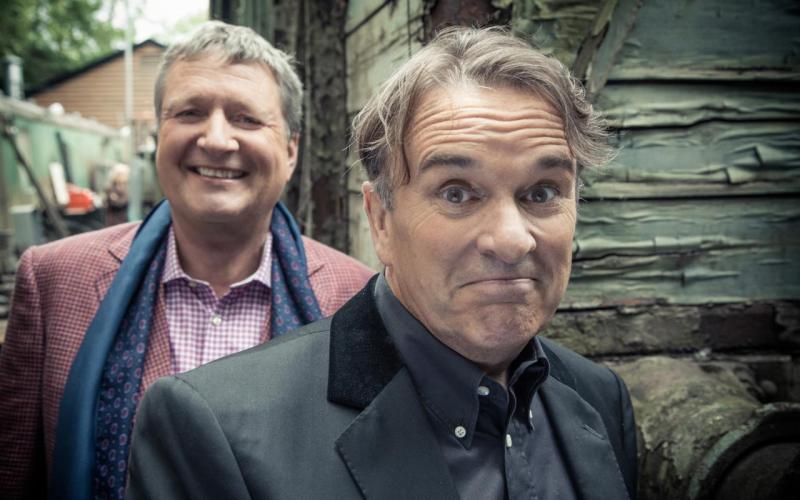 Squeeze mainmen Glenn Tilbrook and Chris Difford
Considering that they have never been known for their sartorial elegance, Squeeze are looking pretty smart and stylish these days. Band leaders Chris Difford and Glenn Tilbrook took to the stage in Birmingham looking especially dapper, with Tilbrook looking like he'd just walked off the set of Miami Vice in his pink suit.
This was matched by a slick set with a video screen that showed what were more like short films for each song than the usual concert projections, making it clear that while they might be veterans, Squeeze were still going to put on a show.
But first up was the legendary Dr John Cooper Clarke. Looking like an anorexic Ozzy Osbourne, he informed us "Never mind the hair. I'm growing it for a film. I'm going to the pictures next week", to loud laughter. As is his style, Clarkey motored through a set that started with "The Official Guest List" and took in such career peaks as "Hire Car", "Twat", "Beezley Street" and its gentrified update, "Beezley Boulevard".
The decidedly greying audience stayed sitting for most of the set
Relatively newer fare and a mini lecture about Minimalism were also on offer though, with the hysterical "Bed Blocker Blues" and "Trouble At Mall" – about a mythical Oldham "because I've never been there!" – being particular highlights. However, it was the timeless "Evidently Chicken Town" that stole the show and had the crowd in stitches, before an encore of "I Wanna Be Yours" – "a poem that dragged me to the top of the hit parade thanks to the Arctic Monkeys".
Squeeze may have been around, on and off, since the late 1970s but they have in no way landed themselves in a sonic rut, and they were keen to show off plenty from their latest album Cradle To The Grave. A barn-dance friendly "Slap and Tickle" and rootsy versions of "Black Coffee In Bed" and "Goodbye Girl" also suggested that they are certainly up for tinkering with their old tunes and keeping things interesting without freaking out their fans. In fact, for all their New Wave beginnings, the Squeeze have more than a dash of Country and Western vibes underlying most of their set these days – emphatically underlined by cracking covers of "Hunter Valley PTA" and Tom Waits's "I Don't Wanna Grow Up".
As is often the way in seated venues, the decidedly greying audience stayed sitting for most of the set. However, once the band pulled into the final straight with their 1981 hit "Tempted", everyone was on their feet and clapping and singing along. "Pulling Mussels (From A Shell)" and a barnstorming "Up The Junction" similarly had the audience whooping for more. Squeeze duly obliged and returned for a couple more tunes off Cradle To The Grave before launching into a sublime "Cool For Cats" and "Take Me I'm Yours", which ended with the band deep in the audience, still playing their instruments, and definitely not just going through the motions.