Xanadu, Southwark Playhouse |

reviews, news & interviews
Xanadu, Southwark Playhouse
Xanadu, Southwark Playhouse
This retro roller-skating musical comedy is divinely bonkers
Tuesday, 03 November 2015
It's all Greek to me: Carly Anderson's muse prepares to leave Olympus
It trashed Olivia Newton-John's film career, halted the movie-musical revival, and was so critically reviled it led to the creation of the Razzies. How, then, could the stage version of hubristic 1980 flop Xanadu become a 2007 Broadway hit? The answer, as illustrated by Paul Warwick Griffin's sublimely silly Southwark Playhouse production, is to laugh at itself first.
Adaptor Douglas Carter Beane retains the best of the original – John Farrar and ELO leader Jeff Lynne's infectious pop/rock score – and lovingly spoofs the rest. The book's absurd Ancient Greece/contemporary California mash-up becomes a blessing, giving this goofy musical a natural place in a theatrical landscape that includes Forbidden Broadway and Spamalot. Chief muse Clio (Carly Anderson, pictured below right with Samuel Edwards) braves 1980s ("Ew!") Venice Beach in order to inspire Edwards' dumb hunk Sonny, who dreams of uniting all art forms in a temple of the age: a roller disco. But if Clio breaks Zeus's rules by creating art herself or falling in love with a mortal, she'll be banished to the netherworld for all eternity. Mega bummer!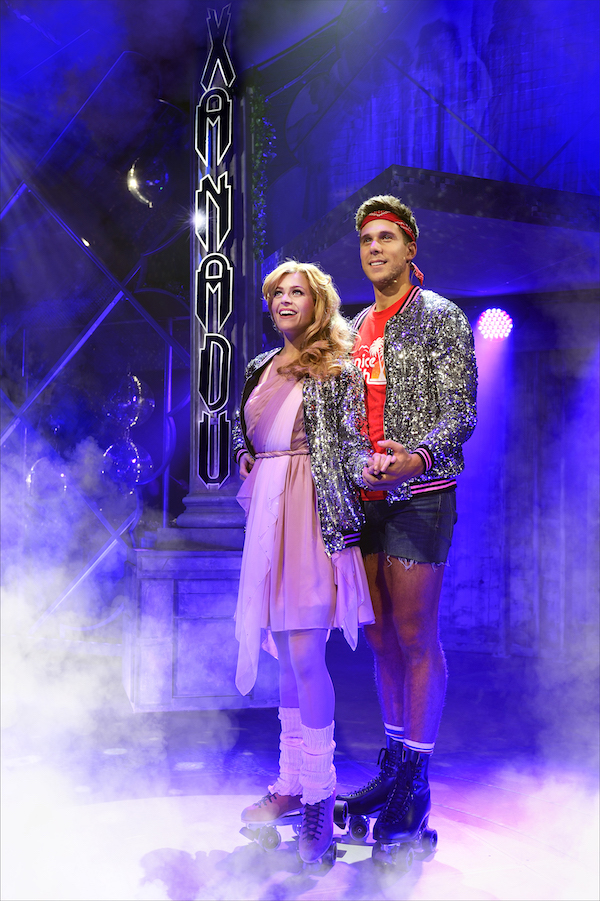 Marrying a "shrimps on the bahhhhbie" cod-Australian accent with bouncy Barbie curls, soaring soprano and ethereal skated arabesque upon every entrance, Anderson is an irresistible live-action Disney cartoon. Together with fine-voiced Edwards, a vision in bandana and alarmingly brief denim cut-offs, they underpin this self-satirising show with necessary emotional commitment – against all odds, 11 o'clock number "Suspended in Time" is genuinely stirring. The relative virtuosity of their skating (Anderson throughout, and even limping on one skate) becomes apparent when the rest of the cast join them for a wobbly finale.
But make no mistake: this is period pastiche a-gogo. It couldn't be more Eighties if Duran Duran were snorting coke off the front row. Nathan M Wright's righteous routines include numerous nostalgic nods, from Thriller and Vogueing to disco and – of course – the air grab, while a 1940s flashback features Andrew Sisters swing and a tapper trading with jazzy scatting. There's something for theatre nerds, too, with pot shots taken at jukebox musicals, screen-to-stage transfers and Lord "anti-tax credits" Lloyd Webber himself. "It's like children's theatre for 40-year-old gay people!" cries muse Calliope, and somehow that plays like a compliment.
The devils get plenty of good tunes. Nigel Barber's Gordon Gekko-like developer turns suave crooner in flashback, recalling his dreams for a theatre now bound for demolition and condos, while jealous muses Calliope (Lizzy Connolly) and Melpomene (Alison Jiear) plot to harsh Clio's mellow. The sisters vamp it up marvellously in "Evil Woman", comic standout Connolly yelping the guitar riffs. The other muses form a fun backing pack, adding nutty gags like Terpsicore (Joel Burman) punctuating speech with outlandish grand jetés.
There's rousing support from the live band, and Morgan Large provides a charmingly tatty cardboard cut-out set and Eighties-tastic costumes, including crotch-hugging leotards for sexually suggestive "Physical" and the ubiquitous leg warmers – which, in turns out, could have been the saviour of Achilles. That the title refers to a convoluted MacGuffin is just about forgivable in such a giddily entertaining piece, which even throws up a few serious points: art should not be sacrificed when times are tough, and there is as much joy in creation as in parodic deconstruction. Camp as Christmas, and, in its oh-so-kooky way, the perfect show to kick off the festive season.
It couldn't be more Eighties if Duran Duran were snorting coke off the front row
rating
Explore topics
Share this article