Reissue CDs Weekly: Slade |

reviews, news & interviews
Reissue CDs Weekly: Slade
Reissue CDs Weekly: Slade
Lavish box set paying tribute to a British great is one for the Christmas list
Not treated with high seriousness: Slade in September 1972
It's one of the greatest rock songs of the Seventies. The production is dense and the churning guitars are thick with tension. Beginning with a minor-key riff suggesting a familiarity with The Stooges' "No Fun", the whole band lock into a groove which isn't strayed from. The tempo does not shift. Rhythmically, this forward motion has the power of a tank stuck in third gear. The voice suggests John Lennon at his most raw. Two squalling guitar breaks set the Jimi Hendrix of "Third Stone from the Sun" in a hard rock context. Produced by former Hendrix co-manager Chas Chandler, it could be an outtake from MC5's 1971 album High Time. Yet this was not a Detroit contemporary of The Stooges or MC5, but "I Won't Let It 'Appen Agen" by Slade: track four, side one on their 1972 album Slayed? and also the B-side of the hit "Gudbuy T' Jane" single.
While touring America, Slade shared a bill with MC5. But – with the exception of Alice Cooper – they did what none of the heavy Detroit bands could: they became chart regulars, albeit in their home country rather than the whole world.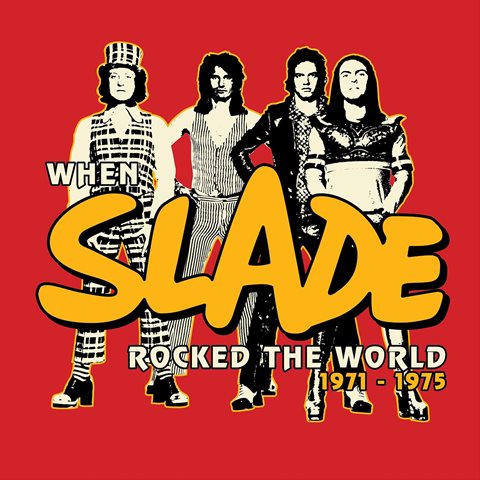 The wonderful "I Won't Let It 'Appen Agen" isn't particularly obscure. Both the album and single it was on were chart toppers. The band which recorded it are not treated with the high seriousness of MC5. The reason could be that they hit the charts during the glam rock boom, looked the part for the era, were from Birmingham, had a pop rather than a rock audience, eschewed a radical agenda, were avowedly populist and down-to-earth, a combination of all and no doubt more. Endorsement by Oasis during the Britpop fad of two decades ago was never going to make Slade cool as such.
Of course, this is fine. Music is music, and will always tell the story. However splendid it is, When Slade Rocked the World 1971-1975 is unlikely to alter perceptions.
This lavish new box set includes the four albums delineating Slade at their commercial high point: Slayed? (1972), Slade Alive! (1972), Old New Borrowed and Blue (1974) and Slade in Flame (1974). Each comes on differently coloured vinyl (the banana-yellow Slade in Flame is particularly attractive). There is also a double CD including all the music from the albums, and four picture-sleeve singles of the non-album tracks from the era: taking in the ever-magnificent "Coz I Love You" and the over-exposed, so now hard-to-listen-to, "Merry Xmas Everybody". The 12-inch square box also houses a reproduction of George Tremlett's 1975 paperback biography Slade, a facsimile of the band's interview flexi-disc Slade Talk to 19 Readers, and a newly compiled Seventies annual-style book filled with images of memorabilia and contemporary articles. Repros of eight lobby cards for their film Slade in Flame are included in a 1,000-edition version of the set.
Nothing is previously unreleased and much – bar the lobby cards – of what is included is fairly easy to find with a quick internet scour. This release is either for those who want the artefact or for anyone needing to upgrade their scratched or dog-eared originals. At around £110, it is pricey but marvellous and puts the 2006 4-CD set The Slade Box in the shade. It should be noted though that first pressings of the albums in decent shape fetch around £3. The 1972 19 magazine flexi-disc can be found for about £1.
Being confronted with this much Slade in one go is daunting. The familiar hit singles whizz by but the context of their albums brings a new life and a surprising freshness. On Old New Borrowed and Blue the yearning "Everyday" (clearly an influence on Oasis) is given an added poignancy by being followed by the lurching, Stones-style rocker "Good Time Gals" where Noddy Holder declares: "I wanted to suck your candy, give me good time gals for the rest of my life". Slade did not end albums on a downer. Slade Alive! is a delight and concludes with a fantastic, unhinged version of Steppenwolf's "Born to Be Wild" which features some riotous feedback-ridden, police siren-style guitar mangling nodding to the solos on The Yardbirds' "Happenings Ten Years Time Ago".
The new versions of the albums sound as good as the music. Comparison with the original releases reveals the new remasters as punchier and more dynamic than the Seventies pressings. The enhancement does not come across as inauthentic since the trademark density of the band's sound is preserved.
When Slade Rocked the World 1971-1975 is not strictly essential due to the availability of much of its content in its original form. But it is well-conceived and will thrill any fan of the band. Christmas is coming and if the pockets are deep enough, any Slade devotee would be overjoyed to find this hefty box in their stocking. The less-committed also need to hear this band at their peak so, again, if the budget stretches to it, this first-rate tribute to a British great is an extravagant entry point.
Next week: Former Fairport Convention singer Judy Dyble
Subscribe to theartsdesk.com
Thank you for continuing to read our work on theartsdesk.com. For unlimited access to every article in its entirety, including our archive of more than 10,000 pieces, we're asking for £3.95 per month or £30 per year. We feel it's a very good deal, and hope you do too.
To take an annual subscription now simply click here.
And if you're looking for that extra gift for a friend or family member, why not treat them to a theartsdesk.com gift subscription?