Around the World in 80 Days, St James Theatre |

reviews, news & interviews
Around the World in 80 Days, St James Theatre
Around the World in 80 Days, St James Theatre
Lucy Bailey's version of Verne's 'voyage extraordinaire' bustles along most beguilingly
The moment of capture: all (bar one) of the cast on stage as a brisk journey continues
One of the joys about this stage adaptation of Jules Verne's Around the World in 80 Days is the contrast between its phlegmatic hero Phileas Fogg, who deals with everything in terms of precision and logic, and the picaresque confusion of his journey. Fogg (Robert Portal) has the habit of laying down portentous truths in an attempt to mediate the scampering mix-ups that he encounters at every stage. One such aperçu, "A well-used minimum suffices for anything," serves nicely as a verdict on Lucy Bailey's energetic, engaging production.
Bailey and her designer Anna Fleischle – whose hand drives the action equally in what must count as a joint effort, with Lizzi Gee's movement work no less involved – have mentioned their fascination with the artist Heath Robinson, and the comparison fits well. Robinson must be the consummate artist of making things work despite, rather than because of everything, and that sense of energetic improvisation – of the space, principally, here – comes together very tightly.
The level of ensemble business is most attractively done
We start in Fogg's London home, where a strict rhythm prevails which is itself mechanical, and the set routines of daily life (organised to the exact minute – and degree of temperature, as a valet discovers to his cost when he brings a cup of tea that's colder by a fraction than usual) dominate. Fleischle's design nicely divides the space into below and above stairs, with the mechanism of the house controlled from underneath, complete with piano and sound orchestration (composer Django Bates and sound designer Mic Pool chip in their own energetic contributions to this audio-visual melting-pot); the two-storey effect continues beautifully when the journey begins, the lower space becoming, among other things, the bowels of the various boats on which the travellers embark.
The rhythm of Fogg's London life is centred around his whist evenings at the Reform Club, at one of which he accepts his fateful wager (the sum would apparently come in at just over a million and a half in today's money!) to prove that the globe really can be traversed in the time of the title. That regularity is the thing that draws in the ever-endearing Passepartout (Simon Gregor): after years of his circus wanderings, the attractions of the life tranquille beckon. Little does he know… And even in sedate London, Fogg has to walk a treadmill just to keep still, the device recurring at various points in the course of the action: movement barely stops.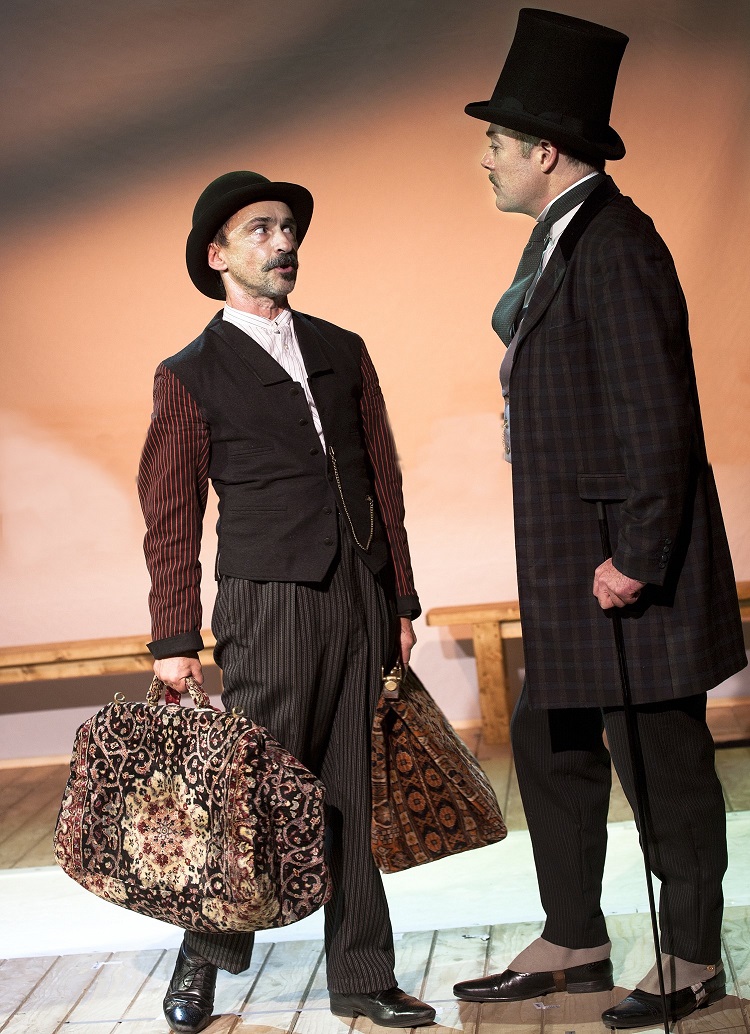 Bailey manages a cast of eight for at least 50 characters, and the level of ensemble business is most attractively done, as everyone bustles along furiously from steamer to train and vice versa, and on via various more eclectic forms of transport. The effect often comes close to visual tableaux, as in the late wind-sledge ride across America (that stage of the journey, main picture): the balloon scene that's so well known from the film at that point is mooted but never attempted in the novel – "it would have been highly risky and, in any case, impossible" being Verne's authorial comment. As if neither risk nor possibility threaten any of the travellers' other antics.
There's the rolling of steamer decks and seasickness aplenty, while the elephant ride (pictured below) is glorious – the animal's a combination of lengthy trunk, which can get into all sorts of places, and huge ears. That short diversion on the Indian stretch of the journey (the main snag in the promised route, given that there's a stretch of railway track yet to be laid), is among the most memorable, not least because it introduces us to Mrs Aouda (Shanaya Rafaat), who gradually becomes the third distinct character here. That's character as opposed to personage: Tony Gardner's Inspector Fix may travel more of the journey, but the script somehow leaves him in quasi-pantomimic villainy, an ingenious player of tricks who's not given much more by Laura Eason's script.
And, in truth, it isn't a script that offers a great deal in the way of characterisation, even if it wasn't being played at such breakneck speed. But the central pairing (pictured above right) is absolutely solid, with Portal as the principled English gentleman channelling John Cleese somewhat, and Simon Gregor a scatterbrain Passepartout who, if we're extending a Fawlty Towers comparison, has a touch of Manuel to him, although comparisons to the slapstick Keaton or Chaplin would be no less apt. Indeed, there's something of the sense of the silent movie era in the production, with its rapid movement from tableau to tableau set to energetic music, changing locations defined by a combination of altering backdrops and front of stage visual clues.
Around the World in 80 Days has yet to settle finally, especially in the first half, which seemed on the protracted side at only 70 minutes, with laughs isolated rather than regular. But from the very beginning of the second half, with Passepartout entering through one side of the auditorium, followed by Fogg from the other, the rhythm was exactly right, and the comedy came across naturally. For the Christmas season Lucy Bailey has created a winner, which plays on panto elements without stretching them to traditional extremes (I'm told her first-ever London production was actually in that genre, Babes in the Wood no less). The rapid business doesn't run to excess, either. It's a very smart, endearing show, with an appeal that really should cross the advertised age range from eight to – what other number could it end with? – 80.
There's something of the sense of the silent movie era in the production, with its rapid movement from tableau to tableau set to energetic music
rating
Explore topics
Share this article
Subscribe to theartsdesk.com
Thank you for continuing to read our work on theartsdesk.com. For unlimited access to every article in its entirety, including our archive of more than 10,000 pieces, we're asking for £3.95 per month or £30 per year. We feel it's a very good deal, and hope you do too.
To take an annual subscription now simply click here.
And if you're looking for that extra gift for a friend or family member, why not treat them to a theartsdesk.com gift subscription?