Boris Godunov, Royal Opera |

reviews, news & interviews
Boris Godunov, Royal Opera
Boris Godunov, Royal Opera
Chilling symmetries in Richard Jones's take on Musorgsky's hard-line original
The Coronation Scene in Richard Jones's production
Russian bells and spinning tops dominate Richard Jones's predictably unpredictable take on Musorgsky's saga of a conscience-stricken Tsar. Latter-day purism tends to insist on the composer's seven-scene 1869 original – possibly for economic more than artistic reasons – and this two-hour-plus, interval-free whizz through seven years of Russian history is the most faithful to the first score I've heard. It's also a first for the Royal Opera, which has preferred the much longer, so-called 'supersaturated' combination of two versions in its long-running Tarkovsky production preceding Jones's.
Musorgsky's sweeping 1872 rewrite lends more humanity to the hard, if not exactly cold, music-theatre original. Given the original's adamantine tone, Jones, a splendid cast and Antonio Pappano moving with feline suppleness through what can seem stolid in less vibrant hands like Gergiev's make this an impressive, resonant evening, if only occasionally a moving one.
Jones takes his cue for the pervasive spinning-top image from one line in which scheming boyar Shuisky jerks Boris's guilt into actionClarity and imagination are rigorously welded. Russian audiences would always have known from the start that Boris Godunov, courtier of Ivan the Terrible, was deemed guilty, at least by the rash of 19th century historians, of murdering the rightful child-heir to the throne, Ivan's son Dmitry. Western audiences have to wait until the middle of Scene Three for chronicler-monk Pimen to tell us so (the Pushkin play from which Musorgsky selected and adapted makes it clear at the beginning). What we first see in the golden-yellow upper room onstage is a creepy masked figure as red-headed Dmitry playing with his spinning top while assassins move in to slit his throat. Bryn Terfel's already troubled Boris sits below waiting for news of the murder.
The ritual killing is to be replayed again and again, Boris's conscience made manifest. The top, seen on the dropcloth before the music starts, is crucial: Jones takes his cue from one line in which scheming boyar Shuisky jerks Boris's guilt into action by mentioning the toy clasped in the dead boy's hand. Just so did the director's unforgettable Wozzeck in a baked-bean factory develop from a casual word about the bullying doctor's prescribed diet for the harassed soldier.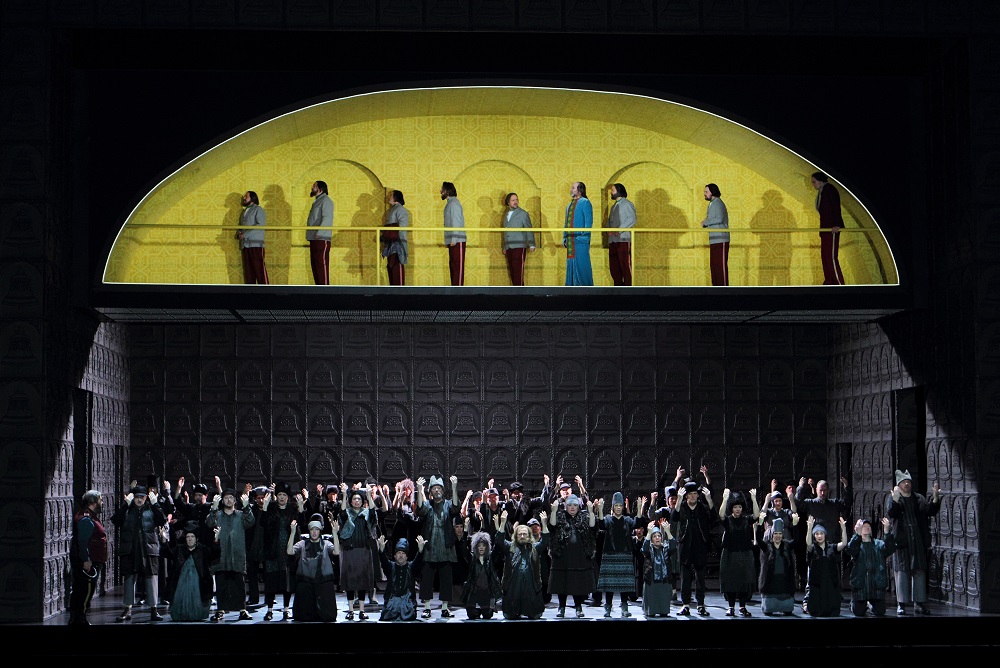 There's further irony and horror in Boris's own son, the Tsarevich Fyodor, being a redhead (and all the stronger as sung by treble Ben Knight rather than the usual mezzo in trousers). Reluctant monk Grigory Otrepiev – David Butt Philip, ringingly clear of tone and diction in his limited 1869 role – is the other lookalike, who plays on his age and hair colour to enlist help in Lithuania as a "false Dmitry". The hair gives us a thread through the two substantial actions in which the nominal protagonist Boris is absent.
The first two scenes see Jones at his most hieratic, with the chorus in straight lines, though nothing like as rigidly or boringly so as they were in Calixto Bieito's ENO Force of Destiny. The Russian people outside the Novodevichy convent waiting for Boris to accept the crown of Monomakh are in dark colours against black bell-imprinted walls while the boyars in identical grey jackets and maroon trousers pace the golden room above (pictured above). This split stage is designer Miriam Buether's idée fixe, and it works superbly throughout. The bottle greens and blacks are replaced by brilliant fancy dress for the nobles at the coronation – costume designer Nicky Gillibrand's big moment – where it's Boris who is most likely to step out of line, shadowed above as in Eisenstein's Ivan the Terrible and plagued by the action that gave him the throne in the first place.
Pimen's monologues in the Chudov monastery can be tedious, despite his big and noble melody. No chance of that given Ain Anger's expressive if still rather youthful-sounding bass and the ocular proof of his work in portraits of Tsars Ivan, Fyodor, Boris and, unfinished, the young Dmitry. The visuals help a potentially sticky patch in the same way that apprentice David's listing of the song rules in Jones's Mastersingers had pictorial help, and Butt Philip's urgency moves the scene along, too (pictured above).
He's definite in his impatience and nervousness at the inn on the Lithuanian border, too. As Pushkin's verse gives way to prose, you'd expect a looser, more naturalistic scene, but Jones keeps the symmetries with his inkeeper's bar, multiple portraits of Boris almost Hinduised on the walls and police gathering in the upper room. The realness here comes from John Tomlinson's vagabond monk Varlaam, his "Song about Kazan" hilariously accompanied on the spoons – genius idea – by sidekick Missail (Harry Nicoll, both pictured below).
It's a pity Varlaam's puns and rhymes aren't reproduced in the supertitles; without them the role stands little chance of being really funny in itself – it never was in the Tarkovsky production – but Tomlinson, an imposing Boris of recent years, pulls off the feat of modest lovability and is still the most resonant bass of the evening.
Terfel gets his big chance to reassert the centre of gravity in the Kremlin Apartments scene – very much the loving father, the troubled ruler and the violent reactor to Shuisky's scheming (John Graham-Hall was chosen for his acting abilities, but we really need more tenor tone when this character shows his claws). From now on, the show is essentially his, and admirably he doesn't approach the usual ham in hallucinations of the dead child, though there's a bit of eye-rolling in the final scene. The crucial meeting between highest and lowest, Tsar and Yurodivy (or Holy Fool), is a tiny bit blunted by the usually splendid Andrew Tortise sounding a bit English, and not quite plaintive enough, though he does the OCD gestures impressively.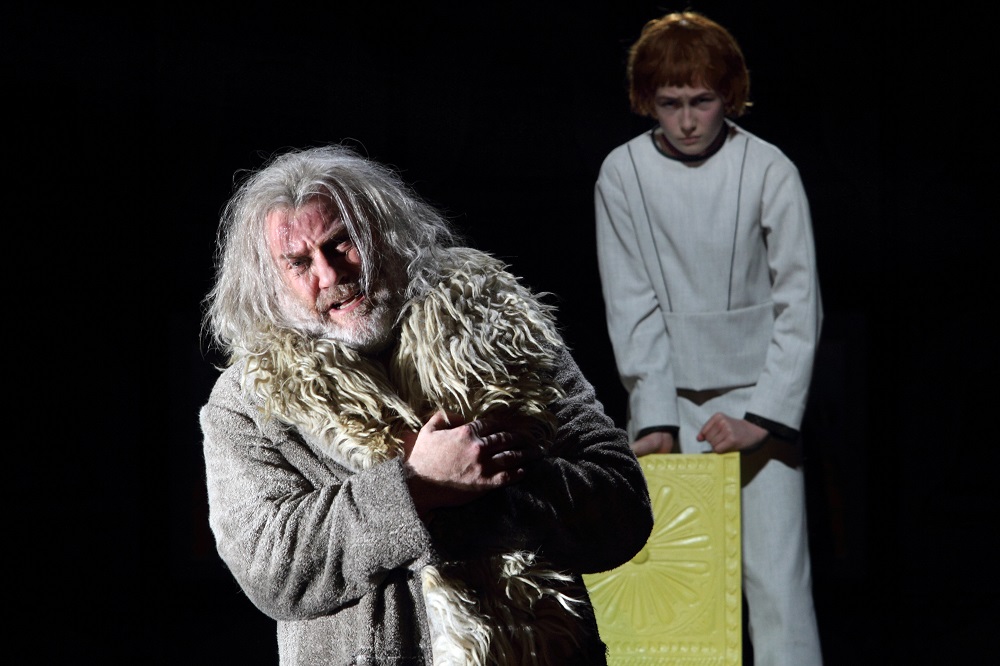 Last obstacles in Musorgsky's monologue-laden drama come in what here, as originally intended, is the endgame, the death of Boris (pictured right). Jones overcomes them with a mobile group of boyars, the power-play implicit in Pimen's fatal last appearance and the total concentration on father and son in a pool of bright light. Shostakovich objected to the major-key consolation that follows Boris's death. Let's just say that Jones doesn't see it as such, and that Grigory-as-Dmitry makes a final, quietly devastating appearance to provide the expected symmetry.
I've left more about the conducting until last, but Pappano's urgency and rough-edged vividness, keenly anticipated in the Royal Opera Orchestra's blistering concert performance of the original St John's Night on a Bare Mountain, keep the music-drama afloat. There's so much detail in Musorgsky's rough-hewn orchestration, especially in Varlaam's Kazan number, and the strings ooze crocodile tears in many of the glissandi. The strange splendour of the orchestral bell music, undercut by Boris's first mental replay of Dmitry's murder, is compounded by lashings of the real thing and excellent chorus work in the Coronation Scene.
Gems of the 1872 version, the children's and Nurse's songs and Boris's revised, Verdian monologue – both present in Tarkovsky's long-lasting predecessor – would have given us the crucial aural breathers just when it all gets too knotty, but the consistency is total. The shocks and direct emotions may be rather few in the original version, but chances are that red-headed, top-spinning boys having their throats cut may haunt our dreams long after this production is over.
Subscribe to theartsdesk.com
Thank you for continuing to read our work on theartsdesk.com. For unlimited access to every article in its entirety, including our archive of more than 10,000 pieces, we're asking for £3.95 per month or £30 per year. We feel it's a very good deal, and hope you do too.
To take an annual subscription now simply click here.
And if you're looking for that extra gift for a friend or family member, why not treat them to a theartsdesk.com gift subscription?