Reissue CDs Weekly: Fela Ransome-Kuti and His Koola Lobitos |

reviews, news & interviews
Reissue CDs Weekly: Fela Ransome-Kuti and His Koola Lobitos
Reissue CDs Weekly: Fela Ransome-Kuti and His Koola Lobitos
Historically important collection of the future Black President's early recordings
Fela Ransome Kuti and his Koola Lobitos live in 1965, the titular bandleader second from left trumpet in hand
Is greatness there from day one, does it evolve or suddenly strike? Do artists – in any discipline – develop in steps or arrive fully-formed? How does the quotidian become exceptional? With the new triple-CD set Highlife-Jazz and Afro-Soul (1963-1969), the man who would be dubbed the Black President has what amounts to 39 musical baby pictures made easily available for the first time.
As to how this release answers any of these questions, it is a question of degree.
First issued in Japan in 2005, Highlife-Jazz and Afro-Soul (1963-1969) was a pioneering collection of the bulk of Fela Kuti's pre-Afrobeat recordings. It was, though, hard to find and is now rare, so its reappearance is important. Disc One collects singles released in Nigeria from 1963 to 1966, Disc Two is the entire 1965 Fela Ransome-Kuti and His Koola Lobitos album, and Disc Three supplements the 1966 six-track live album Afro Beat on Stage with further tracks from singles issued from 1966 to 1968.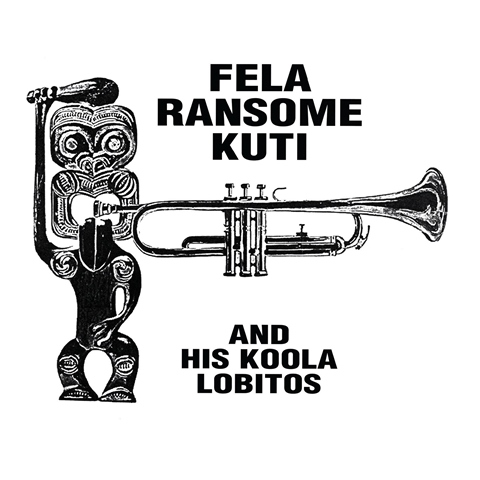 Much of the material has been reissued piecemeal elsewhere, but Highlife-Jazz and Afro-Soul (1963-1969) is the last word on this period of Kuti's music despite the 1969 in the title being a source of confusion. The package's discographical annotation lists Afro Beat on Stage as issued in 1966 but the liner notes state it was recorded in 1969, the year Kuti and Koola Lobitos first went to America. It cannot be both and, as the album was indeed released in 1966, the package's cut-off point has to be 1968. Despite this mix-up, Highlife-Jazz and Afro-Soul (1963-1969) is a thoughtful, well-annotated release with academic-style liner notes.
Kuti had recorded in London in 1960 while he was studying at Trinity School of Music and two singles were issued, but it was his return to Nigeria in 1963 which kick-started the run of tracks collected here. At this point, the trumpet – which he had studied – was his instrument. The saxophone came later. Jazz was the focus: his first Nigerian band of the Sixties was the Fela Ransome-Kuti Quartet, which soon became Koola Lobitos. The title Highlife-Jazz and Afro-Soul literally tracks the progression heard across the three discs. This was musical evolution, not the arrival of a fully-formed, original voice.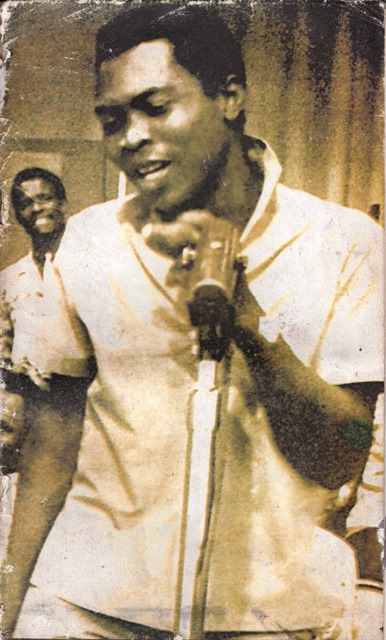 The changes are clearly marked by the difference between Track One, Disc One and the final cuts on Disc Three. The set opens with "Bonfo", the 1963 (or maybe 1964 – the year it was released remains unclear: adding more opacity to the set's title) A-side which headed-up Kuti's first Nigerian single. An upbeat, jazzy shuffle, "Bonfo" has an almost-Caribbean, Calypsonian lilt. Though foregrounded piano emphasises the rhythmic clip, Kuti's trumpet comes through loud and clear. A sax takes the middle break. His vocals are declamatory. The final A-side heard is "My Baby Don Love Me", which was originally issued at some point from 1966 to 1968. Very different to "Bonfo", it is rough, with massed Stax-style brass, a marked James Brown influence and spindly, proto-funk guitar. Kuti was clearly evolving, clearly going somewhere. (Pictured left, Fela Ransome-Kuti live in 1968.)
On Disc Three, it is the six tracks which comprised Afro Beat on Stage which thrillingly capture the transition between jazz combo and the new groove-based direction. These are the collection's pivotal tracks. In the album's original liner notes Kuti is quoted as saying the music "is jazz super-imposed on high-life". This was the release signposting the emergence of his Afro-beat.
As for the questions. On the evidence of Highlife-Jazz and Afro-Soul (1963-1969), greatness was probably there from day one but needed to find the right vehicle for its expression. It evolved rather than suddenly struck. Fela Kuti developed in steps, it took time to become exceptional and it was really with the renaming of Koola Lobitos as Nigeria 70 while in America in 1969 that the exploratory years ended, and the fully-formed voice was realised. If the story had ended here though, Fela Ransome-Kuti and his Koola Lobitos would be of interest but would not be as significant as they became. While fine recordings from a hot band, these are musical baby pictures rather than stand-alone evidence for greatness.
On this evidence, greatness was probably there from day one but it needed to find the right vehicle
Share this article