Alberto Giacometti, Sainsbury Centre for Visual Arts, Norwich |

reviews, news & interviews
Alberto Giacometti, Sainsbury Centre for Visual Arts, Norwich
Alberto Giacometti, Sainsbury Centre for Visual Arts, Norwich
A one-of-a-kind artist gains context and depth surrounded by his contemporaries
Alberto Giacometti, 'Self Portrait', 1920
An exceptionally wide-ranging exhibition of paintings, sculptures, drawings and lithographs by Alberto Giacometti (1901-1966) commemorates the 50th anniversary of his death. Amidst the flurry of Giacometti exhibitions – the National Portrait Gallery's Pure Presence last autumn and a huge exhibition at Tate Modern to come next spring – this anthology is unmissable for the different contexts it offers.
Giacometti's close and lifelong working relationship with his brother Diego, the designer whose work has recently come to deserved prominence, is also explored. Throughout their lives, Diego was Giacometti's most frequent model and a telling collection of Diego's furniture is shown (some is permanently on view at the Picasso Museum in Paris; Alberto designed too, and his chandeliers are there as well).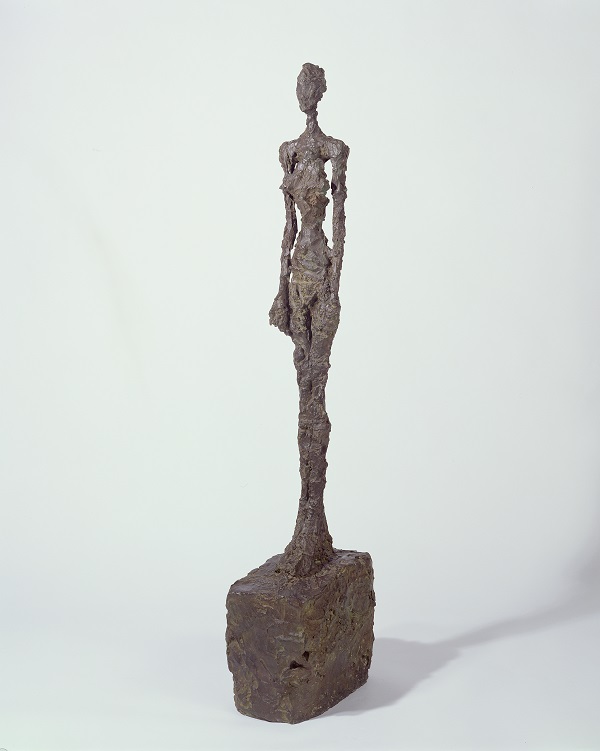 Instead of seeing Giacometti in isolation, as a standalone genius, we are shown other leading artists of post-war Paris, many of whose work is still far too little seen, from César to Wols, Fautrier to Artaud, Richier and Michaux, and above all the remarkable Dubuffet.
We then segue into Giacometti's substantial influence and visual interaction with London artists of the "age of anxiety", from Lynn Chadwick, to Robert Clatworthy and Geoffrey Clarke – their reputations currently eclipsed but certainly worth a revival – not to mention Lucian Freud and Francis Bacon. Paradoxically, this allows us to see Giacometti in more depth than usual and with greater understanding. His originality is thrown into sharper relief, and outstanding as his contemporaries are, there remains something mysterious about his mesmerising ability to demand our attention and somehow, with his highly recognisable style, play on profound human emotions.
The intentness of his gaze on his subjects seems to insist that we look too with an intensity that is unusual and strangely gratifying. Although alienation and anxiety are often part of his art, perhaps what is most clear is his unbelievable determination to portray his subjects with a reality that, far from being concerned with superficial appearance, attempts to go beyond.
The show is clustered round his first important and meaningful English connections: the family portrait commissions from Robert and Lisa Sainsbury. The Sainsburys went on to further purchases, and their correspondence and other ephemera connected with their patronage and friendship with the artist is on display. Giacometti's reputation and success in England especially after his first exhibition in 1955 at the legendary Hanover Gallery run by Erica Brausen (also then Francis Bacon's dealer) also led to an increasing appreciation of his work by British artists.
We begin with a film masterminded by the formidable art critic and early champion of Giacometti, David Sylvester, and an early and rather poignant self-portrait of the handsome artist (1920) as a beautiful and oddly assured 19-year-old (main picture). There are family photographs of the handsome Italian-Swiss family of four siblings, the father too an artist. From his spacious early life in his native Switzerland Giacometti was to move to Paris, first at 21 as an apprentice to the highly successful public sculptor Bourdelle. Embracing surrealism by the 1920s he went on to live for the rest of his life in his famously cluttered, claustrophobic studio, in a constant fog of cigarette smoke obsessively pursuing his version of reality.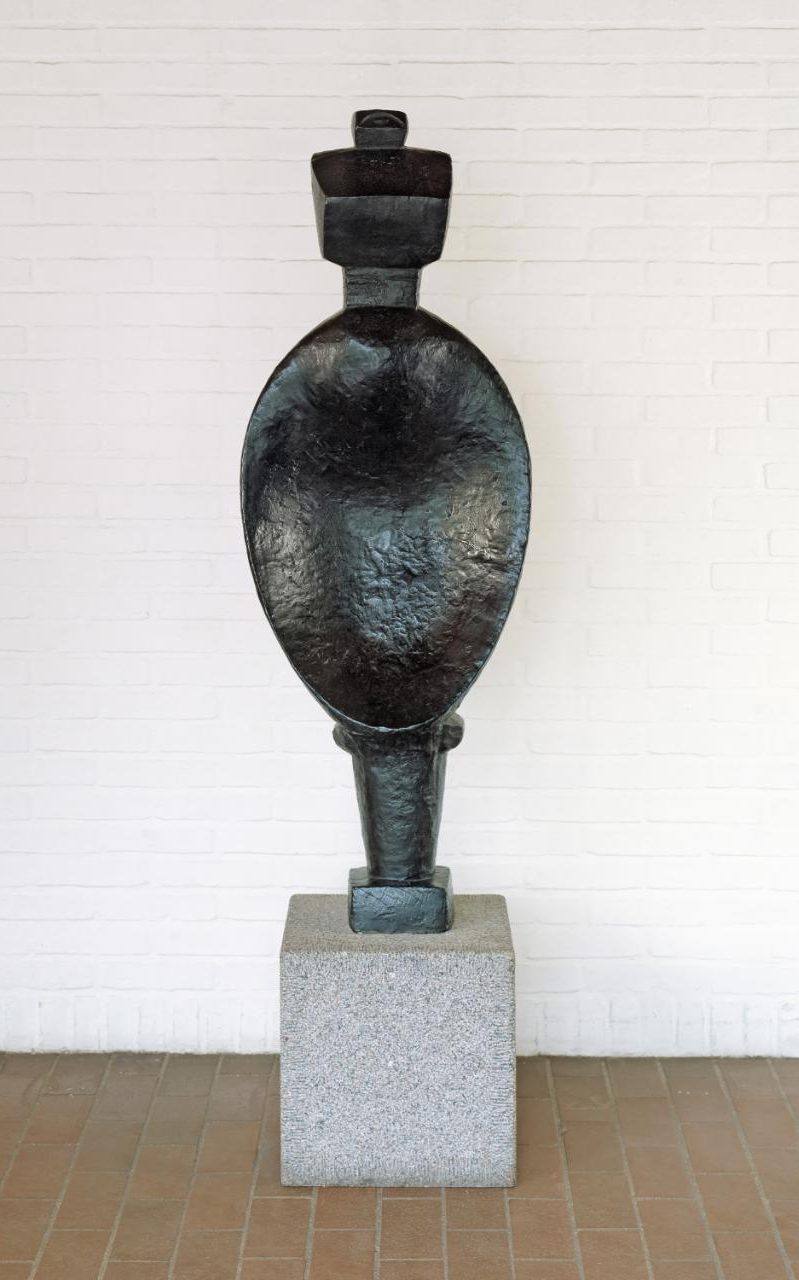 He was particularly attached to the portraits in both clay and paint of those closest and best known to him. These included his wife Annette, his mother, his brother Diego, obsessive entanglements with other models and the very rare commissions that he accepted. Faces have huge eyes, emerging from a skein of line, a web of paint. In the context of this compulsion to find as real a depiction of people as he could, expressed most characteristically in tangles of black paint and all gradations of white and grey, his most imaginative surreal sculptures from the pre-war period seem curiously human and humane, abstracted as they are.
The central gallery of the show cleverly and movingly arrays a great row of Giacometti sculptures on a central plinth, with the surrounding walls host to a number of paintings and sculptures by his Parisian peer group (pictured above right: Standing Woman, 1958-1959). There are plinths bearing the characteristic tiny Giacometti figurines, so slim as to be almost invisible, encased in spindly cages. The exuberant colour of some of his French compatriots underlines his restrained palette, and the antiquities on view – Cycladic figures, African carvings – further underline Giacometti's sophistication and restraint, reminding us how much the greatest of 20th century artists took from the art of other times and worlds. This refinement is particularly evident in the surreal sculptures, Spoon Woman, 1926, among them (pictured above left).
The philanthropists Robert and Lisa Sainsbury gave their own far-ranging collection of British and French art, modern studio ceramics, antiquities, West African art and the largest collection of Giacometti in Britain, to form the core of the Sainsbury Centre. The ever-expanding holdings, augmented by the Colin Anderson art nouveau collection, other donations and purchases, is thus not only a public collection but a teaching resource for the history of Western art, and in accordance with its founders' wishes, world art.
Thus the permanent collection that is concurrently on view means that Giacometti's interest in surrealism, and art both from antiquity and Africa, can be further explored. Connections to such nervy depictions of humankind as those offered by Francis Bacon and the sculptors and painters of the so called "age of anxiety", the post-war period in Britain, also resonate beyond the special exhibition further expanded by displays of antiquities and African art. No better framework for Giacometti in his time and beyond could be imagined.
Faces have huge eyes, emerging from a skein of line, a web of paint
rating
Share this article