The Burning Hell, Oslo |

reviews, news & interviews
The Burning Hell, Oslo
The Burning Hell, Oslo
Literate Canadians bond with the audience to inspire a sing-along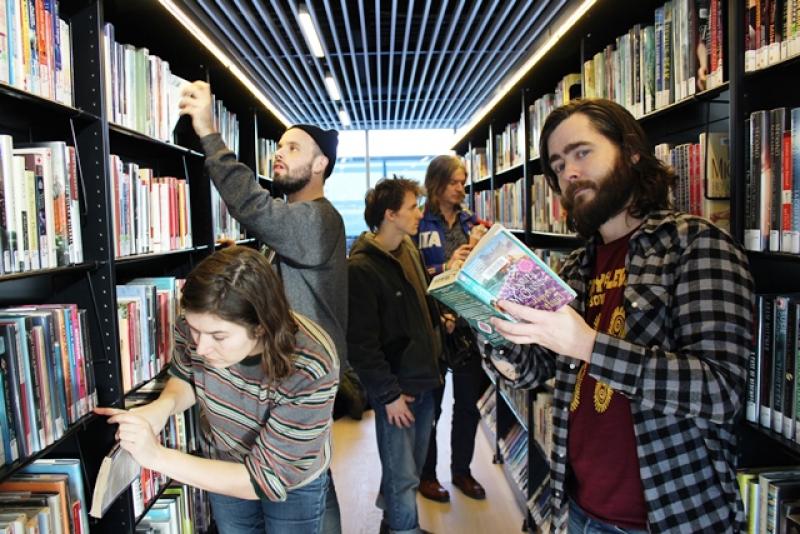 The Burning Hell, with main man Mathias Kom (right), go wild amongst the shelves
"We've been visiting libraries on this tour and it's a lot of fun learning people still read." The words of The Burning Hell's main man Mathias Kom before launching into "Give Up" stress he and his band are not typical rock'n'rollers. "Give Up" itself is the rollicking song-story of a call-centre worker who goes to a library, finds inspiration in Herman Melville and then meets a mysterious woman who rings in. She gives him a poster of a kitten captioned "Never Give Up". In the song's pay off, Kom's protagonist declares "when the going gets tough, I give up."
Canada's Burning Hell don't obviously suggest themselves as crack-smoking libertines or hotel-room wreckers. Indeed, Kom is undertaking academic work on ethnomusicology. But, hell, they are a rock'n'roll band who bring off the very rare wedding of literate, usually either poignant or for-real funny, lyrics to a bracing music rooted in third and fourth album Velvet Underground.
Bands with lazy lyrics should pay close attention to The Burning Hell
Last night, The Burning Hell played a sold-out Oslo – the Hackney venue, not the Norwegian capital – to an audience as off-trend as the band's approach to their art. Despite the area being the epicentre of DH Lawrence haircuts, hipster beards and stonewash jeans, few such signifiers peppered the room. "Refreshingly normal" describes the crowd best. Though Kom has a beard, as does the band's bass player Nick Ferrio, he looks more Seventies sociology teacher than denizen of a microscopic coffee shop specialising in blends known to only three people. The bond with the audience is clear. No urging was needed for "Fuck the Government, I Love You"'s "pass the wine, fuck the government, I love you" refrain to become an instant sing-along.
The Hackney show was one of a series of dates promoting their recent seventh album Public Library. Instead of being an overt hymn to the institution, the album comprises eight narrative-driven songs. Some draw from real life. "The Road" tells the tale of what happened after the band's tour van broke down, while "Men Without Hats" rejoices in the ripples caused by buying your first album: which in Kom's case was by the Canadian band of the same name. "The Stranger" is fictional and about a misbehaving priest. The set drew mainly from Public Library and its predecessor People.
Although Kom is the leader, The Burning Hell are a band and each member shines and sings. In addition to Ferrio, Ariel Sharratt plays clarinet and sax, Jake Nicoll plays drums and keyboards and Darren Browne is on lead guitar – he sang and led the encore version of "La Bamba". Kom and Sharratt have played as a duo (Public Library was preceded by their album Don't Believe the Hyperreal) and there's little division between this and the band.
The Burning Hell are accessible. "Good Times" is a tribute to loving sports and winning with evocative lines like, "the city went insane – of course we did. Set a bus and a couple of cop cars on fire. Victory smells like burning tires", while "The Stranger" is the densely worded tale of a confession of untoward happening which followed Shrove Tuesday. As literature as catchy song, the words are snug with the melodies. Any band celebrating ignorance with lazy lyrics – that means you, Stone Roses, and your asinine comeback single "All for One" – should pay close attention to The Burning Hell.
However they are looked at, Kom and his co-conspirators are ploughing their own furrow. They've been compared to The Violent Femmes, played the odd folk festival and acquired an Americana tag – Kom has played a ukulele in the past and sported an acoustic guitar for some of last night. But a more sustainable reference lingered in the air last night: Lou Reed. The Velvets are in the Burning Hell's music, "Men Without Hats" celebrates the joy of song in the same way as the VU's "Rock & Roll", yet it's the observational, wry Reed of New York and Songs for Drella who most springs to mind. While Kom is his own man, Reed is no longer with us and a huge, unplugable gap remains. In their own way, The Burning Hell helps to fill the gap.
Lou Reed is no longer with us and The Burning Hell helps to fill the gap
rating
Share this article
Subscribe to theartsdesk.com
Thank you for continuing to read our work on theartsdesk.com. For unlimited access to every article in its entirety, including our archive of more than 10,000 pieces, we're asking for £3.95 per month or £30 per year. We feel it's a very good deal, and hope you do too.
To take an annual subscription now simply click here.
And if you're looking for that extra gift for a friend or family member, why not treat them to a theartsdesk.com gift subscription?