Henry V, Regent's Park Open Air Theatre |

reviews, news & interviews
Henry V, Regent's Park Open Air Theatre
Henry V, Regent's Park Open Air Theatre
Michelle Terry anchors a reflective exploration of leadership and nationhood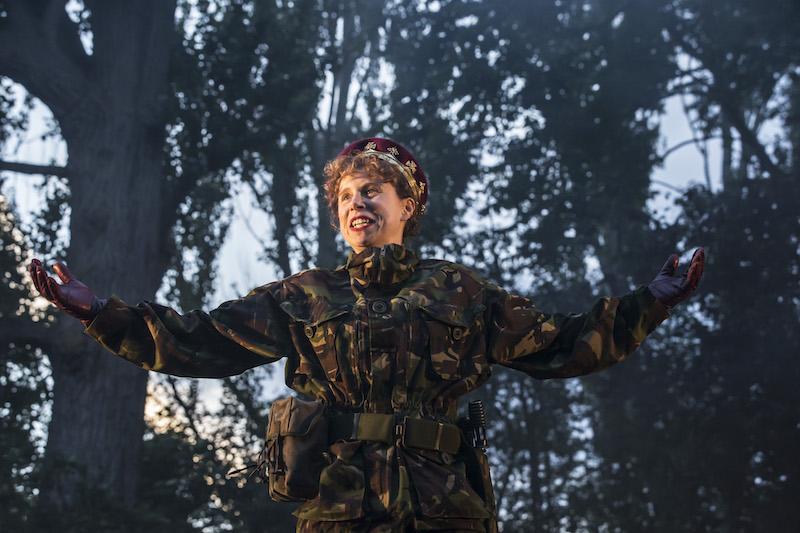 'A little touch of Harry in the night': Michelle Terry's monarch
As we finally go to the polls, casting votes based on our view of national identity and Britain's place in the world, here comes Shakespeare's ever-topical play. Robert Hastie's thoughtful take is contemporary dress but stripped back, not so much holding up a mirror as inviting us to project modern concerns onto it.
Of course certain elements ring out in the current context, from negotiations with a supercilious French representative to the fraught justifications for foreign conflict and fractured clans back home. So, too, does the Chorus's direct address, asking us to summon vast battlefields with our thoughts on "this unworthy scaffold" – as effective an entreaty in Regent's Park as it would be at the Globe – and the discussion of Salic Law, made fresh by Michelle Terry taking on the title role. (Charlotte Cornwell's Chorus pictured below)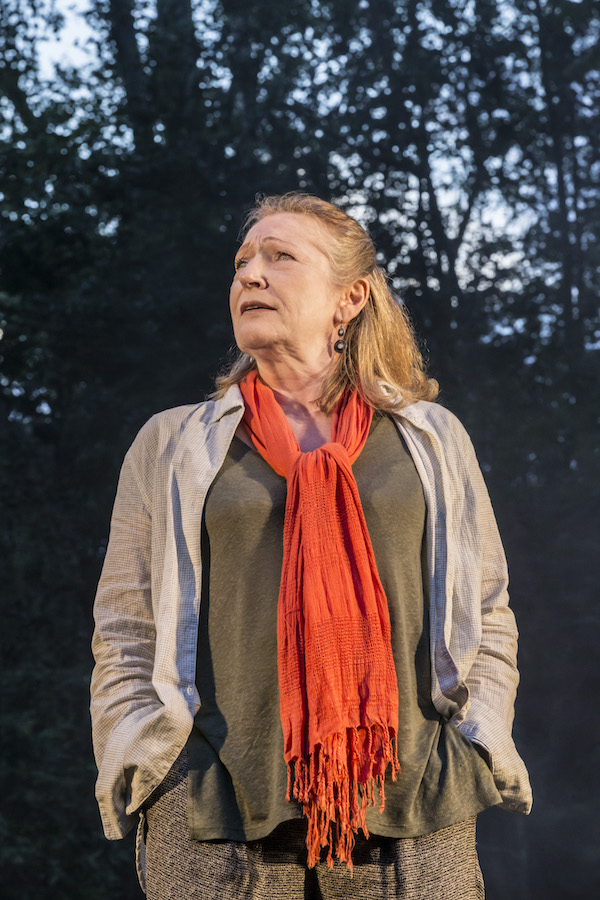 The latest piece of welcome cross-casting, Terry's Henry isn't explicitly gendered, but first and foremost a reflective young leader navigating a difficult role. Perhaps more telling is the response to this Henry, from the overbearing male advisors to the dismissive French court. More fool them for underestimating Terry's monarch, whose humility and occasional hesitancy masks a shrewd tactical mind and iron will.
The wonderfully clear authority of Terry's verse speaking stands her in good stead here, whether delivering powerful oratory or drawing out nuances in every exchange – her mounting fury at the Dauphin's "mock" in sending tennis balls (handy for Wimbledon, at least) climaxes with the chilling emphasis of "when thousands weep more than did laugh at it." That's no bloodthirsty boast, rather the steely resolve of one who feels the responsibility of every life lost, but is fully prepared to make the tough choices.
It's a meaty, multifaceted performance, and Hastie's production is similarly complex. Its immersive qualities place us in the thick of the action: soldiers spill out into the aisles, drummers pound a blood-pumping rhythm behind us, and speakers ensure the "blast of war" does indeed blow in our ears (though amplification is spotty). Terry delivers her St Crispin's Day speech to Williams, who has stalked into the audience while threatening desertion, so we too are the targets are her stirring rhetoric, yet that's juxtaposed with the jittery terror and chaos of war, and ebbing away of mercy.
As the light falls in the park, battles take on a ghostly stylisation (pictured below). Joshua Carr's rising floodlights silhouette tableaux of soldiers, and Anna Fleischle floods them with swampy puddles that make it as visceral as it is evocative. The marking of mass graves can't help but recall First World War battlefields, tempering victory with mourning. The grim execution of Bardolph – shot while tied to a post ­­– similarly lingers, showing the human cost of Henry's principled stand against war crimes, as does the casual slaying of the Boy. For all those fine words, "few die well that die in a battle". The group singing of the Non Nobis Domine is spine-tingling.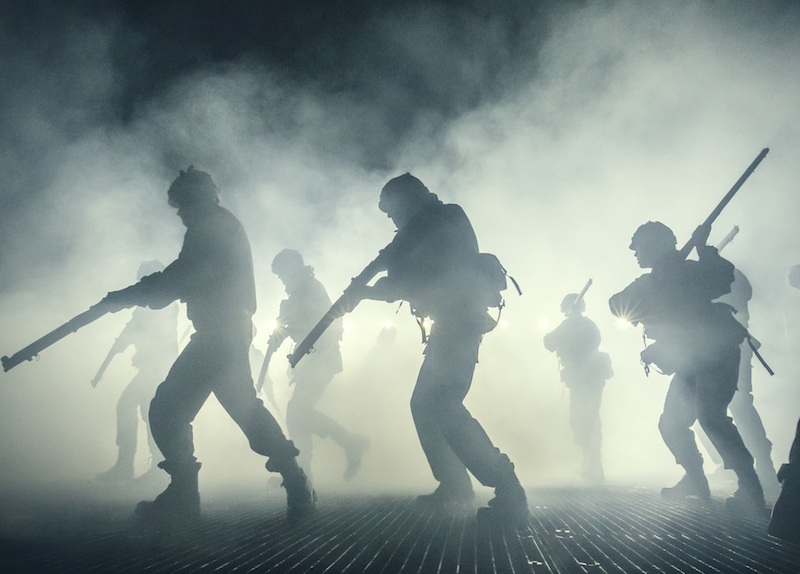 In a strong ensemble, Charlotte Cornwell is an excellent world-weary Chorus, David Sibley a wily Canterbury and haggard King of France, Jessica Regan gives Montjoy a real dramatic arc, and Philip Arditti's Pistol is a sublime swaggering chancer. The four captains, though possessing wandering accents, are well portrayed by Regan, Cat Simmons, Polly Frame and especially Catrin Aaron, but Alex Bhat's flamboyant brat of a Dauphin is too broad.
Ben Wiggins produces an interesting take on Princess Katherine: haughty and dangerously capricious. He uses feminine qualities with the same calculation that Terry toys with the traditionally masculine warrior guise, and their offbeat courtship has a real frisson. The resulting marital union, echoing the knitting together of nations, is an imperfect but necessary step towards peace. Anchored by a Henry who feels the weight of history in his decision-making, that is exceedingly potent.
For all those fine words, 'few die well that die in a battle'
rating
Explore topics
Share this article