Suburra |

reviews, news & interviews
Suburra
Suburra
Brutal crime thriller on corruption among Roman politicians, church and mafia
An underage prostitute dies from a drug overdose at a mini "bunga bunga" party with a high-ranking politician. When that's one of a film's less shocking moments, you know you're in for a bumpy ride.
With its steady stream of killings, maimings, kidnap and a frothing-mouthed killer canine, Stefano Sollima's brutal crime thriller exploring corruption and violence among mafia clans, politicians and even the church in Rome is undeniably vicious and uncompromising. But it's a beautifully elegant, taut piece of storytelling, too, which unfolds its intertwining threads with almost clockwork precision.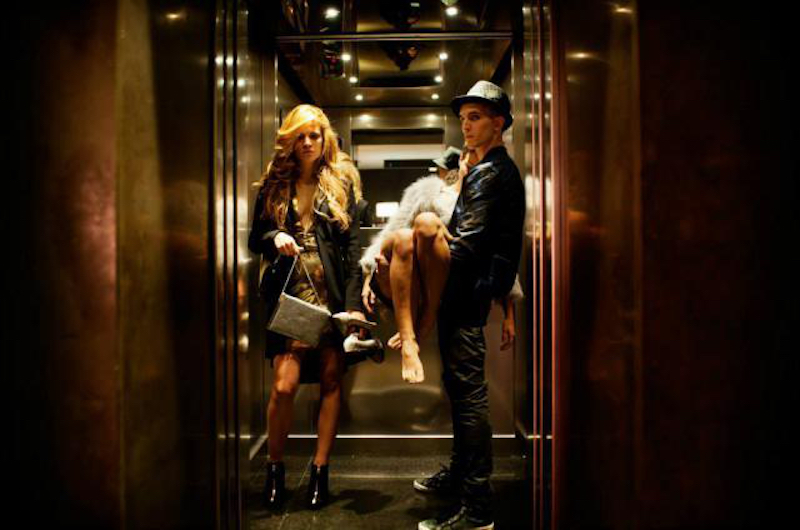 Sollima is the creator of Italian TV crime series Romanzo criminale and Gomorrah (itself based on Matteo Garrone's 2008 movie of the same name). Following 2012's ACAB – All Cops Are Bastards, Suburra is his second feature, created for the big screen before being turned into a ten-part Netflix TV series.
It's loosely inspired by fact – the twin standings-down of Silvio Berlusconi and Pope Benedict XVI earlier this decade – and based on the novel co-written by Italian journalist Carlo Bonini and crime writer Giancalo De Cataldo. Its title, close to our present-day "suburb", refers to a sleazy area of taverns and brothels in Ancient Rome where the rich nobility went to indulge their desires – and to get criminals to do their dirty work. In Sollima's festering vision of today's Rome, that rich nobility are replaced by corrupt politicians and powerful clan bosses, who engage warring local low-life gangsters to ensure beachfront Ostia district becomes Italy's Las Vegas.
To say Suburra revolves around a building development proposal, though (even if it does), robs the film of much of its mood of decadence and impending cataclysm. That's sometimes rather overplayed in its biblical extravagance, in fact, as Sollima ominously counts down seven days to the "apocalypse" with portentous intertitles, a catastrophe heralded by the rising Tiber threatening to flood the city, the Pope announcing he's to stand down and the government teetering on the verge of collapse.
But Sollima has assembled a universally strong cast to pick their way through his web of narratives, from rat-like nightclub owner and pimp Sebastiano (an increasingly panic-stricken Elio Germano), drawn reluctantly into murder and kidnap, to swaggering Giacomo Ferrara as young gypsy thug Dagger Anacleti (pictured top with Giulia Gorietti), needling his way into a piece of the action. Claudio Amendola is an unlikely focus of calm nobility as top gang leader Samurai, middle-aged, bespectacled and world-weary, yet ice-cold in his ruthlessness. And Sollima contrasts him beautifully with hot-headed local gangster Number 8 (a snarling Alessandro Borghi, pictured above right with Greta Scarano), intent on proving his worth.
Pierfrancesco Favino is superb as the compromised politician Malgradi (pictured below), a seething mass of contradictions and frustrations after he abandons the overdosed underage hooker he's entertained for the evening. But ironically it's one of the film's minor characters, Number 8's smack-addict girlfriend Viola (Greta Scarano), who emerges as its unlikely anti-heroine, finally displaying a personal sense of right and wrong rather than clan loyalty.
With its seductive, gawdy lighting and grandiose visions of Roman monuments, Suburra has sumptuous cinematography from Paolo Carnera, even if its squeaky-clean Eternal City – washed eternally clean by endless torrential rain – hardly reflects the grimy goings-on of its underbelly. Sollima constructs some gleefully effective set-pieces, too – a superbly choreographed shootout in a shopping mall, for instance, or even chaotic scenes in the hectic Anacleti household, with hoards of screaming kids playing football among the kitsch objets d'art while the family's bosses hold court.
Despite its brisk pacing, Suburra is crammed full of detail, none of it extraneous, and ultimately feels all of its two-and-a-bit-hour length. But most memorable of all is Sollima's cold, matter-of-fact delivery of Suburra's atrocities, as if he takes a craftsman's pride in setting in motion a series of unconnected events, then watching as they simply work themselves out towards an inevitable and bloody conclusion.
Overleaf: watch the trailer for Suburra