Where You're Meant to Be |

reviews, news & interviews
Where You're Meant to Be
Where You're Meant to Be
Sly, witty questioning of Scottish identity from indie rocker Aidan Moffat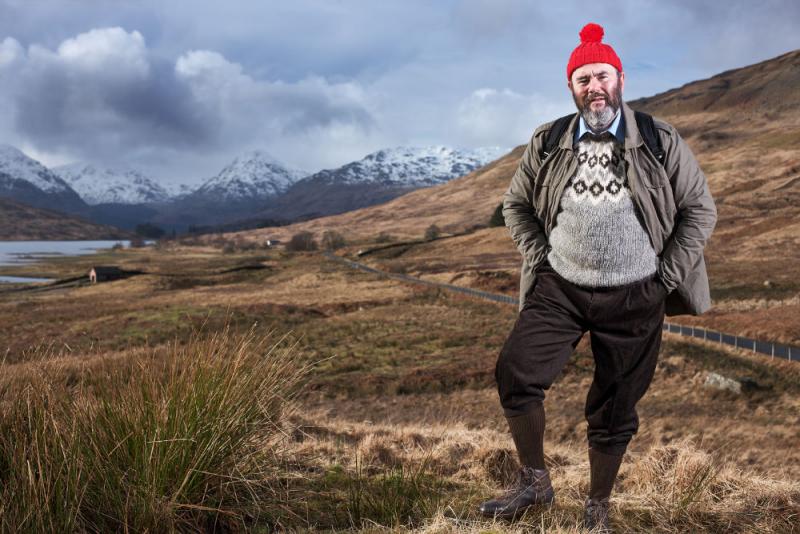 Aidan Moffat: challenging Scottish cliches with filthy humour
"A funny wee film about music and death" goes the strapline. That's a pretty accurate summary of Paul Fegan's touching documentary Where You're Meant To Be, which follows singer Aidan Moffat – formerly of 1990s indie rockers Arab Strap – as he tours his bawdy urban updates of traditional songs around Scotland.
There's plenty of humour – sarcastic or absurd for the most part – and at a mere 75 minutes it's certainly wee. Music's a constant presence, with footage of gigs in Aberdeen, Edinburgh, the Western Isles, Skye and elsewhere, to varying reactions from the locals. And death – well, that comes from matriarchal folk singer Sheila Stewart (pictured below), who's outraged at Moffat tampering with the songs she holds so dear, and who died unexpectedly after the film had been shot.
It feels like a celebration of the real Scotland in all its messy, joyful chaos
Which sets quite an elegiac tone for Fegan's slow-moving, thoughtful movie: Moffat's contemplative voice-over wonders constantly what she would have made of the end result. But Stewart's death also serves to crystallise the film's quiet dissection of tradition and identity both old and new in Scotland. With a few barbed references to the lazy tartan/shortbread/kilts cliches of Scottish culture, Fegan instead sets out to paint a very different picture of contemporary Scotland – one that's grimy and gritty, full of vitality, sarcastic and intolerant of pretense, but swaggeringly self-assured. Just like Moffat himself, in fact. And like many of the figures he encounters.
Where You're Meant to Be is a kind-of road movie, or it at least nods to that convention with Moffat and band meeting a succession of memorable, slightly oddball characters on their tour. There are warring Nessie hunters in Drumnadrochit (who movingly reconcile after years of antipathy), and even more movingly a farmer on the Isle of Skye lamenting the loss of his wife of 58 years, finding solace in singing "Wild Mountain Thyme" with Moffat and his fiddler Jenny Reeve. Moffat gets a cold reception ("Shite!") at Ness Football Club on the Isle of Lewis, but the clacking of a loom at the Luskentyre Harris Tweed Company provides an effective rhythm track for one of his songs.
Cinematographer Julian Schwanitz's images are often breathtakingly beautiful – not just the predictable wide open spaces of the Scottish wilderness, but also boats gliding down the Clyde by moonlight, or the magical twinkling lights of the Glasgow skyline. And Fegan weaves the narrative together with such gracefulness that you're hardly even aware of his themes emerging.
For the movie's magnificent concluding gig at Glasgow's Barrowlands, Moffat finds himself upstaged by an imperious Stewart determined to sing the proper, original version of "Here a health to the company" rather than his modernised paean to neds with bashed noses and wailing city sirens. By then, it feels as if Fegan has broadened his target from music to the whole of Scottish cultural identity. To challenging stereotypes, not just of tartan and shortbread, but also of age-old folksongs in smoky clubs, bringing things right up to date with reverential footage of drunken Saturday night party-goers in Glasgow, or even the grot of ramshackle highland farms in place of misty mountains and lochs.
With its mix of dark melancholy and bawdy humour, its grime and its visual magnificence, Where You're Meant to Be feels like a celebration of the real Scotland, in all its messy, joyful chaos, as sincere and authentic as Moffat's contemporary versions of Stewart's age-old songs.
Director Fegan paints a very different picture of contemporary Scotland - gritty, sarcastic, but swaggeringly self-assured
rating
Explore topics
Share this article