Elvis & Nixon |

reviews, news & interviews
Elvis & Nixon
Elvis & Nixon
Tricky Dicky meets the Pelvis in smart satirical fantasy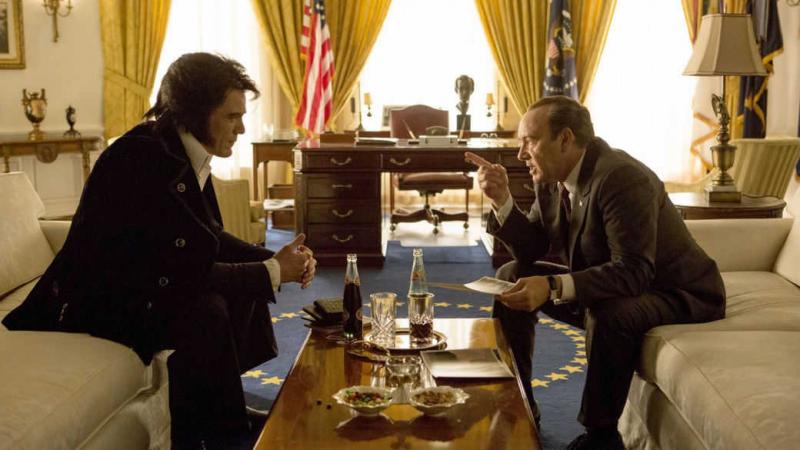 Michael Shannon (left) as Elvis Presley and Kevin Spacey as Richard Nixon
Shamed and reviled, Richard Nixon had the misfortune (albeit self-authored) to be the star of one of the murkiest chapters in American Presidential history. It's not much compensation for him now, but he has become something of a goldmine for film-makers.
Anthony Hopkins went to town on him in Nixon. Zack Snyder brought us a grotesque, parallel-universe Nixon in Watchmen. Frank Langella revelled in the wily, devious President in Frost / Nixon. Now here's Kevin Spacey with what could be the best Nixon yet, in Liza Johnson's delicious fantasy-satire about the day when the President met the King.
There's just enough truth in the real-life story of how Elvis Presley visited Nixon at the White House in December 1970 to get himself recruited as a "Federal Agent at Large" to hang the screenplay on, and there's a famous photograph of the pair to prove it happened (below). However, no factual transcript of what they said to each other has survived to cramp the style of screenwriters Susan Stadner, Carly Elwes and Joey Sagal. There was an earlier version of the story in Elvis Meets Nixon (1998), where the Prez was played by Bob Gunton, but this one pips it to the gold medal for its strength-in-depth cast and its skilful judgment of just how much fantasy the facts can take.
Aside from the writing, it's the casting that counts. Spacey has rarely been better, not even as the black-hearted Frank Underwood in House of Cards, and the way he catches Nixon's portentous way of speaking and his heavy, round-shouldered gait, with one hand behind his back, is brilliantly persuasive.
Michael Shannon was an oblique choice to play the King of Rock'n'Roll – too weird, too dark, too quirky, you'd suspect – but only a few minutes in you begin to discern the outlines of Elvis beneath Shannon's skin. He doesn't really look like him, but he makes you feel Elvis's assumption of his own specialness and the extent of his detachment from everyday mundanity. And, for that matter, his blithe self-centredness.
For instance, having dragged his old buddy Jerry Schilling (Alex Pettyfer) to Washington DC from his job at Paramount studios in LA, Elvis has no conception of Schilling's commitment to his job, nor any sense of why it's vital to him to get back to LA to tell his girlfriend's parents he wants to marry their daughter.
Shrewdly, much of Elvis's impact is conveyed by people's responses to him, like the look on the face of the check-in girl at Memphis airport when the King strolls up to the desk to buy a ticket, or the way Mary Anne Peterson (Ahna O'Reilly) of the Bureau of Narcotics and Dangerous Drugs dissolves into giggling fandom when the legendary entertainer walks in and asks if he can get an agent's badge.
Elvis's quest for the badge – he had developed an irrational desire to do his bit to eradicate both Communism and the drugs menace he believed was destroying America's youth, while somehow overlooking his own colossal ingestion of amphetamines, tranquillisers and barbiturates – is the MacGuffin of the piece. Presley, who was evidently a law-enforcement groupie, rambles delusionally about wanting to go undercover, infiltrate bands like the Rolling Stones and the Grateful Dead and bust them for drug-taking, but it seems revealing of America's divided soul at the end of the Sixties that this deluded pop icon should end up sharing a strangely intimate moment with a paranoid President utterly uncomprehending of youth culture. Somehow, the resentfully self-pitying Nixon finds common ground with Elvis because they're both self-made men from humble backgrounds. Presley, meanwhile, exercises superstar patronage by signing autographs for Nixon's daughter and alarms the President with his preposterous karate moves.
There's smart support from Nixon's political entourage, notably Colin Hanks as Egil "Bud" Krogh (pictured above) and Tate Donovan as Chief of Staff HR Haldeman (these two grasp that cuddling up to Presley might win them votes among young people and Southerners), and the deployment of grainy Seventies-era footage and a tasty selection of period songs from Creedence Clearwater, Sam & Dave and others evokes a tang of authenticity. This is a movie that just works, and it's a joy.