Leonore, I Capuleti e i Montecchi, Buxton Festival |

reviews, news & interviews
Leonore, I Capuleti e i Montecchi, Buxton Festival
Leonore, I Capuleti e i Montecchi, Buxton Festival
Love stories with a difference in the Peak District
Kirstin Sharpin as Leonore and David Danholt as Florestan
The first two of the three in-house opera productions in this year's Buxton Festival could be bracketed under a slogan of "love stories, Jim – but not quite as we know them". Bellini's I Capuleti e i Montecchi is, of course, Romeo and Juliet … sort of. She comes round in time to sing a duet with Romeo, who is himself a mezzo en travesti, so it's not Shakespeare. More of that later.
Leonore
, on the other hand, is very much Beethoven: in fact 20 minutes more Beethoven than you get in
Fidelio
, the version the composer created nine years after his original three-acter, and which we know better today.
So the case for doing the long one must surely be that there's wonderful music in it that deserves to get a hearing. Festival artistic director (and conductor) Stephen Barlow believes that – he's not the only maestro to think so, and he's done it before – and he and director Stephen Medcalf also aver it has a better claim to work as drama.
I think they have a point. The later Fidelio always seems to lurch from domestic comedy to high-minded rescue drama too early on, and Beethoven's original gave him more opportunity to develop the Jacquino-Marzelline-Leonore-Rocco relationship in its own right, and to do it in a half-comic, half-serious, Mozartian way. There's a duet for Marzelline and Jacquino ("Jetzt, jetzt") which is very fine – as she measures up various noble prisoners for their dungeon garb – and a remarkable trio with Rocco which hints at dimensions of tragedy impending. The famous canon-quartet "Mir ist so wunderbar" becomes a climactic pivot in its own right.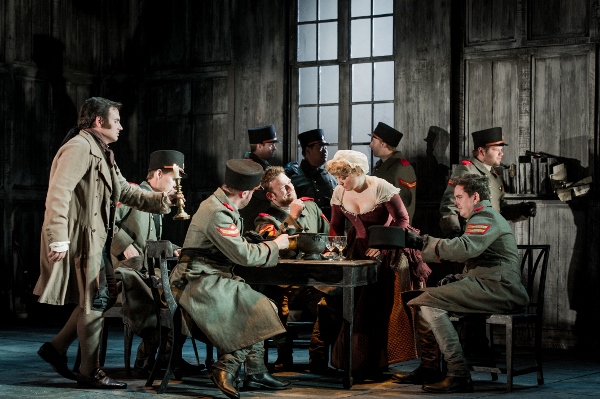 On the other hand, we get a duet for Marzelline and Leonore, with solo violin obbligato, which goes on a bit (and was not played particularly well on the first night); Leonore's "Komm', Hoffnung" is introduced by a less effective passage than "Abscheulicher!" in the later version; and the denouement is extended with a finale, allowing a crisis of confidence for the happy couple after "O namenlose Freude!", which diminishes the effect of Don Fernando's arrival and setting all to rights.
Still, on balance, the case for Leonore is proved. Medcalf has gone one better than that, though. He thinks the whole opera is a fantasy about Beethoven's inner life. During the overture (Leonore No. 2, as used in 1805) we see the composer at his fortepiano, struggling with his Heiligenstadt predicament and his ear-trumpet and dreaming of a woman's love; that violin obbligato is played by Leonore on a fiddle she happens to have with her; later, when Rocco is digging a grave in the dungeon, we're among the detritus of the composer's thwarted dreams. Then freedom for Florestan equals redemption for Ludwig: art and Das ewig Weibliche triumph together, and blow me, half the soldiers turn out to have been prisoners' wives in disguise, and they've all come to free their guys.
It's pretty surreal in the end. But then, maybe that's the story of the opera. The singers are a strong team, with young David Danholt making an extremely good impression as Florestan and Kirstin Sharpin bringing a big voice and control over most of it to Leonore. Hrólfur Sæmundsson sang Pizarro with some good tone and bad-guy relish (getting panto-style boos at the curtain call), and Scott Wilde's emphatic Rocco was much appreciated (though a bit raw near the top of the range).
I liked Kristy Swift's feisty Marzelline most of all for her comic acting and flexible soprano, and Stuart Laing made a reasonable fist of the hapless Jacquino. Jonathan Best gave some gravity to Don Fernando. Stephen Barlow drew generally excellent playing from the Northern Chamber Orchestra, whose sound fills this lovely small opera house ideally, and the chorus, with its large extra male contingent, sang very well (trainer Matthew Morley).
In both operas the set (Francis O'Connor for Leonore, Yannis Thavoris for I Capuleti) sensibly encloses the stage, reflecting sound out of it. And in I Capuleti e i Montecchi (scene pictured below) what lovely sounds! It's a bel canto opera, and in Stephanie Marshall (Romeo) and Sarah-Jane Brandon (Giulietta) Buxton has hired singers fit for purpose. Their voices shone individually and blended in their duets, from the great first act climax, with exciting and poised singing from both and cadenzas as skilfully acted as sung (no stopping to think about the notes here). The latter demonstrated excellent control of mezza voce and real emotional presence, and the former was in warm, full voice through to the final scene.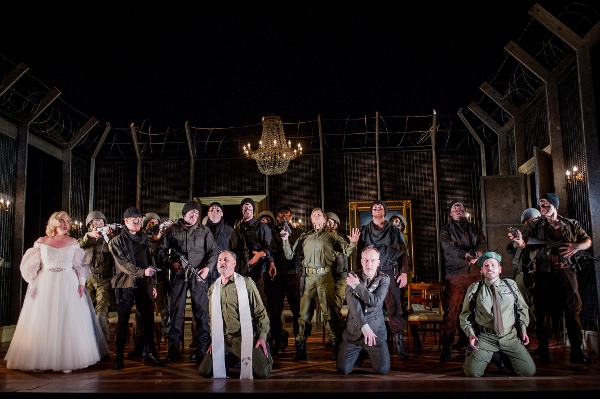 There are only three other principals in this version of the story (we begin where Romeo has killed Juliet's brother, and the two families are at daggers – and pistols – drawn). Jonathan Best sang Capellio (Giulietta's father) with his customary incisiveness and dominance of the stage; Luis Gomes brought an unstrained high tenor timbre to Tebaldo (the man she's meant to marry); Lorenzo is both priest and soldier and, though something of a stooge to Capellio in plot terms, was finely sung by Julian Tovey.
Justin Doyle – shortly to become chief conductor and artistic director of the RIAS Kammerchor and well known for his work with Opera North and elsewhere – piloted the opera with a sure hand, with flexible and energetic rhythms and some beautiful instrumental solos from the NCO (the principal horn and harp in Giulietta's "O quante volte", in particular). The festival male chorus were again very strong, and well abetted by more girls in uniform.
Harry Fehr's gifts as director are not new to us in this part of the country. He sets the opera in the present day in some Balkanised, divided nation where warlords rule, and provides movement and action whenever the score requires it (and, in its leisurely cavatina introductions such as the one for Romeo's Crudel Lorenzo, it does), and sometimes as a bonus. There's a very good fight for Romeo and Tebaldo (Paul Benzing), and these star-cross'd lovers know how to die while singing like angels.
On balance, the case for Beethoven's earlier 'Fidelio' opera is proved
rating
Explore topics
Share this article