Eugene Onegin/Georgiana, Buxton Festival review - poetry and pantomime |

reviews, news & interviews
Eugene Onegin/Georgiana, Buxton Festival review - poetry and pantomime
Eugene Onegin/Georgiana, Buxton Festival review - poetry and pantomime
Thought provoking Tchaikovsky meets the operatic equivalent of Frankenstein's Monster
The snows of yesterday: Eugene Onegin at the Buxton Festival
It's the saddest music in the world: the quiet heartbeat and falling melody with which Tchaikovsky opens his opera Eugene Onegin. Imagine a whole society, a whole lifetime of solitude, longing and disillusion, evoked in a single bass note and a few bars of tearstained violin. And then imagine it sustained over three acts.
Is there another 19th century opera score that matches music to drama so simply, and yet so unerringly? – repeatedly finding the precise turn of melody or twist of harmony required to distil the poignancy out of a situation, and then letting it trickle straight back into your soul. It's tempting to say that it's director-proof. Certainly, when a director comes along who applies both heart and mind to Tchaikovsky and Pushkin's poetic world, the result can be something that quietly burns itself onto your memory for a very long time to come.
I suspect that'll be the case with Jamie Manton's new staging for the 2019 Buxton Festival. The characters wear the familiar Regency outfits; designer Justin Nardella evokes ballroom and steppe with a tarnished mirror, a simple wooden floor and Zoe Spurr's subtle, atmospheric lighting. Within this space, Manton dives deep into his characters' inner lives, creating images of spare, haunting beauty. Tatyana (Shelley Jackson, pictured below with George Humphreys as Onegin) and her little daughter become a portrait group under tumbling snow as Prince Gremin (Joshua Bloom) sings to Onegin of his own wintry years. Characters enter in silhouette and black clad figures sit silently around: the memories of paths not taken, lives not lived. Glittering chandeliers glow bright and then dim as Tatyana struggles to put her feelings onto paper. In the cold light of morning they hang flaccid and drab, like mildewed fruit.
The acting is lovingly detailed – Manton deftly draws out the different social currents at Tatyana's name day ball - and even seemingly surreal touches spring from character and text. In the opening harvest scene, Madame Larina and Filipyevna (Gaynor Keeble and Ceri Williams, both believably kindly, and in luminous voice) are bottling jam against the winter. Olga (an exuberantly minxy Angharad Lyddon) gleefully tastes it with her fingers. But Tatyana's unfilled jar will carry her fruitless letter to Onegin, and we've already seen how she prefers to put her faith in the sheets of poetry that Olga cheerfully discards, and which flutter around the set, as insubstantial and transient as the autumn leaves that litter the floor in Act One and the snow that lies on the ground during Onegin and Tatyana's final reunion.
In short Manton has created a poetic and beautiful exploration of memory and loss, reality and illusion – and within it, framed a faithful, profoundly moving telling of the story. Jackson's Tatyana provides exactly the heart a good Onegin needs; her voice delicate and then tremulous with ardour in the Letter Scene, and rich but recognisably passionate in her final confrontation with Onegin. Humphreys' rake is a more nuanced, visibly frustrated figure than the usual dry stick; he wasn't afraid to let his handsome baritone blanch against the sonorous oak and tar tone of Bloom's Gremin.
In fact, none of the cast prioritised vocal prettiness over dramatic truth, often dispensing with vibrato in order that a line (the opera was sung, with exemplary clarity, in English) might make its full impact. David Webb's floppy haired, reedy Lensky sang his great pre-duel aria with a matter of fact, almost naïve, simplicity that hit deeper than any grand tragic soliloquy, and the Northern Chamber Orchestra under Adrian Kelly delivered woodwind solos that matched the principal singers for character and conviction. But then, Manton's whole production is proof that a staging of Eugene Onegin can be simultaneously traditional and startlingly new; wholly faithful, and yet capable of asking questions of the utmost complexity and sophistication. See it at least twice, if you can.
Once is probably enough, though, for Georgiana – a pasticcio assembled from the operas of several unsuspecting late 18th century composers including Stephen Storace, Martin Y Soler, Thomas Linley, Paisiello and Mozart. And if the name of Georgiana, Duchess of Devonshire conjures images of Hanoverian opulence – of chandeliers and gilded woodwork; Chatsworth and Holland House - Jon Morrell's designs instantly dispel any such notions. The set is a featureless grey rotunda, and the cast sit around in hairnets and identical black undergarments, wriggling in and out of frock coats, panniers and periwigs as the story requires.
So why didn't they just stage an actual opera by Paisiello or Storace instead? Well, it's the Festival's 40th anniversary, and the aim seems to have been to create something celebratory and fun for the home crowd. Mark Tatlow has compiled a score of strikingly high quality (it would have been interesting to know which numbers were by which composers), coupled to effective lyrics by the Festival's CEO Michael Williams and an in joke-studded book by Janet Plater. And fair play to them: the audience at the premiere certainly seemed to appreciate the result.
The dramatic problems, meanwhile, are those involved in turning any slice of history into an opera. Human lives, even lives as colourful as Georgiana's, don't fall readily into satisfying narrative forms. Matthew Richardson's production felt like a series of tableaux: scenes from a life, craftily chosen to suggest other operatic archetypes – Figaro, naturally, but also Der Rosenkavalier, Don Giovanni, and just a hint of The Rake's Progress, as a shadowy Blackmailer urged the Duchess to stake all on a last hand of faro – and linked together by a bantering chorus of Charles James Fox and Richard Brinsley Sheridan.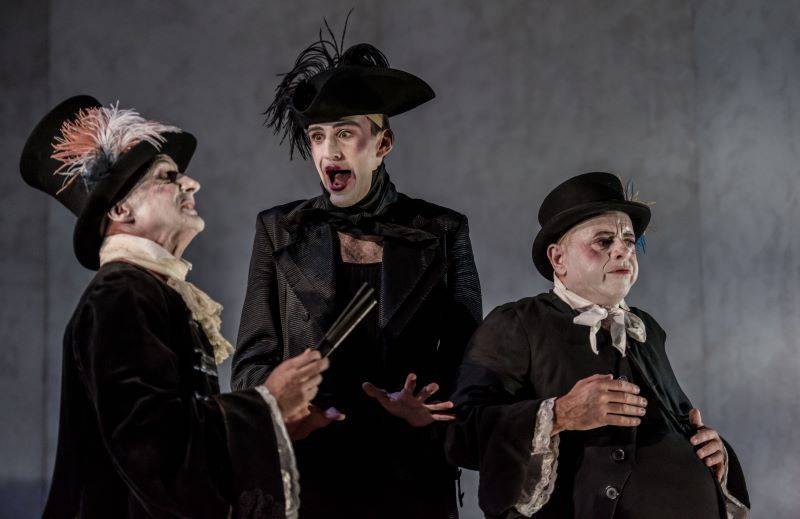 Two of the most fascinating and complex figures of the age having thus been reduced to comic relief, Aled Hall and Geoffrey Dolton (pictured above) did their best with some clodhopping exposition ("Tell me, how goes your play The Rivals?"), camping it up and even scoring a laugh for a clunking great chestnut about Earl Grey's preferred hot beverage (the word "politician" was sufficient to send the audience into paroxysms). Mostly, however, they gave the whole thing the air of a pantomime. Benjamin Hulett (pictured below with Samantha Clarke [left] and Susanna Fairbairn [right]) had a good, if gruff, shot at putting some depth into (boo! hiss!) the Duke of Devonshire (imagine Count Almaviva reduced to an Overbearing Husband emoji). Susanna Fairbairn was plaintive and sensuous as Bess, the shared lover of Duke and Duchess alike, and with the exception of one particularly gorgeous love duet, Katherine Aitken was underutilised in the Cherubino-like trouser role of Grey.
This was Georgiana's show, though, and Samantha Clarke pretty much walked away with it; by turns sparkling and melancholy, phrasing her lines with lively grace and making light work of her coloratura. Here, at least, was a Georgiana that you could credibly imagine Lucy Worsley wanting to dress up as, and in an extended tragic aria halfway through the second act (the lights dimmed: it was that sort of production) Fairbairn made almost made you feel some sympathy, though there's a limit to how far that can go when a role is essentially a musical Frankenstein monster stitched together from a patchwork of unrelated pieces. Whatever: the audience laughed, Tatlow conducted the NCO with an exuberant swing, and a final chorus proclaimed the feckless and prematurely dead Georgiana "Queen of Hearts". You didn't see that coming, now did you?
Imagine Count Almaviva reduced to an Overbearing Husband emoji
rating
Explore topics
Share this article