Idomeneo, Buxton Festival review - revolution in the head |

reviews, news & interviews
Idomeneo, Buxton Festival review - revolution in the head
Idomeneo, Buxton Festival review - revolution in the head
Mozart's Greek tragedy walks a psychological tightrope - and occasionally slips
Mind games: Madeleine Pierard (Elettra) in Buxton Festival's Idomeneo
The audience at the Buxton International Festival has a way of cutting to the essence of a production.
"They'll have a job getting all that cutlery out of the sand" commented one of my neighbours after the end of Act One, where in
Stephen Medcalf
's staging, Idomeneo (Paul Nilon) has just gone full operatic Mad Scene: hurling chairs, and sweeping an entire dinner service into the piles of sand that comprise much of the set. We'll come back to the sand later. More significant, perhaps, is the fact that at the opera's climactic scene, as Idomeneo prepares to sacrifice his son Idamante (Heather Lowe), he wigged out again, sending Idamante sprawling onto the floor. And that at this crucial point, people in several rows around me laughed out loud.
Tut tut. Frivolous lot haven't done their homework; shouldn't be allowed to see Serious Opera (or at any rate opera seria) until they're ready to approach it with the proper reverence. Well, no actually. The audience is always right. Shakespeare knew it; Mozart knew it; any intelligent theatre-maker today knows it. If the punters are laughing at a high tragedy by a supreme musico-dramatic genius, it's the production or the performance that's failed (at least at this point), not the public. And the question of why it did so here is interesting, because so much of Medcalf's production is powerful, effective and thought-provoking.
It certainly looks striking. Isabella Bywaters's set presents a stark, neo-classical chamber overlooking a distant vista that might be sea, might be sky. Its doorways are clogged with piles of sand. Sands of time? Of memory? It's dreamlike, an image from De Chirico or Magritte. It also dovetails elegantly with Medcalf's stated vision of Idomeneo as a psychological drama: "not so much the boiling seas, shipwrecks, gods and sea monsters but what they represent". Essentially, we're inside the characters' heads, and that means images and acting that tends towards the extreme. The curtain opens on Ilia (Rebecca Bottone, pictured below) chained to the wall: a woman literally at the end of her tether. Later we see Elettra's tempestuous rage aria accompanied by synchronised flashes of lightning, and of course that cutlery-sweeping mad scene. To be fair, you do pity the stage manager.
It's a high-risk dramatic strategy, and when it works, it's compelling. Happily, this is a cast unafraid to put their vocal firepower wholly at the service of the drama. Lowe's Idamante's hint of youthful swagger is matched by a warm, proud mezzo with a fine heroic ring – like Strauss's Octavian grew up and knuckled down – while as Ilia, Bottone combines a wide-eyed intensity with singing of a plaintive, plangent sweetness that's genuinely affecting, particularly in her aria with Idomeneo, "Se il padre perdei". It's the subtlest and most expressive vocal performance I've heard from Bottone, and I've heard her Yum-Yum.
Madeleine Pierard, meanwhile, is magnificently cast as Elettra. Her tone opens out to flashlight brilliance at the top of her register, while she sculpts phrases with such elegance that you really do get that sense of a personality about to crack. Pacing majestically about the stage in her magenta ballgown (costumes – vaguely 1920s, vaguely middle eastern banana republic – were by Bywaters too) she created some of the evening's most haunting visual images, culminating in a final, troubling, disappearance from the stage as the chorus celebrated the statutory edifying ending. But none of it would fly without Idomeneo himself. Nilon (pictured below) gives us a three-hour portrait of mental and emotional disintegration: growing more haggard and hunched with each successive nervous crisis, and unsparing on his voice. It's faded, frayed. At times it breaks into an outright snarl or strangled cry. Yet Nilon's singing is always – from his first appearance to his final (and deeply moving) renunciation scene – lyrical, warm-centred and dignified.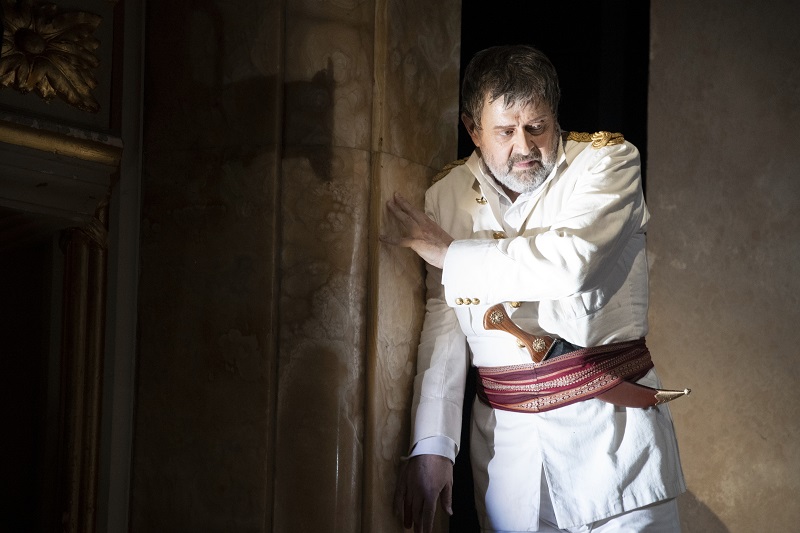 But still they laughed. I don't think any of the individual performances were the cause, or indeed the staging as a whole (give or take the odd knife and fork, anyway). In fact, the most potentially risible scene – as the mysterious voice of Neptune lifts the curse on Crete – was remarkably effective and uncanny. Mozart's trombones were supplemented by electronic echoes, and the divine judgement was delivered as though being mouthed by a momentarily-possessed Idomeneo himself.

No, I suspect it's that with a concept as utterly dependent on suspension of disbelief as this one, there's no room for any slackening of tension. Yet throughout this opening performance there were brief pauses, gaps as scenery was repositioned, and – most crucially of all – an orchestral performance from Nicholas Kok and the Northern Chamber Orchestra that sounded as if they'd collectively selected "Mozart" from a stylistic drop-down menu, opted for elegance rather than electricity, and occasionally fluffed even that. Spirited choral singing couldn't entirely compensate.
True, ragged edges happen on hot days and first nights: and when Mozart himself slowed down, there was some lovely playing – the way the woodwind soloists draped themselves artlessly around Bottone's voice in the above-mentioned aria will linger in the memory. But this whole production walks an emotional tightrope, and once that sags, repeated moments of high drama risk becoming absurd. You're not ratcheting up the intensity, you're just whacking characters on the head once too often. My hunch is that all these things can and possibly will tighten up during the run, possibly as soon as the second performance – and that audiences might well find themselves moved, gripped, and convinced that I've been very unfair indeed. I do hope so. Because they're right.

The audience is always right. Shakespeare knew it; Mozart knew it; any intelligent theatre maker today knows it
rating
Explore topics
Share this article