Almost Holy |

reviews, news & interviews
Almost Holy
Almost Holy
Charisma battles desolation in moving documentary of Ukraine's lower depths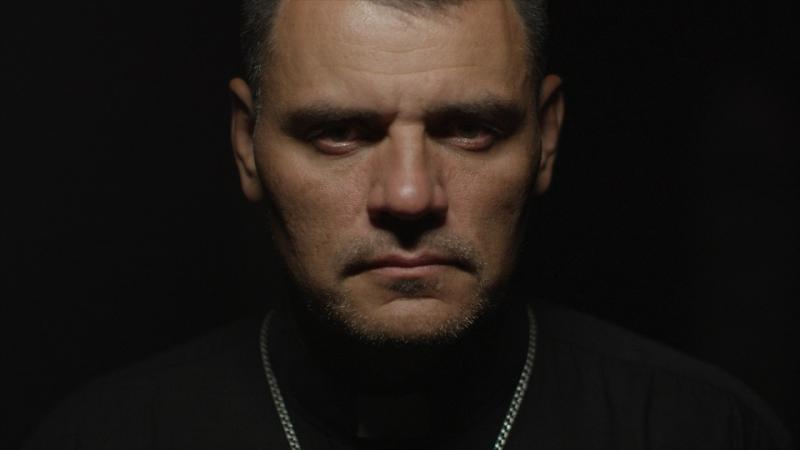 Gennadiy Mokhnenko: priest, fighter
Tough love doesn't get much tougher. Ukrainian priest Gennadiy Mokhnenko has spent two decades trying to keep children off the streets, and away from drugs, in his hometown Mariupol, using methods that elsewhere in the world would count as vigilante.
For him radical intervention was the only way of responding to the social breakup of the 1990s, after the Soviet collapse brought his society to a profound low point, both psychologically and economically, while those nominally in power were conspicuous by their inaction, or worse. He's been doing it ever since.
Mokhnenko's charisma is at the heart of Almost Holy, a remarkable documentary by American director Steve Hoover, which follows the pastor over two years around 2013-14, filling in the background to his story with archive material. Snatches from his past television appearances make it clear that Mokhnenko is more than confident in front of a camera, and he gave the filmmakers full access: he is filmed both at his base, the children's rehab centre "Pilgrim Republic" in the Black Sea town, and at more informal moments, including with his family – though that word acquires a new meaning when he tells us that, as well as three children of his own, he has adopted 32 others. The power of his personality never switches off.
The wider perspective is of a bleakness that is almost unrelenting
A huge number of kids must have passed through Pilgrim Republic over the years, and most ended up there because Mokhnenko went out in the centre's minibus to rescue them – whether they wanted to be rescued or not – from wherever they had ended up, their homelessness, and lawlessness, all too often compounded by drug addiction. The ease with which opioids like tramadol could be obtained under the counter at chemists prompted him to set up a grassroots protest movement, Obridlyo ("Sick of It"), which went national, its impact reaching as far as Ukraine's capital, Kyiv.
There are a few such uplifting moments in Almost Holy, like the before-and-after face of a child who's been through drug rehabilitation – his transformation almost impossible to put into words – and encounters with young people who have grown beyond their own experience of childhood abandonment to start families themselves. But the wider perspective is of a bleakness that is almost unrelenting, matched by the forbidding industrial cityscape of Mariupol itself (pictured below).
Mokhnenko sets out to explain, a little self-consciously perhaps, his world to the foreign filmmakers. "This is real, for us," he says with wry humour, sitting in the back of an ambulance that's equipped with precisely nothing. Such laconicism works as a counterpoint to his usual tell-it-how-it-is directness, while Hoover ingeniously weaves another lighter strand into his story by referencing a classic Soviet-era cartoon titled Crocodile Gennadiy, whose eusuchian hero stands up for good in the world against opponents bent on engineering the opposite. The fortuitous coincidence of first names aside, the juxtaposition between screen fantasy and real life is occasionally inspired, and never over-used or contrived.
Hoover's title raises issues, namely whether the director endorses Mokhnenko as virtually a "hero of our time". Some critics have wondered whether it's an over-generous portrait that must have overlooked something darker, and there's a revealing moment in which Mokhnenko reads off public criticism from Pilgrim's Wikipedia page which charges him with a "search for fame" and "desire for power". The director clearly put that scene in for a reason, surely to deflect just such charges of hagiography: Mokhnenko has clearly now built Pilgrim into something much more ambitious, and he doesn't conceal it.
If that's hubris, it's a pretty mild form. Searching for some subtext seems unnecessary when the story itself is so extraordinary. Mokhnenko belongs to the ranks of those individuals who emerged out of post-communist despair determined to articulate a moral line in a society that was either paralysed by the legacy of its Soviet mentality, or simply distracted by the severe demands of survival: rather few such figures have survived, let alone prospered since those beginnings. He's a figure out of the civil society movement as much as the Church, and the dog collar he wears to deliver a moving open-air sermon in a women's prison is an exception (he's clearly radically different from his local Orthodox Church counterparts, too). If there is a hint of double standards here, it's possibly related to issues of self-presentation in the international NGO context in which Pilgrim may be involved – but it would be cynical indeed to see the film as a kind of feature-length pep talk for such an audience. Hoover leaves us with a lasting impression of Mokhnenko as a fighter, not least through long silent scenes showing him at boxing training: every step in this life involves struggle.
Mokhnenko, this most stubborn of priests, is driven to despair
It's a deeply moving work, even if Almost Holy leaves some reservations, the first centred – perverse though it may seem – on its indisputable technical quality. It's a film clearly made for the big screen, one that went down the loose American documentary production route that brings an industry name on board – here, it's Terrence Malick as executive producer – to increase opportunities. John Pope's cinematography and the score by Atticus Ross and others are stand-out achievements in their own right, but we may sometimes wonder whether the opportunity to film with multiple cameras – even allowing for the wonderful compositions and slow-motion sequences they bring – actually takes something away, as well as adding it. (How would Almost Holy have happened if it had come out of the UK: through Storyville very probably, with a director as likely as not doubling as cameraman, and going for a handheld approach).
The other cause for deliberation is deeper, coming in the almost unremitting bleakness of life depicted, the sense that this is a world in which the grotesque has become the norm. One late narrative strand follows a deaf girl, Lyuba, who's been raped by an idiot and had her child taken away, before she's rescued from the dump she's living in by Mokhnenko. Despite a supportive local deaf community, this is a world of utter desperation, made surreal by the claim of the man involved that Lyuba's appearance in his life had answered his prayers: he'd been promised "a bride, a gypsy who's deaf and dumb". There's macabre irony in the fact that it's a scene that could have come straight out of the work of Ukraine's most acclaimed film director, Kira Muratova – but it's also painfully close to chernukha, that concept of willful blackness, darkness for its own sake.
It's visceral viewing, and if the film's style means more people see it, so much the better. No happy ending, though: Almost Holy closes with new extremes of devastation. Just as Hoover seems to be tying his story strands together, armed conflict breaks out around Mariupol, which sits on the front line of fighting between the Ukrainian and pro-Russian armed forces (the town's capture would open a land corridor from Russia to occupied Crimea). Mokhnenko, this most stubborn of priests, is driven to despair, and we too are left wondering when – if ever – peace and prosperity may finally come to beleaguered Ukraine, the homeland to which he is so uncompromisingly devoted.
Overleaf: watch the trailer for Almost Holy
He's a figure out of the civil society movement as much as the Church
rating
Share this article