Classical CDs Weekly: Michael Nyman, Stravinsky, Emily Pailthorpe |

reviews, news & interviews
Classical CDs Weekly: Michael Nyman, Stravinsky, Emily Pailthorpe
Classical CDs Weekly: Michael Nyman, Stravinsky, Emily Pailthorpe
British minimalism, sacred sounds from a Russian exile and a disc of oboe music
Saturday, 17 September 2016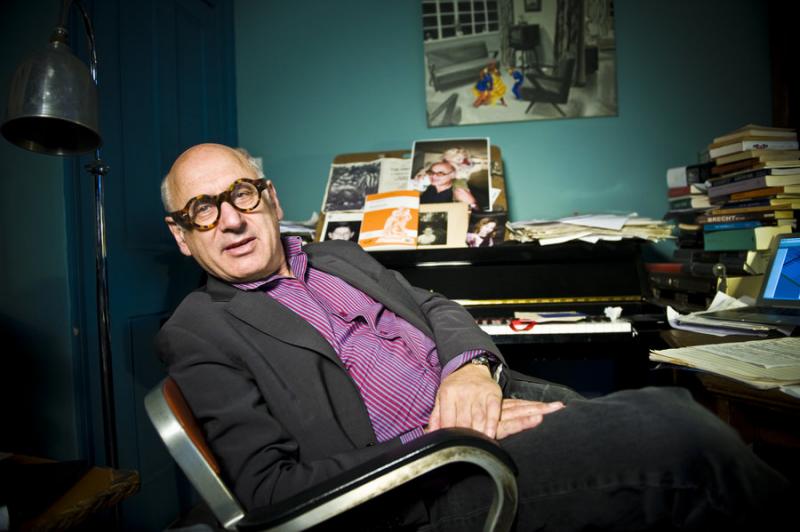 Michael Nyman in repose
Michael Nyman and The Tempest – Prospero's Books and Noises, Sounds & Sweet Airs (MN Records)
Think Michael Nyman and one inevitably thinks of the 1980s, and it's quite possible that Nyman's scores for Peter Greenaway will prove more enduring than the films themselves. This set, the two Tempest-inspired works remastered and reissued from Decca originals, includes the last Nyman/Greenaway collaboration, Prospero's Books. A mixture of newly composed numbers and excerpts from an earlier theatrical score, it ended the pair's working relationship. The reasons aren't entirely clear from Nyman's sleeve note, other than a confession that, "dissatisfied with the way that Greenaway used the soundtrack, I decided never to work with him again." Hmm. What's presented here is an entertaining listen. All the fingerprints are here: neo-baroque flourishes and parping saxes predominate. Just when you're feeling a little weary, Nyman will throw in a track like the tiny "Twelve years since", a beautiful moment of repose. He has superb vocalists too: soprano Sarah Leonard copes brilliantly with Nyman's punishing high writing, and there's an appearance by Ute Lemper in the closing masque. The score's punchiness and brio is also its main flaw – everything sounds a little too close and over-amplified.
Noises, Sounds & Sweet Airs came several years before Prospero's Books, a one-act Tempest adaptation that's a far more engaging listen. Nyman's score is more musically varied, and the recording is less abrasive. Soprano Catherine Bott and alto Hilary Sumers ably take on multiple roles, assisted by a young Ian Bostridge in his debut recording. The whole work is a little fast-paced for comfort, but it's a striking, appealing piece which deserves a rediscovery. Full texts are provided for both works.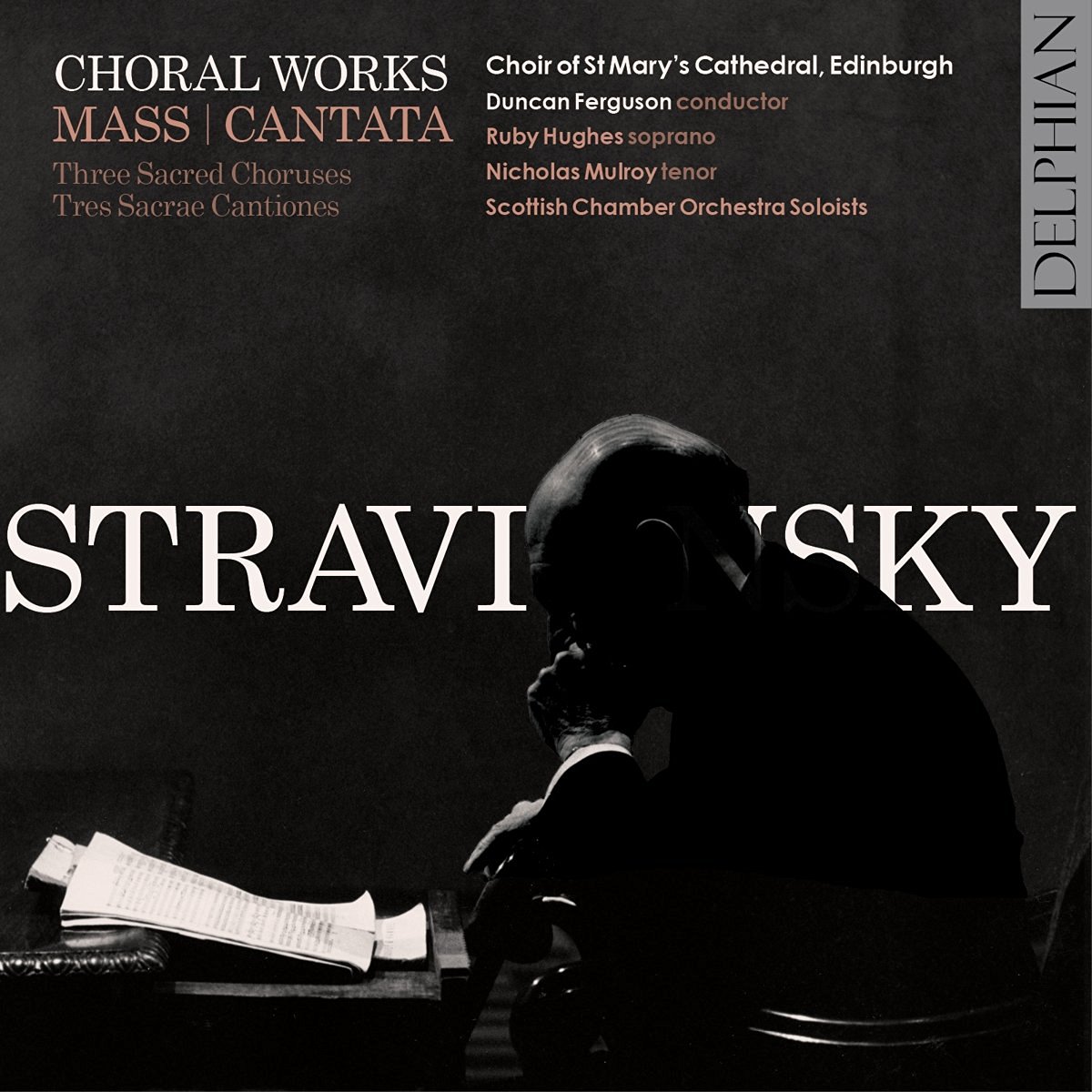 Stravinsky: Choral Works Choir of St Mary's Cathedral, Edinburgh/Duncan Ferguson, with Ruby Hughes (soprano) and Nicholas Mulroy (tenor) (Delphian)
There's an awful lot of decent Stravinsky that isn't heard enough. Like the Mass, completed in the late 1940s and intended for liturgical use. It's performed on this marvellous Delphian disc as the composer would have preferred, with boys' voices taking the alto and treble parts. Stravinsky's scoring for ten winds is utterly characteristic, with trombones and bassoons a source of continual delight. But the real pleasure is in the choral sound, the Edinburgh boys alternately euphonious and pungent. This Mass doesn't convince as a sacred work, and there are points where you suspect that the composer is going through the motions, but the high spots are things to savour. Like the little instrumental flourishes opening the Gloria, or the widely spaced choral harmonies in the Sanctus. The austerity never overwhelms, and on more than one occasion there's a whiff of Poulenc.
The Mass lasts less than 20 minutes, so we get much more. Most substantial is the Cantata, written straight after The Rake's Progress – its texts selected from an anthology compiled by Auden. Three longer poems are separated by verses from a funeral chant better known through Britten's setting of it in his Serenade. Ruby Hughes and Nicholas Mulroy excel in their solo numbers, the pair later duetting in the tiny Western Wind. The choral movements are handsomely done. Duncan Ferguson's choir also throw in immaculate readings of Stravinsky's late Gesualdo realisations, the results sounding, as Gabriel Jackson's notes point out, like neither composer. And there are three short sacred pieces written much earlier, the solemn Pater Noster the most striking. Essential listening, good sleeve art and handsomely recorded.
Better Angels - Music for Oboe by Strauss, Barber, Janáček and Richard Blackford Emily Pailthorpe (oboe), BBC Symphony Orchestra/Martyn Brabbins (Champs Hill Records)
Confession: I struggle with Richard Strauss's operas. Yes, they are magnificent in small doses, but dull stagings and flabby performances leave me feeling that there are simply too many notes, and that the handful of concise concertante works which bookend Strauss's long career are among the greatest things he wrote. The two horn concertos are fabulous, as is his 1945 Oboe Concerto. Strauss composed it after a suggestion from the Pittsburgh Symphony's principal oboist John de Lancie, stationed near Strauss's Bavarian home while serving as a corporal in the US army. Strauss initially declined but soon relented, the concerto being among his final works. Not that you'd suspect any waning of compositional powers: this is a gloriously lyrical and sunny piece, deftly scored. Emily Pailthorpe has the chops for it: Strauss's long lines sing out with no hint of strain, her tone just the right side of full-bodied. She's superb in the Andante's aria-like melody, sweetly accompanied by Martyn Brabbins' BBC Symphony Orchestra. And how apt to follow it with Samuel Barber's valedictory Canzonetta, the bittersweet, insubstantial remnant of a planned concerto. Alcohol and depression had audibly taken their toll in Barber's final years, and it's a relief to hear his much earlier Summer Music for wind quintet, twelve minutes of burbling loveliness.
Quirkier is Janáček's Mládí, a wind sextet dripping with dry humour and high spirits. As with the Barber quintet, Pailthorpe never hogs the limelight, James Burke's bass clarinet adding plenty of colour. Lastly comes Richard Blackford's concerto The Better Angels of our Nature, its title drawn from an Abraham Lincoln quotation. A musical plea for reconciliation and tolerance, it's an appealing listen. Pailford's bugle calls over static strings at the concerto's heart are affecting, not clichéd, and Blackford's transparent scoring never overwhelms the soloist. Buy this for the Strauss, and be beguiled by the couplings. Lucid notes and good sound – an appealing disc.
Neo-baroque flourishes and parping saxes predominate
Explore topics
Share this article