CD: Gruff Rhys - Set Fire to the Stars |

reviews, news & interviews
CD: Gruff Rhys - Set Fire to the Stars
CD: Gruff Rhys - Set Fire to the Stars
The Super Furries frontman releases a soundtrack that stands tall and on its own merits
Monday, 26 September 2016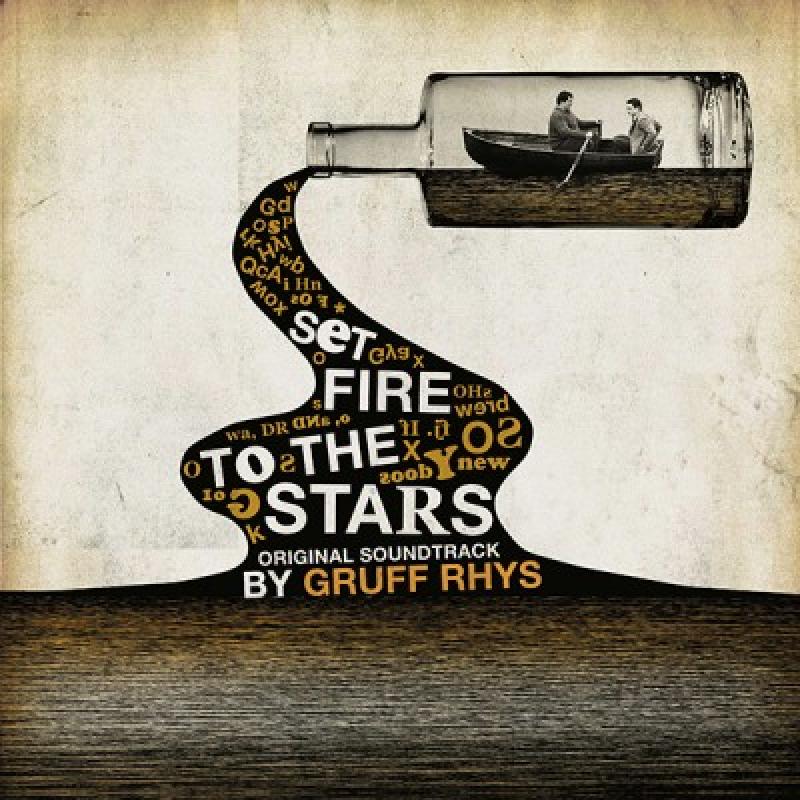 Keep on pouring as long as you like…
Super Furry Animals front man Gruff Rhys is a quietly prolific talent. Every few years or so, there'll be another album, complete with the kind of thought-through concept that gives lift to his literate and expressive story songs and colours them with context.
"Literate" is word very much at the centre of his latest project, a soundtrack to the 2014 film Set Fire to the Stars, which details Dylan Thomas's time in New York in the 1950s. Recorded around the same time as Rhys's wonderfully expansive ode to another Welsh traveler to the Americas, the explorer John Evans, American Interior, the album finally gets a release this month.
A quartet comprising Rhys himself, the extraordinarily talented Chris Walmsley (All Traps Set) on drums, former Portishead collaborator Jim Barr on double bass and Osian Gwynedd on piano played the songs and instrumentals Gruff had written for the movie as well as improvising when required.
The result is a fantastically varied and utterly satisfying exploration of subtly defined musical themes. Soundtracks provide an environment in which songs can be extended and reworked, melodies bouncing back – elegant echoes, inhabiting many lives and solidifying a sense of familiarity. Here, the title track plays in perfect pop form at the top of the piece, before a stirring string quartet version appears, itself ideally placed to lead into a piano and drum-led reprise reminiscent of Sebastian Tellier's "La Ritournelle". Then, later, a more muscular, string-soaked version is driven by a rhythmic undercurrent that recalls the very best of Badly Drawn Boy's earlier work.
There are subtle head nods elsewhere, too. "Dylan's Demons", with its rolling piano and lazy funk feel, winks and nods as it passes Charley Cuva's soundtrack to Robert Downey Sr's 1969 satirical comedy Putney Swope, but does so with a smile of recognition rather than the sneer of theft.
"Tremble to the Light" recalls The Band, though no more so than it does Super Furry Animals themselves, which is testament to the strength of Rhys's songwriting identity and the extraordinary timbre of his voice. It's hard to describe accurately the quality Gruff displays, but his delivery accents a child-like expression of adult life, stripped bare of pretension and layered with feeling. On this project, it's the perfect vessel.
Many – possibly even Gruff himself – might not consider this soundtrack a proper solo album (there's one due in 2017). The feeling, perhaps, is that a piece like this is too constrained by the job it has to do. I don't agree. For me, musically, it's quite possibly the most satisfying thing he's produced yet as a solo artist and one of the most captivating things I've heard all year.
Set Fire to the Stars is one of the most captivating things I've heard all year
rating
Share this article