Madama Butterfly, Glyndebourne Tour |

reviews, news & interviews
Madama Butterfly, Glyndebourne Tour
Madama Butterfly, Glyndebourne Tour
Vocally respectable, dramatically inept deflation of a Puccini masterpiece
Saturday, 15 October 2016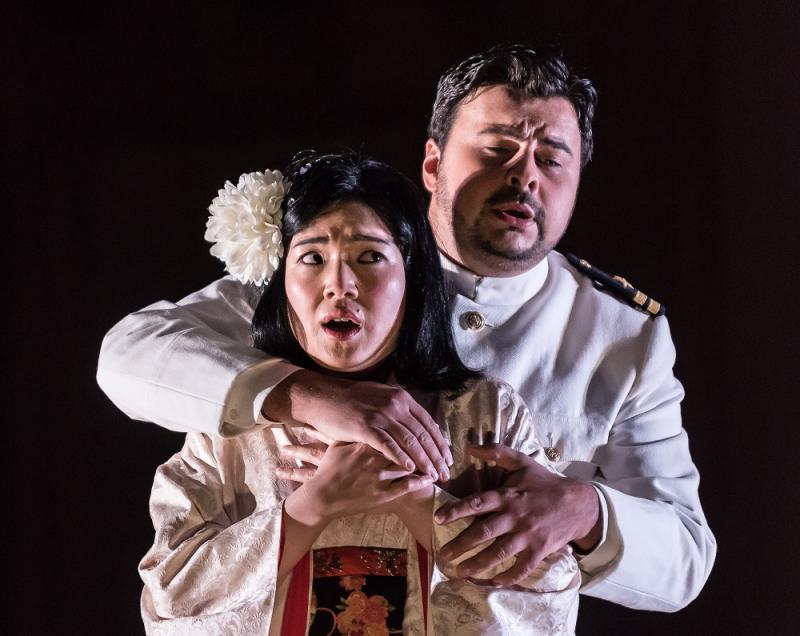 Karah Son and Matteo Lippi in the Act 1 Duet
What would Glyndebourne, staging Madama Butterfly for the first time, bring to Puccini's most heartbreaking tragedy? Subtle realism, perhaps? Certainly the composer, along with his superb librettists Giacosa and Illica, offers plenty of opportunities. Yet director Annilese Miskimmon botches nearly every significant moment, and it's surely her fault if her three principals are as wooden as the suggestion of lacquered trees dominating the sets.
Vocally, at least, this was a respectable evening, occasionally a little more than that. Korean soprano Karah Son can fill high-lying phrases with impassioned vibrancy, so that even when stagewise she's not properly supported - in "Un bel di", for instance, delivered to the audience, not as a repeated narrative to maid Suzuki (Claudia Huckle, sympathetic but under-used), who for some unfathomable reason has just left the stage - she can come close to moving us. She's the most plausible-looking 15-year-old bride in Act One, too, highlighting a layer of queasiness in callow Lieutenant Pinkerton's marriage of brief convenience we don't usually get. But when we see Butterfly the woman after three years of desertion, Son doesn't have anywhere near the fullness of middle and lower range for deeper feelings and temporary control of her unfortunate situation.
Matteo Lippei's Pinkerton is a stock, ardent tenor without a trace of charisma or plausible remorse when the consequences of his return hit home. The Sharpless of Francesco Verna - another of those Italian baritones, like Alessio Arduini in the Royal Opera's Così fan tutte, with a shade more vibrato in the voice than is quite healthy in a youngish singer - proves a cipher of a consul when he should be a sympathetic voice speaking out against imperialist bad behaviour. But then early contrasts between him and his fellow American are defused when we're distracted by a slideshow of prospective Japanese brides (pictured above).
Later, in the love duet, we get an even more irrelevant film of GI brides sailing to America - never a prospect for this Butterfly, so rather pointless - as part of Miskimmon's 1950s setting. Act One is set in Goro's marriage bureau somewhere - presumably, from the neon signs on the brick wall at the back, the red-light district - in downtown Nagasaki. This poses only problems when the setting is supposed to be the new home for Butterfly and Pinkerton on a hill overlooking the harbour. The ascent of the girls can't have any perfumed visual atmosphere in this enclosed setting, and connections with who comes up the hill in Act Two are weakened. All the smaller roles are under-directed, so none of those singers makes the desired impact.
Designer Nicky Shaw's trees - odd decorative bureau-design until first-act magical realism briefly takes over - look as if they might be more promising in conjunction with the sliding-screen house in Act Two. But the acting area in front of the dwelling is a bit of a dead space where Butterfly entertains Sharpless - having asked him to come in - and where the garden, presumed beyond it (odd), yields only a few handfuls of cherry blossom rather than the flowers Butterfly orders Suzuki to gather for Pinkerton's arrival.Topography is uncertain. Presumably when Butterfly "sees" the details of Pinkerton's ship she's doing it from memory, but with Suzuki looking to the back of the stage and her mistress out front, it doesn't work.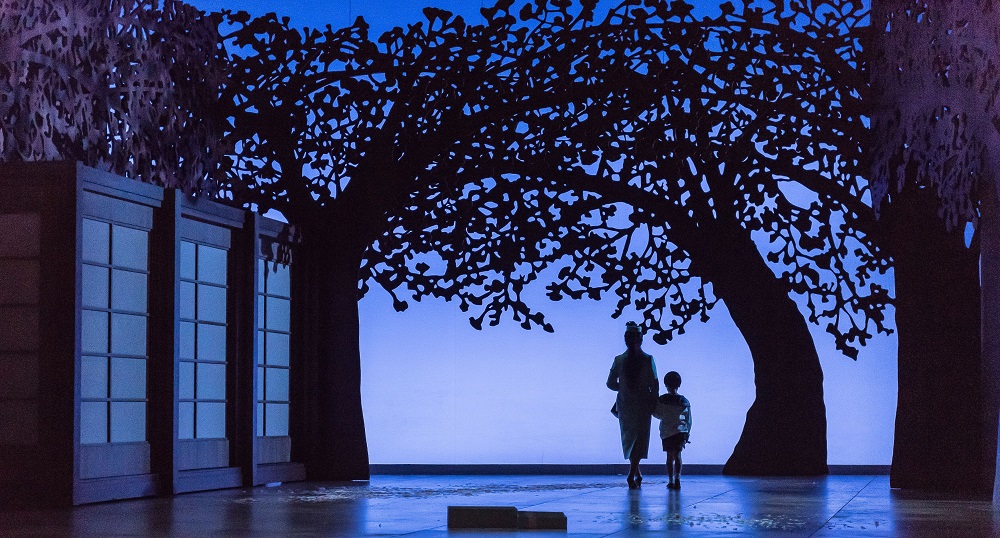 The tableau with the mother leading her child slowly towards the back of the stage (pictured above) is briefly lovely, but nothing is ever stronger than the sight of maid and boy fast asleep while Butterfly holds her night watch. We don't get Suzuki, there's no kneeling or lying down and the dawn dropcloth - making sense at last - is used instead of the much more powerful picture of the waiting woman with her thoughts and emotions reflected in the interlude.
This and the Humming Chorus before it, at least, are John Wilson's finest stretches in an interpretation of the score which is always lithe and mostly light, but somehow misses the sensuousness and - surprisingly for this conductor - a sense of theatrical peaks. As yet, the orchestra, good but not outstanding, doesn't move quite as one with the singers; that may come (and Gareth Hancock conducts no less than eight of the tour performances).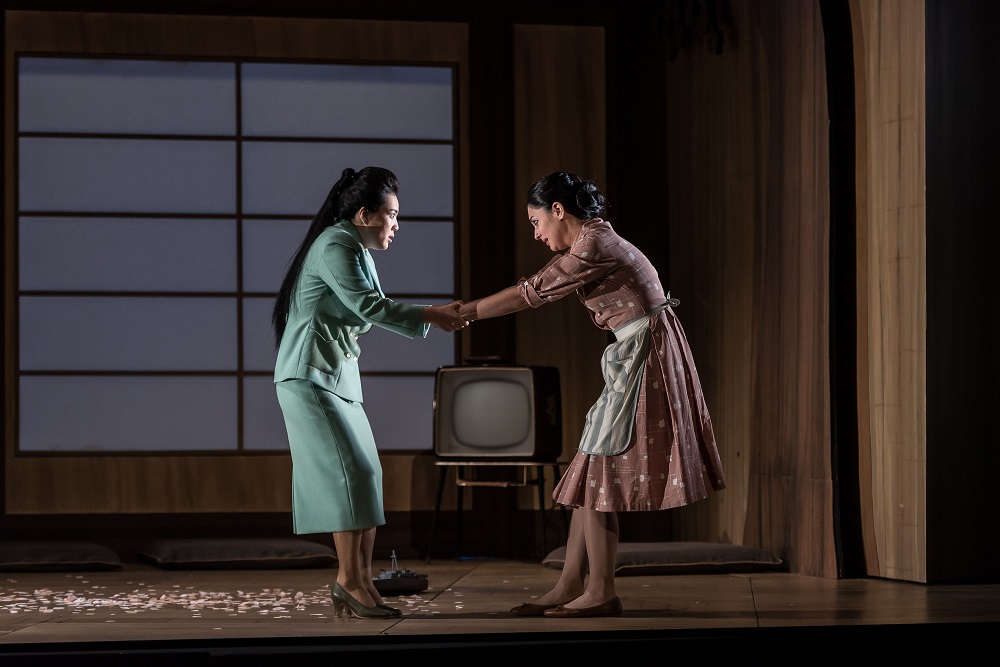 Tears, big emotions? Not for me, very rare in this ultimately very brutal drama, though the dead spaces of shattered illusion (Son and Huckle pictured above) did begin to hit home in Wilson's sensitive handling. Why, though, make Kate Pinkerton an ice-cold Hitchcock blonde? It's surely much more affecting for her to feel the awkwardness of the situation as much as anyone. And the suicide is the final death-blow of Miskimmon's staging, having bloody Butterfly stumble out from behind the screens with her little battleship to die alongside her boy, who's playing with a bigger version. Not convincing, not shocking, like far too much of this missed opportunity to turn the nuanced screw on a masterpiece.
It's surely Miskimmon's fault if her three principals are as wooden as the suggestion of lacquered trees dominating the sets
rating
Share this article