This House, Garrick Theatre |

reviews, news & interviews
This House, Garrick Theatre
This House, Garrick Theatre
Sharp Seventies political farce comes suddenly bang up to date
Saturday, 03 December 2016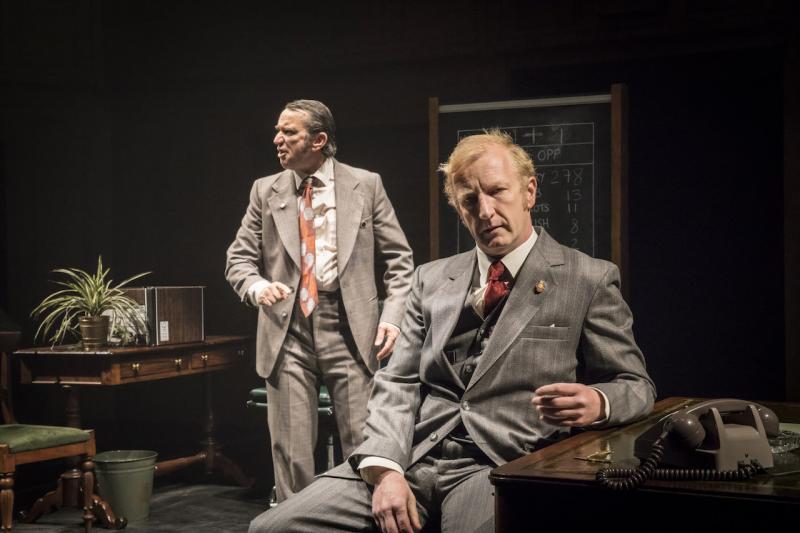 The odds and sods have it: stressed-out Labour whips Bob Mellish (Phil Daniels) and Walter Harrison (Steffan Rhodri)
This House arrives in the West End with magic timing - a comedy about the farcical horrors of being a government with a wafer-thin majority, frantically wheeling out dying, suicidal and breastfeeding MPs to vote, horsetrading with "odds and sods" to keep their nails on power.
James Graham's play about the 1970s Labour travails, produced by the National Theatre/Chichester Festival, opened in 2012 to a mixed reception, but its reappearance on Charing Cross Road acquired some serendipitous overnight oomph as Tory fellow-traveller Zac Goldsmith lost his seat to the Lib Dems yesterday, shrinking Theresa May's supply of odds and sods.
One Tory MP moans that the Opposition benches get more draughts than the Government ones
On the blackboard in the whips' office 1974 PM Harold Wilson's bovver-boy chief whip Bob Mellish is keeping a running tally of their achievable majority if they get the odds and sods onside, including their own less clubbable far-lefty members: +3, +2, +1, +13!, 0. Today Mrs May's outright majority is down to 12, and the Brexit split means there are a record-breaking lot of sods to sweet-talk.
So while This House may not feel groundbreaking in a comedy genre defined inevitably by Yes, Minister, The Thick of It and Rik Mayall's The New Statesman, the apt political material in Jeremy Herrin's production is full of smarts and entertainment value for right now, and it's played with huge relish by a tip-top cast moved deftly about by Scott Ambler's choreography. Designer Rae (War Horse) Smith squeezes the innards of the House of Commons and of Big Ben too onto the Garrick's little stage, the wood panels and green benches, the Strangers' Gallery, a bar, cupboards and trapdoors, spiral staircases up into the vast clock workings, where a rock band perches incongruously overhead, offering musical interludes. Theatre designers are geniuses these days.
Paule Constable's lighting delineates private offices where polyester flared-trousered and sideburned Labour joust with worsted pinstripe and club-tied Tories, fighting bitterly over the class difference between the new chairs for Government whips and the old ones for Opposition. One Tory MP moans that the Opposition benches get more draughts than the Government ones.
The top people are not Graham's concern - Wilson, Heath, Thorpe, Benn, Foot, Thatcher are off-stage. This is an engine-room comedy, even a This Week niche comedy, about the subalterns and their ingenious wargames as they defend tiny advantages in desperate antics, nakedly exposing vanities, soft underbellies and the insides of pockets. Here are the ripe blue idiots of tabloid headlines: mace-wielding Heseltine and camp St John-Stevas, away-with-the-fairies John Stonehouse, smarmy "Jack" Weatherill.
What's the difference between an archetype and a stereotype? Graham just wants to have middle-England fun, showing the pickles that decent below-stairs men can find themselves in. The Speakers are conceited windbags, Irish MPs are red-headed, hard-drinking oafs, the Welsh are black-headed, garrulous oafs, the Scots are wild-haired and swivel-eyed. Audrey Wise represents the unclubbable radical lefty who refuses to kowtow to whips at vital moments. You know who. They speak of each other only by constituency names, like some arcane kind of boarding school.
With sick men dragged from beds to vote, enemy whips unite to give each other's casualties a night off
Obviously class war is one '70s narrative, broadly drawn with heavy coal-edged or East End accents on the Labour lot, but Graham is also pointing at the coming class changes in the Conservative story - The Lady from Finchley is on the rise, her jarringly overmodulated vowels heard on the telly, and advertising people are sneaking into Tory ranks alongside the aristotwats. (Good word, that.)
Real whips' memoirs have been sourced for some excellent laughs - to win one division, a Labour whip offers a keen trainspotting Independent a seat on the railways committee. The scarce female members get two of the best scenes. An old Labour hand poignantly longs to keep his 100 percent voting record, whatever physical state he's in. A new Tory one hugely resents having won his seat at all - it shouldn't have been ghastly swing-seat Redditch, he was teeing up for safe Richmond (ha ha).
A parallel metaphor emerges too between the huge casualty rate of MPs during the '70s Labour governments and the physical breakdown of the Parliament building itself. With sick men dragged from beds to vote, and a heavy-smoking and -drinking lifestyle, "pairing" becomes a vital device, where the enemy whips unite to give each other's casualties a night off. It sparks unlikely friendships between the enemies - apparently a staggering 17 MPs died in harness in those five hard-fought years, an unpredented death rate. As each MP pops his clogs, he strides off nobly into radiant celestial clouds, a nice, showbiz, heart-swellingly ironical touch.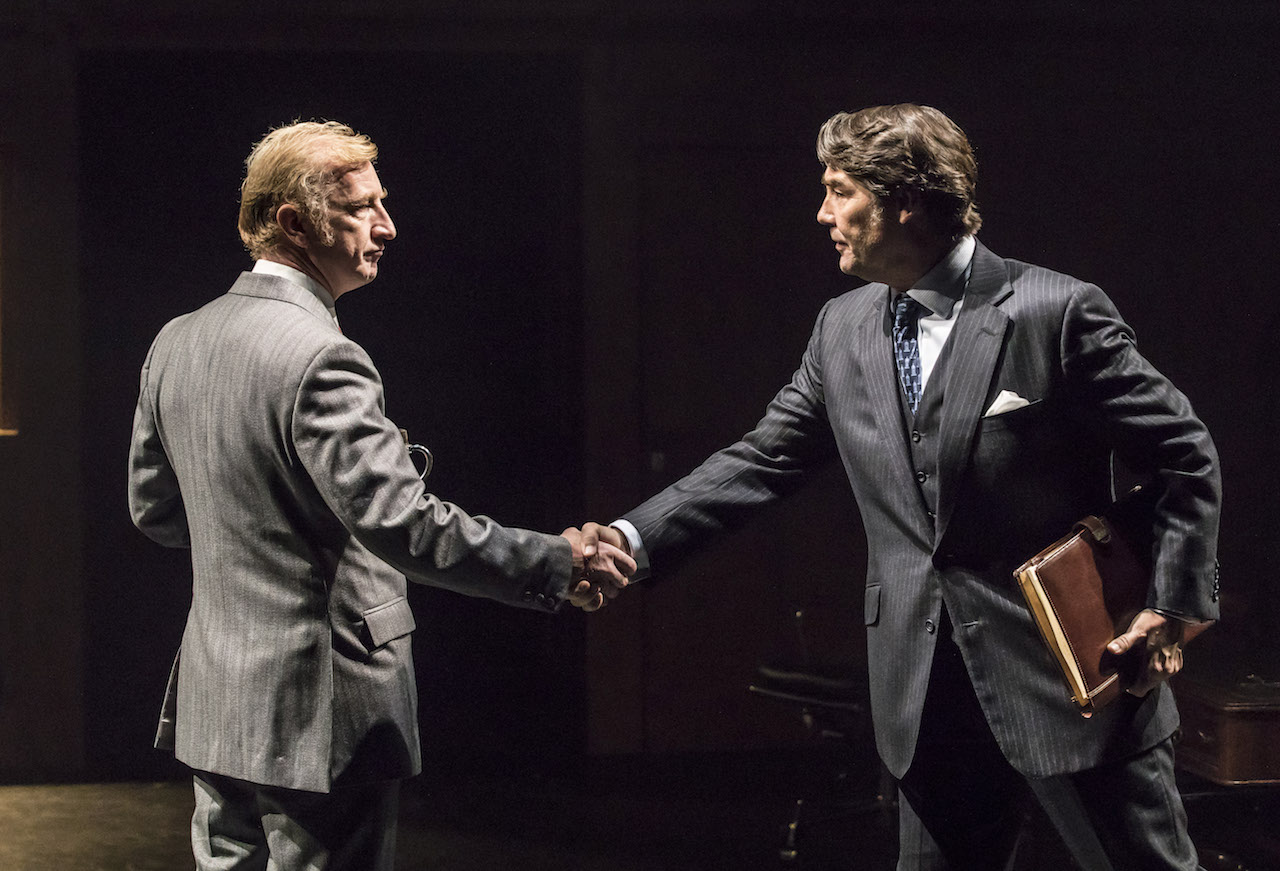 There's obviously a huge wig department, and an understandably swaggering Matthew Pidgeon wears most of them as Heseltine, St John-Stevas, Dafydd Elis-Thomas and other hirsute members. Phil Daniels is an ideally ratty Mellish, and Peter Landi, the only black actor in the team, plays a wonderfully plummy Tory grandee and then a hilarious SDLP leader Gerry Fitt. Nathaniel Parker and Steffan Rhodri (pictured above left) are perfect antagonists as suave Bernard "Jack" Weatherill and genuine Walter Harrison. Sarah Woodward has a blissful turn as Audrey Wise, and Lauren O'Neil sneakily grows her role as the ingenue Ann Taylor, the first ever female whip, into a moral force.
Just poking out from the knowing laughs is Harrison's emotional sense of loss at the careerist turn politics is taking. In sum, you can see why this play might have seemed old-hat a few years ago, but has suddenly acquired lots of unexpected resonance. Go now and enjoy, before events turn it stale.
This is a deft comedy about the subalterns and their ingenious wargames as they defend tiny advantages in desperate antics
rating
Share this article