Best (and Worst) of 2016: Film |

reviews, news & interviews
Best (and Worst) of 2016: Film
Best (and Worst) of 2016: Film
theartsdesk's film writers choose their favourite movies of the year (plus a turkey or two)
Saturday, 31 December 2016
Actress of 2016? Amy Adams in 'Nocturnal Animals'
Prepare to disagree. 2016 has been getting bad reviews all year long, but for film it was actually pretty strong. So strong, in fact, that there are big omissions from this list of our best films from the past 12 months. Our method of selection was arbitrary: each of the theartsdesk's film reviewers was invited to volunteer one film each as their favourite of the year. No one was allowed to choose two.
So there is no place in our top seven for the film which was this year's winner of the Oscar for best film (Spotlight), nor best adapted screenplay (The Big Short), nor the film with the best performance by an actress. No room for Room? What did we choose instead? Read on. And on page two we sharpen our blades and carve up the year's true turkeys, some of them very expensive turkeys.
THEARTSDESK'S BEST FILMS OF 2016
"Chekhov meets Edward Hopper" is merely one way of describing Charlie Kaufman's extraordinary stop-motion film, an Oscar-nominated portrait of anomie as the prevailing psychological condition of our time, which also has the good sense to fold Cyndi Lauper into its soundscape. The up-tempo Lauper anthem is, of course, "Girls Just Wanna Have Fun", a carefree sentiment inimical to the careworn landscape in which the itinerant Michael (David Thewlis), an LA-based Brit in Cincinnati to speak at a conference, meets the sad-eyed Lisa (a peerless Jennifer Jason Leigh). Their connection is an attempt to enliven the anaesthetised sameness of a world in which, tellingly, all the other characters are voiced by one person (Tom Noonan). Thewlis hasn't had a role this rich since Mike Leigh's Naked, a movie coursing with the kind of electrical charge unavailable to the characters in Kaufman's scarily samey environs. That the film was obviously conceived and made before the rise and rise of Donald Trump makes its baleful tone even more remarkable: too much more of the president elect, and I suspect many will be feeling Michael's bone-deep desolation as their own. Matt Wolf
Denis Villeneuve's film is sci-fi for those who don't like sci-fi, a time-jumping tale about aliens visiting Earth in pod-like structures, with weird heptapod creatures inside who speak only an abstract language that linguistics expert Louise Banks (Amy Adams, pictured above) and mathematician Ian Donnelly (Jeremy Renner) have to interpret to find out if the aliens come to wage war (as the military running the operation, including Forest Whitaker's army colonel, fear). As the experts (not the military, you note) eventually find, the aliens have come to warn us that to save our planet we must co-operate internationally, and at its heart is a powerful message about communication, the importance of language and the need for humans to properly listen to one another. This being a Hollywood movie, there has to be a (sort of) romance, and there's a Gravity-style story involving a mother and a lost child, but both are done with subtlety, and it's a film that releases its secrets gradually, like the best detective stories. It pulls off that difficult trick – of being mainstream entertainment that makes the audience think. Veronica Lee

Everything about Julieta felt totally Almodóvarian despite its unusual source: a trio of short stories by the Canadian Nobel laureate Alice Munro. A family saga blending tragedy and levity, ravishing cinematography as a backdrop to exquisite performances from a company of passionate actresses led by Adriana Ugarte (pictured above with Daniel Grao) and Emma Suárez as younger and older incarnations of the title role. Many of the director's abiding themes were here: terminal illness, sudden death, a mother's love for a lost child, men hanging about the fringes. As ever there's a lovely performance from Almodóvar's tomahawk-faced stalwart Rossy de Palma.
Meanwhile Almodóvar's career-long homage to Hitchcock continued in Alberto Iglesias's Hermannesque score, the ravishing costume designs of Sonia Grande and above all in Julieta's immutable blondeness. Almodóvar's veneration for femininity of all ages is gracefully caught in a scene in which the young Julieta's dyed blonde mop is dried by her daughter; when the towel is removed she has transformed into the older Julieta. The signature colour is red, which pulses on the screen everywhere like a hazard light. It's the colour of everything in this heartbreaking but hopeful film: rage, blood, heat, passion, danger, love. Jasper Rees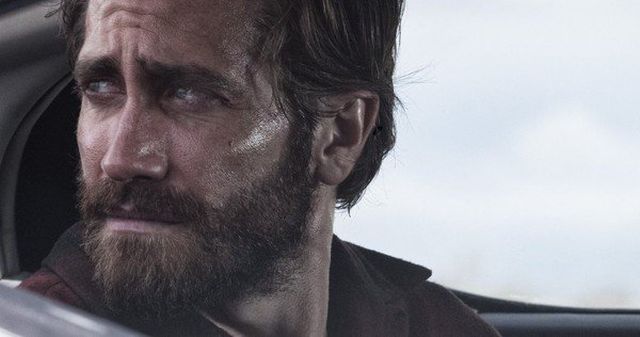 From the quivering body fat of its provocative opening titles through to its beautifully framed, icily immaculate interiors, it's clear that designer-turned-director Tom Ford's second feature is going to be nothing if not impeccably stylish. But his tale-within-a-tale of young love, disillusion and bitter revenge packs a massive emotional punch, too – and Ford draws out some of the strongest performances Jake Gyllenhaal (pictured above) and Amy Adams have given in years. The harrowing atrocities of the film's embedded novel – a young family's nightmarish encounter with a trio of Texan thugs – are what stick uncomfortably in the memory. But Ford's real achievement is keeping us hanging on every frame until the quiet desperation of his horribly lonely ending. Assured, unsettling and magnificent. David Kettle
If the news in 2016 drenched us in images of war, refugees and racism to the point where we could no longer follow the nuances of right and wrong and instead retreated into mourning celebrities, looking to history to provide moral certainty proved elusive. László Nemes' drama, Son of Saul, took us back once again to the death camps of WWII and in place of the usual binary narrative of bad Nazis/good victims gave us a complex, wholly immersive tale of moral ambiguity and incomprehensible compromises. Géza Röhrig plays Saul (pictured above), a Hungarian drafted into the Sonderkommando, the Jewish prisoners charged with ushering new arrivals into the gas chambers for a few months before being slaughtered themselves. In the babel of languages and conflicted allegiances between prisoners of different nationalities, Saul's quest to honour one of the corpses with the religious rituals of death is impossible, absurd and heart-breaking. This is one of the very few films in 2016 that grows more equivocal with every viewing and repays in-depth consideration. That Son of Saul should be made in Hungary in 2015 as anti-Semitism and persecution of the Roma and Sinti people are once again at full throttle is wholly admirable. One can only hope that its Foreign-language Oscar led to wider viewing in its native country. Saskia Baron
Fairy tales were the primal source for the relentlessly original story and spectacle in this gory, gritty one-off. Giambattista Basile's 17th century tales, freely adapted by Gomorrah director Matteo Garrone with Goya and Game of Thrones in mind, lack the comforting predictability of our sanitised retellings of Hans Christian Anderson and the Brothers Grimm. Instead, as Salma Hayek's queen chomped on a sea-dragon's heart, Bebe Cave's princess caused collateral damage to a passing circus troupe during her savage escape from an ogre, and Toby Jones as her father the king preferred the company of a beloved giant flea, we were in a world of darkly redolent wonders.
Garrone sprinkled a fairy tale's stardust on his last film, Reality, in the unlikely setting of Rome's Big Brother house. Tale of Tales conversely gave visceral conviction to scenes of grand artifice. Filmed in the castles which stud Italy's landscape, special effects recalled animated Ray Harryhausen creatures from analogue childhoods. Like much of the Italian renaissance confirmed this year by Youth and A Bigger Splash, Tale of Tales was also richly, earthily Neapolitan. Hollywood rules were ignored. Folk truths of human nature and artisan, crafted visual imagination combined, and felt uncompromised. It caused quiet entrancement at seeing things we hadn't quite seen before. Nick Hasted
Notorious for being the movie in which Leo di Caprio got mauled by a bear, sheltered for the night inside the corpse of a horse and ate raw bison liver, The Revenant brought new meaning to the word "immersive". It was a tale of fur trappers on the wild frontier in the early 1800s, and was as gruelling and physically punishing as film-making has ever been, but director Alejandro González Iñárritu and his cinematographer Emmanuel Lubezki wanted more. While the action sequences (not least the opening battle between trappers and indians) had you ducking for cover as bullets, arrows and axes sizzled past your ears, Lubezki's astounding photography (much of the movie was shot in the Canadian Rockies) meant that the pictures really did tell the story. Awesome mountain ranges, frozen forests prowled by torch-carrying horsemen, fiery comets in the heavens and a weird derelict chapel in the middle of the wilderness made The Revenant feel like the real Apocalypse Now, its near-mystical power reinforced by a brilliantly-conceived sound picture which suggested a landscape filled with spirits and mysterious natural forces. When di Caprio, Lubezki and Iñárritu scarpered with the gongs on Oscar night, it seemed only reasonable. Adam Sweeting
It's been an année merveilleuse for Isabelle Huppert – the great French actor has given us two major screen roles, first Things to Come at the Berlinale, then Elle in Cannes, as well as the landmark theatre project Phaedra(s) which has toured internationally ("total stage-goddess territory for Huppert", theartsdesk said). Plus, two more than respectable films, Valley of Love with Gerard Depardieu and a "breezy romcom" performance in Souvenir; she'll be back in Michael Haneke's new Happy End in 2017, too.
"What proper cinema for adults is all about" is a phrase that has been used of European provocateur Paul Verhoeven's Elle, which only reaches the UK in March, and that film's explicit story and content is certainly "adult" in one way: Huppert is at the top of her game, in remorseless control of a story that initially looks like something very different. Reach your own verdict, but for me Mia Hansen-Løve's Things to Come – that title a brilliant, bleak translation of the French original, L'Avenir – trumped its racier stablemate. It's Huppert (pictured above) at her most brilliant, playing maturity to the full, as she loses control of much in her life: her marriage falls apart, her mother dies, that future changes. It's serene, rich in understanding, and transcendentally profonde. Tom Birchenough
Anthony Weiner, a successful Democratic congressman, was forced to resign in 2011 after a sexting scandal in which he sent pictures of his bulging briefs to various women, often under the name of Carlos Danger. Dickileaks, Stroking Gun, Weiner Exposed: it was a gift from heaven for the New York Post's headline writers. But he decided to clean up his act and run for mayor of NYC in 2013. So far, so good: his super-stylish wife, Huma Abedin, a close aide to Hillary Clinton, was, mysteriously, behind him all the way. However in the middle of the campaign it turned out that Weiner was still sexting like crazy and one of his recipients, a woman known as Sydney Leathers, went public. "What is wrong with you?" an MSNBC host asked Weiner, and you do have to wonder. He soldiered on for a while, with Abedin looking grim – they have a child together, as well as a very odd-looking cat – but finally the game was up and he withdrew (sorry). What's fascinating is how weirdly appealing the egotistical, self-sabotaging Weiner seems. Trouble is, we now know that it was the FBI's last-minute investigation into emails on his laptop that may have lost Hillary Clinton the election. Politics – what a game. This riveting documentary showed that in all its glory. Markie Robson-Scott
There are big omissions from this list of our best films from the past 12 months
Explore topics
Share this article