DVD/Blu-ray: Black Society Trilogy |

reviews, news & interviews
DVD/Blu-ray: Black Society Trilogy
DVD/Blu-ray: Black Society Trilogy
Lacerating violence, provocative sexuality - but there's more to Japanese director Takashi Miike
The darkness of the gangster world: 'Shinjuku Triad Society'
Mixing up your yakuzas and your triads can be a bloody business, as Takashi Miike's films show in the goriest detail. The title of the earliest work in his "Black Society" trilogy, Shinjuku Triad Society from 1995, says it all – a Chinese criminal gang at the heart of Tokyo's Kabuki-cho nightlife district, the traditional turf of Japan's own deeply entrenched native criminal element. But Miike's work – at its best when it's most unsettling, and that's something that goes beyond the sometimes cringingly unforgettable violence – is about bringing all sorts of other different things together, too; it certainly confounds any preconceptions we may have about Japan.
The clash is there deep in both the blood and the cultural allegiances of Miike's characters, whether the mixed-race cop of the first film or the three youths of Chinese descent in the final one, Ley Lines (1999); it connects those who may have returned to the mother nation from abroad but will never fully belong there, and those exiled from it, like the lone yakuza abandoned in Taiwan in the second film, Rainy Dog (1997). Paradoxically, as Miike biographer Tom Mes notes in excellent audio commentaries on this release, it's their attempts to sustain and/or create bonds – to keep a family together against the odds, or to create a new surrogate unit – that gives Miike's protagonists a certain strange sincerity. Whether that develops into sympathy, as Mes posits, may be a moot point...
Miike looks like he's also flexing his muscles in an arthouse direction
Miike first appeared in Japan's "V-cinema" world, the prolific direct-to-video cinema substratum that, through virtually guaranteed returns on modest budgets, gave emerging directors a degree of independence almost unimaginable in the country's traditional film structures. If action was the dominant genre, the form stretched wider – horror is another strand in which Miike has excelled; in the 45-minute interview, "Into the Black", that's the main extra on this collection, the director talks of the attractive element of surprise that V-cinema made possible, the "What-the-hell-is-this?" kind of film that could result. As his Rainy Dog and Ley Lines actor Show Aikawa, as genial off-screen as he can be terrifying on it, puts it in the release's second interview, "Anything goes, no rules."
But the "Black Society" trilogy marked something of a departure from that mould, with the involvement of a more established studio presupposing some degree of theatrical release; the fact that a 35mm print existed at all meant that the films duly made their way into the orbit of interested western festivals, too (Shinjuku appeared at Rotterdam in 1998 under the aegis of critic Tony Rayns, who contributes a booklet essay here). Whether that wider exposure was an infuencing factor or not, Miike looks like he's also flexing his muscles in an arthouse direction, particulalry in the two later films. Shot entirely in Taiwan, with a local crew, including cinematographer, that brought its own character, Rainy Dog is notable for the pouring rain that falls virtually all through it (always something of an arthouse give-away?); Ley Lines has a freer quality with touches of not always dark comedy, and opening and closing scenes that resound powerfully beyond the film's immediate world. There's a sense of journeys starting that take us into the open, away from the claustrophobia of the city (Ley Lines, pictured below).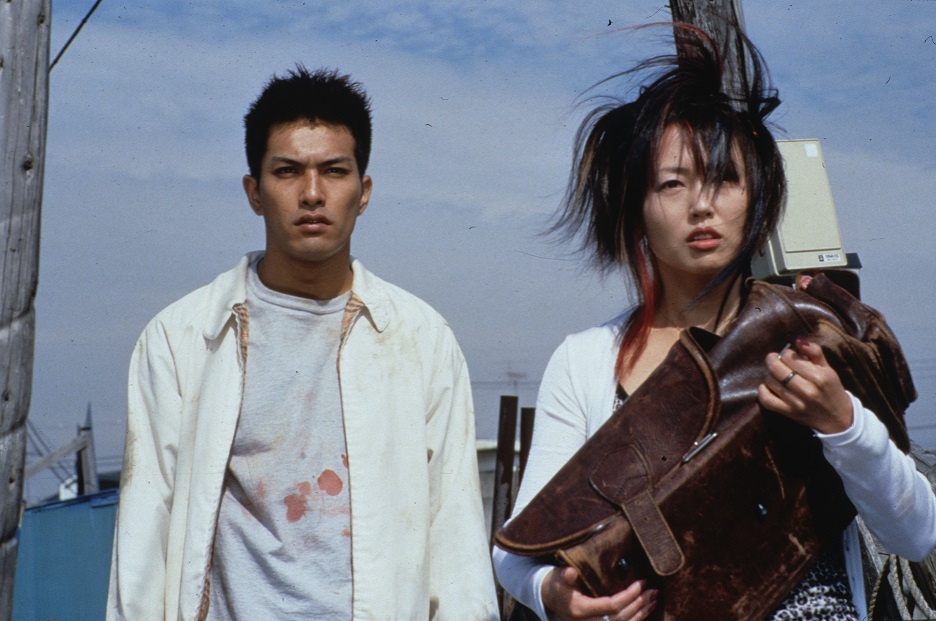 Even if Miike can go well beyond the "conjuring tricks" of Japanese cinema, as actor Aikawa nicely describes its traditional repertoire of guns and swords, if this is your first exposure to him it's the violence and upfront sexuality that will probably strike most. "Not a film that is lacking in scenes that could be uncomfortable," runs a line in Mes's commentary to Shinjuku, which has a psychotic gay gangster as a lead, troubled by blood that, Lady Macbeth-style, he can't wash away. Given that it accompanies a scene of anal rape – the second we witness in the film, with both acts committed by police officers, to boot – that probably counts as an understatement. But for those ready to explore Miike's dark world, this release is an excellent starting point.