The Goat, or Who Is Sylvia?, Theatre Royal Haymarket review - 'Damian Lewis devastates' |

reviews, news & interviews
The Goat, or Who Is Sylvia?, Theatre Royal Haymarket review - 'Damian Lewis devastates'
The Goat, or Who Is Sylvia?, Theatre Royal Haymarket review - 'Damian Lewis devastates'
Revival of Edward Albee's gripping late play echoes Greek tragedy
Martin (Damian Lewis) and Stevie (Sophie Okonedo) before the secret is out
Asked in an interview if there remained any taboos in the theatre, Edward Albee answered, "Yes. I don't think you should be allowed to bore an intelligent, responsive, sober audience".
An experienced interviewee, he pokes mischievous fun at a celebrity Q&A in the first scene of
The Goat
, revived in the
West End
, to reveal the distraction of Martin (
Damian Lewis
), an architect at the pinnacle of his career.
Ross, his oldest friend, is attempting to interview him for a television series entitled "People Who Matter". Martin is not focused, the questions seem banal, they talk at cross purposes and Ross puts the camera away. At this point, Martin reveals he is in love – with a goat. Ross, whose own tolerance of transgression has allowed him to indulge without conscience in adultery and prostitution, becomes Martin's betrayer. Jason Hughes (pictured below) gives him a self-satisfied, coarse-grained bluffness.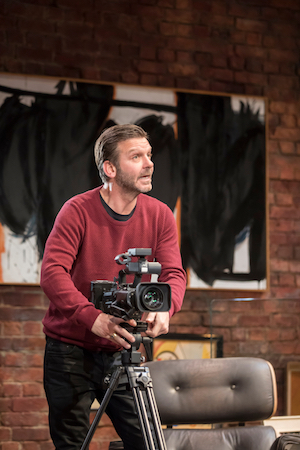 The notion of bestiality is still generally taboo, of course, but then Albee claimed in Stretching My Mind that that isn't really the subject here: "The play is about love, and loss, the limits of our tolerance and who, indeed, we really are". Winner of the Tony Award for Best Play in 2002, its complexity is revealed in its complete subtitle: (Notes towards a definition of tragedy).
Ian Rickson's production tackles head on the play's mixed nature, part marital comedy, part gruesome tragedy. Damian Lewis's Martin exudes bafflement; he claims to be delighted by his emotional and sexual exploits with Sylvia, but he looks like someone overwhelmed, no longer in control of his life. As his wife Stevie, Sophie Okonedo brilliantly manages, in the central scene, to combine anger and disgust at the affair with vestiges of their old easy banter. These two have had a long partnership, equal in intelligence and wit, and the potential loss of it is clearly terrible to them both. In Rae Smith's architect-designed room, with its exposed brickwork and artworks, Stevie's smashing of any breakable objects within reach has a dreadful significance. It is she who quotes Shakespeare's lines " Who is Silvia? what is she/That all our swains commend her?" the inspiration for Martin's naming of the object of his affection. "Who" and "what" are pertinent: to Martin, Sylvia equals a person; Stevie cannot bear to regard her as a rival.
As for today's audience – no doubt intelligent and sober – there are fewer surprises than there were in The Goat's first productions. No one walks out these days, although there were some sharp intakes of breath on press night. In another of those many interviews, Albee noted the points at which people left: most often, not at the discussion of goaty sex or the reference to a man experiencing an erection when dandling a baby, but when Billy, Martin's son, kisses him sexually. Newcomer Archie Madekwe is Billy (pictured above), a gay adolescent coming to terms with his sexuality, shocked by developments in his parents' seemingly perfect marriage. If he doesn't quite match the gut-wrenching intensity of Eddie Redmayne's award-winning performance at the Almeida in 2004, he brings a touching awkwardness and confusion to the role.
Echoes of Greek tragedy twist through the piece, from Martin's jokey reference to the Eumenides when Ross hears an odd noise in the first scene. Typically, this is casually undercut and put down to the dishwasher. The fall of a highly successful, happy person as the result of a character flaw is, of course, pure Aristotle. There are bloody echoes elsewhere of The Bacchae, and the tearing apart of a family when a sexual transgression is revealed recalls Oedipus. Damian Lewis puts aside any remaining ironic, modern distancing in his final moments of total devastation as the tragedy reaches its awful climax.
Rickson and his actors make The Goat a worthy companion piece to the other Albee in the West End, the much-lauded Whose Afraid of Virginia Woolf?, this late play balancing that early success.