Reissue CDs Weekly: Brinsley Schwarz |

reviews, news & interviews
Reissue CDs Weekly: Brinsley Schwarz
Reissue CDs Weekly: Brinsley Schwarz
Last gasp album by the pub rock legends shows how Nick Lowe leapfrogged punk
Brinsley Schwarz in 1974. Left to right: Billy Rankin, Nick Lowe, Brinsley Schwarz, Bob Andrews, Ian Gomm
In the second week of September 1979, Nick Lowe's "Cruel to be Kind" entered the Top 40. A month later, it peaked at number 12. The commercial success was belated validation for a song with a history. In May 1978, an earlier version was the B-side of his "Little Hitler" single. Fans with long memories heard another, even earlier, "Cruel to be Kind" when his old band Brinsley Schwarz recorded it for the BBC's John Peel Show in February 1975.
It was co-written by Lowe with fellow bandmember Ian Gomm.
Now, the story of "Cruel to be Kind" is pushed back further. The new Brinsley Schwarz release It's All Over Now is the first widely available edition of what would have been their seventh album. It was recorded in late 1974 but shelved. Side one's second track is the prototype of "Cruel to be Kind": close to how it would have been heard by audiences in 1974.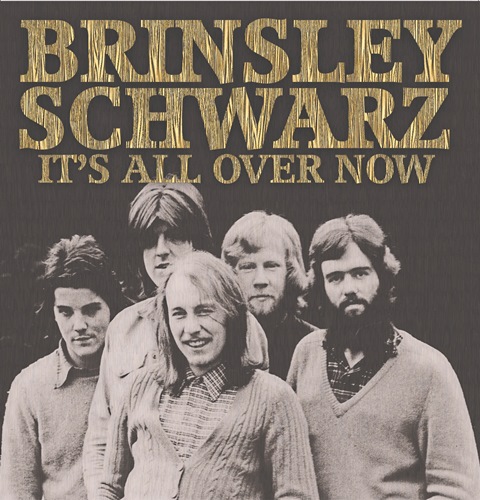 The 1979 version of "Cruel to be Kind" had a lush production nodding to The Beach Boys' "Girl Don't Tell me", The Chiffons "He's so Fine", The Everly Brothers and was classic pop. The 1974 "Cruel to be Kind" is taken at a faster clip, has pretty much the same bass line, harmonies and vocal melody from Lowe but is more tentative and, overall, sounds like a country rock band tackling early Sixties-style pop. Which, really, it was. It does not immediately come across as a hit in waiting and it's a tribute to Lowe's ears that he stuck with the song.
As this suggests, It's All Over Now is an intriguing artefact. It is issued on CD and in a 150-edition run on orange vinyl and in a 350-copy pressing on black vinyl. There are also 50 copies on cassette.
Brinsley Schwarz were on their last legs when they recorded It's All Over Now in November 1974 at Wales' Rockfield Studio. Of the sessions, Gomm has said, "We'd had lots of interest from America and we thought 'that's what we want to do, we'll try and make an album for America.' We thought, 'this is the only way out,' because we felt strangled by the UK. So we got this guy in [as producer], Steve Verroca, and the idea was to try and make it for the American audience, to try and break in America." Verroca was American and coming off the back of working with Link Wray and Kevin Coyne.
Breaking America did not happen and all that hit shops from prospective album was one track, a peculiarly glam rock-ish A-side version of Tommy Roe's 1963 hit "Everybody". They played their final show on 18 March 1975, five weeks after taping the "Cruel to be Kind" Peel session.
Essentially, It's All Over Now reflects the band's push and pull at the time. It ends with an awful reggae reinterpretation of "It's All Over Now" which contrasts with first-class covers of the soul songs "I'll Take Good Care of You" and "Private Number" as well as The Buckinghams' "Hey Baby (They're Playing Our Song)", a US pop hit in 1967. There are also band originals like "Cruel to be Kind" and the enjoyable, Richie Valens-ish "Give me Back my Love". Such eclecticism worked on stage – and was a defining factor of pub rock in general – but makes for a disjointed album. It's All Over Now was not going to break Brinsley Schwarz in America.
As well as the end of Brinsley Schwarz, It's All Over Now charts the decline of the first phase of British pub rock which, essentially, had a line drawn under it in 1975 when three of the leading bands played their final shows: Brinsley Schwarz called it a day on 18 March 1975; Kilburn & The High Roads, with Ian Dury, played their final show in June 1975 (Dury then formed Ian Dury & The Kilburns with a new line-up); Ducks Deluxe did so on 1 July 1975. Dr. Feelgood (who had been playing since 1971 but picked up momentum after they issued their first single: October 1974's "Roxette"), Eddie & The Hot Rods (formed in 1973) and Graham Parker & The Rumour (who formed in 1975 and featured former Brinsley Schwarz members) plugged the gap and, in differing ways and to different degrees, took pub rock out of the pubs. Following his band's demise, Lowe was signed and swiftly dropped as a solo act by United Artists. He then fell in with Stiff Records, produced The Damned and Elvis Costello, and achieved success under his own name.
The trajectory of "Cruel to be Kind" exemplifies that pub rock never went away. Punk came along but some pub rockers took stock, rode the new wave and returned. It's All Over Now shows how this was done and, as such, is an important release.
We felt strangled by the UK so the idea was to try and make an album for the American audience, to try and break in America
Share this article