Reissue CDs Weekly: Help Yourself - Passing Through, The Complete Studio Recordings |

reviews, news & interviews
Reissue CDs Weekly: Help Yourself - Passing Through, The Complete Studio Recordings
Reissue CDs Weekly: Help Yourself - Passing Through, The Complete Studio Recordings
Box-set tribute to the idiosyncratic Seventies British band
Sunday, 19 September 2021
Help Yourself, a cat and her kittens in 1971
"Reaffirmation" is the sound of a San Francisco ballroom in 1968. The 12-minute long track opens mysteriously with what might be a Mellotron on the flute setting. A bubbling bass guitar arrives, along with jazzy piano. At 02.50, the tempo picks up and the guitar, which until then has delicately picked its way through the arrangement, begins to soar. There's a vaguely funky section and, just over half-way in, a dive into an almost free-form spiralling section.
This is top-notch
psychedelia
. Dungen have passed through similar territory.
Other parallels include the first-album Steve Miller Band and Quicksilver Messenger Service. The band responsible for this incredible creation is Help Yourself. They were British and "Reaffirmation" appears on their second album, 1972's Beware The Shadow. And instead of a peace and love vibe, something else appears to be going on. The lyric's second line is "all they dish you up is shit." The song's theme appears to be dealing with a depression which is never far.
Beware The Shadow is third of Help Yourself's four albums (the last was a double). All are collected on Passing Through: The Complete Studio Recordings, a six-disc clamshell box which adds their then-unreleased fifth album, an unreleased 1976 set by band mainstay Malcolm Morley and bonus tracks taken from compilations, singles, BBC sessions and singles as well as the odd demo. It's a lot of Help Yourself, but as attested by the extraordinary "Reaffirmation" this is a band well-worth digging into. Indeed, elsewhere on Beware The Shadow are the eccentric "Molly Bake Bean" (Syd Barrett if he were into down-home country) and "American Mother" (a little llke Little Feat, but very poppy).
Help Yourself's main driver was songwriter Malcolm Morley. The first album line-up was: Morley (guitar, keyboards, vocals), Dave Charles (drums, percussion, vocals), Richard Treece (guitar, vocals, harmonica) and Ken Whaley (bass). They were managed by Dave Robinson (later of Stiff Records) and John Eichler (who went on to run the Hope & Anchor pub). Brinsley Schwarz were also on the management team's books. The eponymous first Help Yourself album arrived in 1971 and was followed by Strange Affair (1972), Beware the Shadow (1972) and the double set The Return of Ken Whaley / Happy Days (1973). A fifth album was begun in August 1973 but the band ran out of steam and fizzled out around January 1974. There was one final show in April 1974.
The impression gained from the essay in the box set's booklet is that Morley, Charles and Treece were the core of an otherwise unstable band. Bassist Ken Whaley came and went. So did other musicians: their roadie Sean Tyla (who would be in Ducks Deluxe), Man's Deke Leonard and Eire Apparent's Ernie Graham cropped up. Help Yourself feel like they became a short-stay stop-off for stray musicians from outside the band.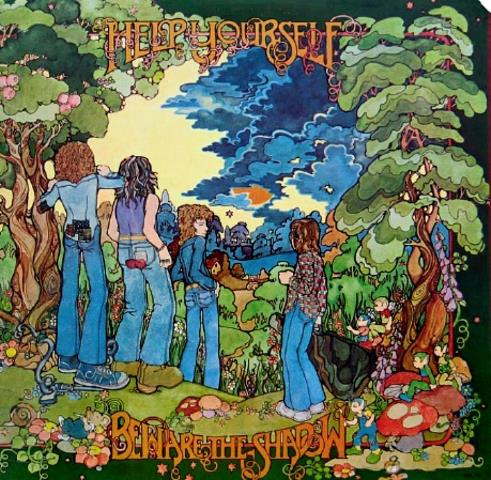 Similarly, it's not easy getting a handle on exactly what Help Yourself were about musically. The first two albums are great, and reflect an immersion in the Stephen Stills and Neil Young aspects of Crosby, Stills, Nash & Young. However, Strange Affair includes the frazzled "Excerpts from 'The All Electric Fur Trapper' (soundtrack from the film of the novel)", which points the way to Beware the Shadow's "Reaffirmation".
Confirming the band's unpredictability, 1973's The Return of Ken Whaley was frequently very White Album-esque. Its quirky accompanying album Happy Days captured the musical side of a show which the band took on the road as a form of revue: acted out, in costumes, with supplementary members. There was also the bizarre 1972 Christmas single "Mommy Won't be Home for Christmas", which featured Neil Innes (it was written by Innes and Roger McGough). It becomes obvious Help Yourself followed its nose until the band's demise. Yet the lovely "Grace", from the uncompleted 1973 album, shows there was business to be finished. The same applies to the 1976 Malcolm Morley album. "Lost and Found", which provides its title track, is a superb, Paul McCartney-ish ballad.
Slotting Help Yourself into any pat narratives of pre-punk Britain's musical landscape is impossible. They were more ambitious and further reaching than what's branded pub rock, even though their surrounding infrastructure was integral to pub rock. They lacked the accessible rootsiness and straightforwardness of management stable-mates Brinsley Schwarz. They weren't freaks as per the varying definitions of that: e.g. like their rough contemporaries Mighty Baby (or even The Pink Fairies). The memorabilia illustrated in Passing Through's booklet shows they regularly played live – including with The Flamin' Groovies in 1972 – and were college circuit stalwarts. Who made up Help Yourself's audience? Obviously, they had one. Heard now, whatever the waywardness, they shine. Passing Through: The Complete Studio Recordings is a thoroughly recommended tribute to what feels like an overlooked – and idiosyncratic – band.
Next week: Another outing for Spiritualized's Ladies And Gentleman We Are Floating In Space and Super Furry Animals' Rings Around The World
Slotting Help Yourself into any pat narratives of pre-punk Britain's musical landscape is impossible
Explore topics
Share this article