Hipermestra / La Traviata, Glyndebourne |

reviews, news & interviews
Hipermestra / La Traviata, Glyndebourne
Hipermestra / La Traviata, Glyndebourne
Baroque opera debuts in Isis imagery - how does that work? Plus Verdi revival
Wedding hells: Hipermestra (Emöke Baráth) and Linceo (Raffaele Pe) in Cavalli's 1658 'Hipermestra'
A Saudi princess in her white wedding dress digs her own grave as men pile up stones to hurl at her head — next, an Isis fighter is stabbing a knife at her neck to decapitate her. Ah, the fate of the heroine of the average baroque opera about the appalling ways of men and gods.
Add in the bearded lady in a burqa, and you don't know whether to laugh or cry on the opening day of the new
Glyndebourne
season. Graham Vick's production of Francesco Cavalli's 359-year-old opera
Hipermestra
is certainly extremist opera.
Yet what an extreme opera this is. Here is a faithful young bride defying her father's command to kill her new husband for tribal reasons, and then being tortured by her husband. The fact that there are 50 sisters marrying 50 brothers is an incidental cause of OTT visual comedy, but the centre is tragedy — deadly patriarchal politics, instant jealousy in a society where a woman is not permitted to act on her own initiative, internecine war between men at the gods' command, these are themes that Vick argues plausibly are very much more of our time now than, say, La Traviata's.
And thus, when Hipermestra finally got its UK premiere, it was in provocative YouTube and news TV imagery: oil-rich Arab palaces where the mass wedding is dressed in staggering kitsch, and then later black-clad, bearded fighters stride through the palatial wreckage, as if a modern Palmyra, incongruously warbling recitatives in soft countertenors and reedy high tenors.
A major factor in the spectator's reaction is the incredibly extravagant set-building by Stuart Nunn, who comically reveals oil rigs behind the opulent wedding bed, or instantly transforms the wedding salon into the hideous execution yard, while the second-act curtain raise over the bombed-out wreckage is awesome. It does a great deal to divert you from the discomfiting lack of arias and the sheer torrent of action and recitative — this is more of a sung play than an opera, in effect.
There's little noble here about the behaviour, but psychologically nothing about men changes in 350 years
There's little noble about the behaviour, but psychologically nothing about men changes in 350 years, as Vick's prunings show. Linceo, the husband who suddenly takes against the wife who saved him from her father's execution order, acts out of instinctive ownership of a woman as a tribal trophy. Now that countertenors rather than castrati roam our stages, this vocally extreme role can be given the kind of macho welly and buff physique that Raffaele Pe delivers.
What stamina and skill those 17th-century singers must have had to perform roles like his and Hipermestra's, almost never-ending recitative, with no places to pause and reflect. Pe was audibly ragged towards the end — not so the lustrous Hungarian soprano Emöke Baráth in the title role, devastating in her acting of a very long-suffering role, and with singing both pellucid and deeply emotional at the great confrontations of love and loyalty forced on her by her father and husband. And what, indeed, would anyone do confronted by such a choice?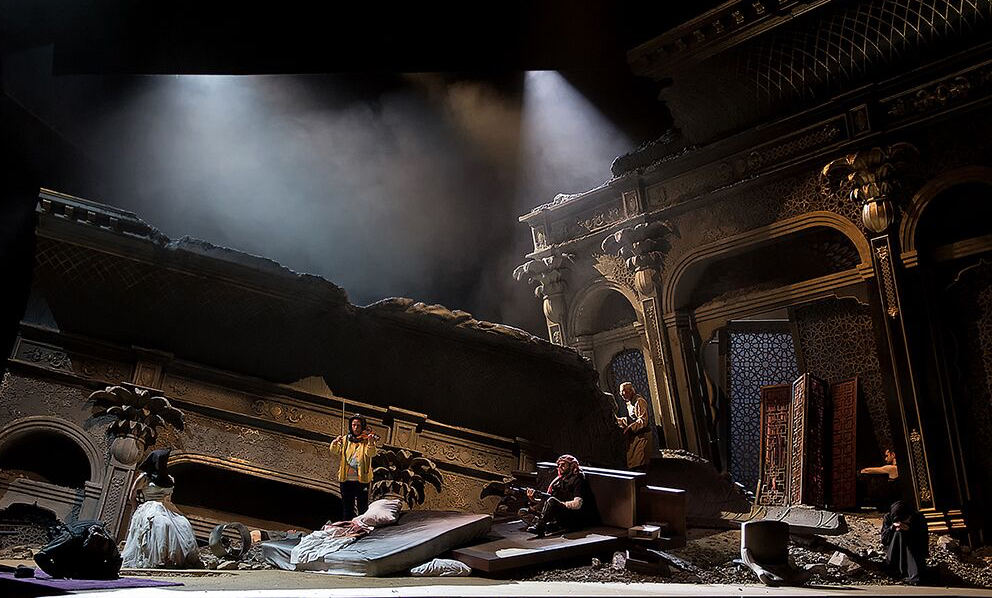 Still, hype about Hipermestra should rest on Vick's gleeful interpretative liberties rather than Cavalli's neglect. It's a relief that the parallel story of the gods' machinations in the story has been lost in time — the original opera was five hours long — though there is one divinely jawdropping moment when Hipermestra flings herself from the ruined parapet to be rescued by a passing peacock (pictured above, the ruins of Act 3). And the bearded lady is both the sisters' nurse and a god in bawdy disguise, played to the hilt by Mark Wilde like a cross between Les Dawson and Julian Clary — and singing like it too, which is fine.
So, much supersizing here, of contemporary logical leaps, low comedy, and mad theatrical clutter; the masterstroke is that such rude visual extravagance is underpinned by tiny musical forces. William Christie and his miniature band of eight string players are part of the action, dressed as Arabian street musicians, wandering up on stage with theorbos, violones, lirones, their playing always delicate and ironically pointed under the excess, and you hardly miss Cavalli's hour-long balletic battle with 62 dancing fighters that had to be cut.
At the end, as the two warriors reconcile with their ever-loving women, they shroud them in hijabs and lead them off docilely to a future that we would still shudder at, even if it's by consent. Cosi fan tutte comes suddenly to mind in that last tableau — or rather, "così fan tutti". It's how men behave.
Violetta, it's suggested, is an anachronism, a phantom from an earlier time
To follow Hipermestra with La Traviata looks like feminist counterpoint. This revival of Tom Cairns' 2014 production is visually muted, designed in sombre fascistic monumentality by Hildegard Bechtler, in a less successful transplantation of period. Violetta, the notorious consumptive, lives and dies in the social whirl of the 20th century long after TB sufferers were isolated to prevent contagion. There appears to be a suggestion of her as an anachronism, a phantom from an earlier time or a 19th-century painting — the invention of the male gaze.
This thought is reinforced by a magnetic shift of focus onto the father of the hero, Giorgio Germont, often the stock, stuffy baritone dad come to pour cold water on the young lovers' ardour. In a remarkable performance, the Bolshoi soloist Igor Golovatenko effortlessly centred the story on Père Germont's charisma. Here is not a provincial nondescript but a powerful businessman (an oligarch perhaps), who must retain his estate not through his loser son Alfredo but through the marriage of his unseen daughter to a business partner.
Watching him strip off his coat, then scarf, then jacket, and then roll up his sleeves as he dealt with first the impediment of Violetta and then the recalcitrance of Alfredo was like watching Marlon Brando sort out the junior family in The Godfather. Golovatenko sings tremendously, not with boomy Russian depths but with a metallic, articulate baritone, every intention clear. No wonder Zach Borichevsky's lanky young Alfredo came over so maladroit, touching in the acting performance, even if his tenor sounds much happier loud than soft. Whether some intonation difficulties were due to the underfloor position of the London Philharmonic Orchestra I don't know, but in Glyndebourne's compact auditorium there can be audio problems, and Richard Farnes directed a lean, sprightly orchestral texture that sometimes favoured dance rhythms over emotional depth — "Addio del passato" was quite the waltz-song.
But the affecting Violetta of Kristina Mkhitaryan (pictured above) has the range to convert Farnes' lilting pulses into deeply felt moments without miring them in Slav clotted cream. She began as rather a modest creature at her own soirée, adrift from the modish modern guests in her 19th-century dress. But so quickly did she and her voice grow in emotional generosity, and so startlingly moving was her final scene, that the restrained start had its own arc — a gentle white flower blooming and fading.
She dies alone, the men around her vanishing as she transforms in a visionary fade, pale and shrouded in her long black hair. Is this death? Or is Violetta a male fantasy? It's an interesting idea. But no mistake, Mkhitaryan put a full-blooded, agonised question mark over her dying cry of "Joy".
Hipermestra at Glyndebourne until 8 July; La Traviata until 27 August