Mitridate, Re di Ponto, Royal Opera review - Crowe and costumes light up pointless revival |

reviews, news & interviews
Mitridate, Re di Ponto, Royal Opera review - Crowe and costumes light up pointless revival
Mitridate, Re di Ponto, Royal Opera review - Crowe and costumes light up pointless revival
Good singing not enough to justify the return of Graham Vick's 1991 production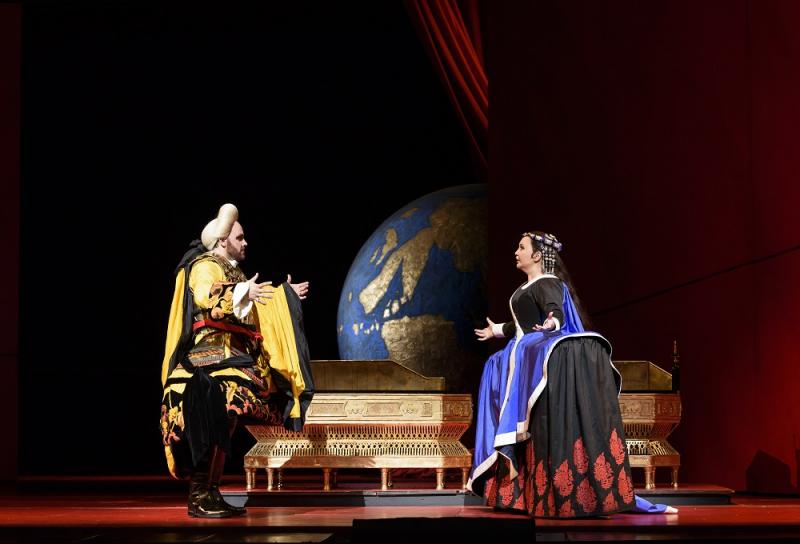 Michael Spyres as Mitridate and Albina Shagimuratova as Aspasia
Why stage a stiff opera about half-frozen royals by a not-yet-divine Mozartino? The best Mitridate really deserves is one of those intimate concert performances with brilliant young singers at which Ian Page's Classical Opera excels.
Yet this is the third revival of a 1991
Royal Opera
production by Graham Vick, never among his more probing psychological studies (which in any case the 14-year old
Mozart
, impressive but no teenage genius here, hardly deserves). The best in show is Paul Brown's colourful if restrictive costuming, and this latest cast looked very promising on paper. The actual results aren't enough.
Only that effervescent soprano Lucy Crowe (pictured below) is fully stylish. She plays the "other" lady in the flimsy drama, the one who isn't fought over by King Mitridate and his two sons, Farnace and Sifare (the brother the love-object in question, Aspasia, really loves). And if Crowe's Ismene seems to get the best music, that may be due to the force of her personality – though I'd wager that her pretty slow minuet at the beginning of the third act is the only aria that comes close to the future Mozart of at-one-with-the-world gracefulness. She also wears the one costume I'd covet and carries out her Indian Kathak dance movements with real charm.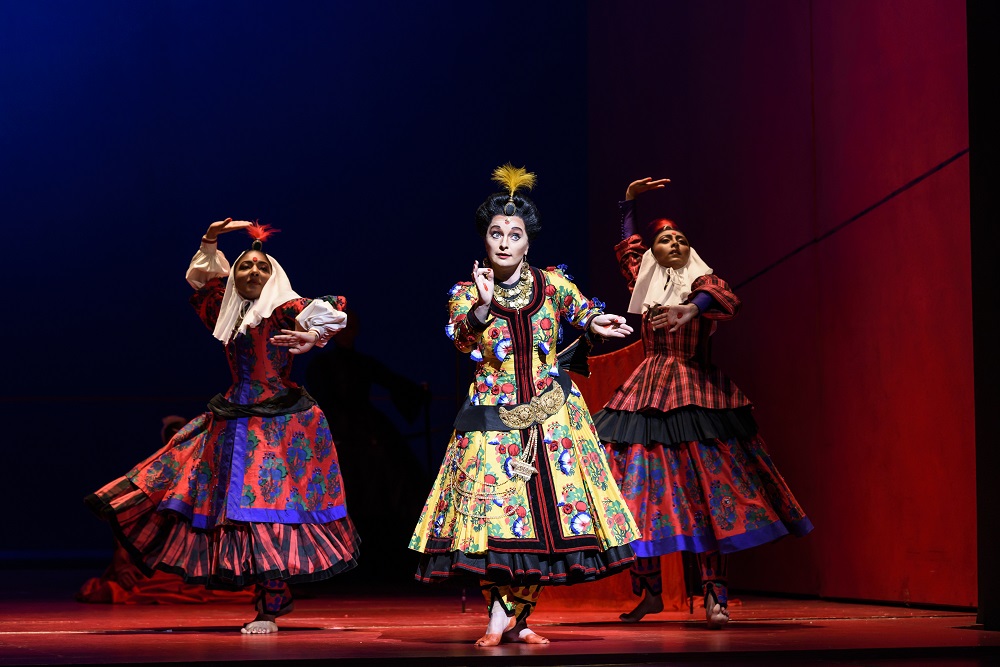 The rest are good in parts. Albina Shagimuratova and Salome Jicia boast brilliant upper registers but need to develop their chest voices if they're to be heard lower down. They're not always at one with the orchestra under sprightly Christophe Rousset, though whether that's his fault or theirs is hard to say. Countertenor Bejun Mehta (pictured below with Jicia) as the villainous brother who repents cuts a vocal dash to begin with, but all personality evaporates in his long and tedious final aria: no master of pace or substance at 14, Mozart cripples the last act with two such bog-wades, and even the big number claimed to be the best in the opera by virtue of its horn obbligato is generic. If there are any other flashes of things to come, they appear in the accompanied recitatives and the inner lining of Aspasia's second aria, though that's pushing it a bit.
Michael Spyres, so good in Massenet and Berlioz recently, closes up his burnished tenor in the stratosphere as rampaging Mitridate; fellow tenor Rupert Charlesworth, a last-minute replacement for Andrew Tortise as Roman Marzio, is more consistent up there in the surprise aria he gets at the last minute, and very stylish in his coloratura, but even he shows signs of strain (maybe it would help if the orchestra were playing at authentic pitch). Beefing up king and tribune with camp movement groups might work if their execution were a little more polished. Brown's overall look fails to cohere, much like the work as a whole. If you're a fan of any of the singers, go along, but don't expect anything close to a great opera.
Mitridate, Re di Ponto at the Royal Opera until 7 July
No master of pace or substance at 14, Mozart cripples the last act with two tedious bog-wades
rating
Explore topics
Share this article