Edinburgh Festival 2017 review: Verdi's Macbeth - exhilarating and overwhelming |

reviews, news & interviews
Edinburgh Festival 2017 review: Verdi's Macbeth - exhilarating and overwhelming
Edinburgh Festival 2017 review: Verdi's Macbeth - exhilarating and overwhelming
Visually dazzling, musically robust though not always conventionally coherent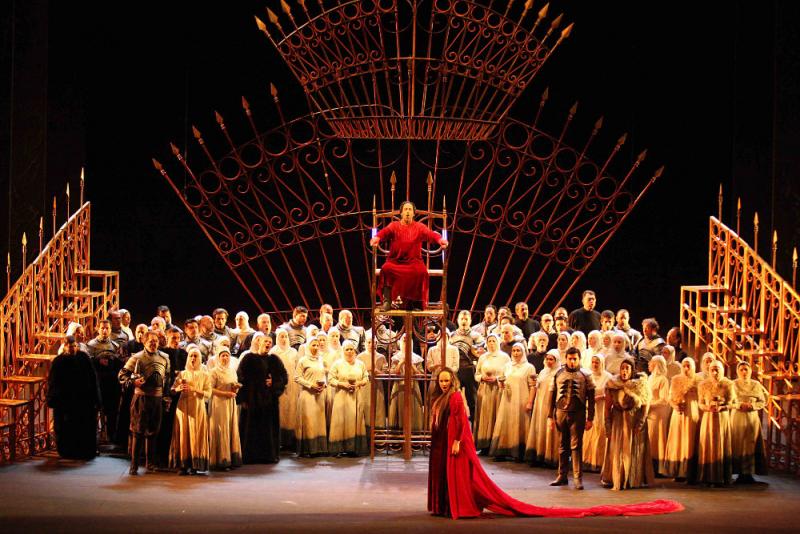 Crown-formed decors: Emma Dante's hallucinatory vision of Verdi's Macbeth for Turin's Teatro Regio comes to Edinburgh
Skeletal horses; piles of newborn babies smothered in a bloody sheet; a whole garden centre of prickly pears. There's no denying that Italian director Emma Dante's new production of Verdi's Macbeth, which Turin's Teatro Regio brings to the Edinburgh International Festival, is visually dazzling, even at times hallucinatory.
There's a nagging concern, however, about what all the visual flamboyance actually adds up to – those perpetually procreating witches, seemingly modelled on the long-haired ghoul from Japanese horror film Ring; the imposing crown-formed decors; the circus fire eaters and acrobats heralding the arrival of King Duncan.
Rather than combining together in a singular perspective on Verdi's dark Shakespeare adaptation, this Macbeth feels like Dante's deeply personal response, driven seemingly by her own personal mythology. If it doesn't always make sense, it's a thrilling ride nonetheless.
Back in 1947, it was Glyndebourne that brought Macbeth – the International Festival's first ever staged opera – to Edinburgh. Seventy years later, Macbeth is the first of two productions from Turin's Teatro Regio, the International Festival's resident company for 2017, which also stages an opulent La bohème next week and performs Verdi's Requiem in the Usher Hall.
And it's hard not to be seduced by the visual splendour of Dante's production, designed with devil-may-care flair by Carmine Maringola. Their stages are often teeming with hectic activity, alive with movement, the Teatro Regio's already substantial chorus (put to very good use) joined by actors and a corps de ballet from Palermo to create several memorable images, not least the immense, writhing blood-stained sheet (pictured below) that serves to unify much of the first two acts. Rare episodes when cast members simply stand and sing come as welcome moments of calm and focus in among all the freneticism. Cristian Zucaro's lighting, too, plays a pivotal role, with figures lurking half-seen in the shadows at the back of the stage.
It doesn't all hit its target. Dante's recasting of Birnam Wood as a forest of cacti, perhaps drawing on her own Sicilian background, feels faintly ridiculous, as does Lady Macbeth's elaborate, beautifully choreographed dance with nine self-propelled hospital beds in her sleepwalking scene. But even those images have an unsettling, sometimes uncanny power to them that lodges them in the mind.
But if it's a visually splendid production, then musically it's just as strong, with a cast of singers all robust and forcefully projected. Marko Mimica is a loyal, big-hearted Banquo, and Gabriele Viviani's Macbeth treads a fine line between put-upon puppet and angry, ambitious anti-hero, particularly searing in his final death scene, reinstated from Verdi's original 1847 version. Above all, Oksana Dyka's Lady Macbeth is a terrifyingly intense creation, unafraid of spitting out her lines or reducing her honeyed tone to a snarl or a howl (it was Verdi, after all, who requested "the voice of a devil" for the role), and commanding both the stage and the opera's unfolding.
Best of all, however, is conductor Gianandrea Noseda's miraculous Turin band in the pit. Together they give a vivid, raw, feverishly detailed account of Verdi's score, one that's alive with telling meaning. This Macbeth is an exhilarating, overwhelming production – even if it's one that occasionally dispenses with conventional coherence.