Hugo Ticciati, Manchester Camerata, Manchester Cathedral review - spirituality, no spooks |

reviews, news & interviews
Hugo Ticciati, Manchester Camerata, Manchester Cathedral review - spirituality, no spooks
Hugo Ticciati, Manchester Camerata, Manchester Cathedral review - spirituality, no spooks
Theatricality is the key to a programme of minimalism plus showbusiness
Thursday, 02 November 2017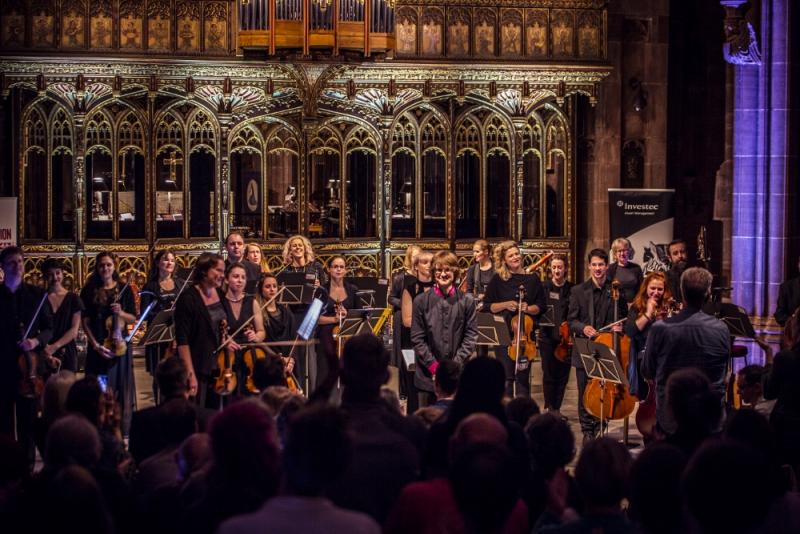 Manchester Camerata on hallowed ground in Manchester Cathedral
Manchester Camerata chose All Hallows' Eve for a concert of (in some part) "holy" minimalism. Arvo Pärt's Silouan's Song began it, and his Cantus in Memoriam Benjamin Britten ended it. They headlined it "Spiritualism and Minimalism", but I think what they really had in mind was spirituality. No "one knock for yes" or anything like that, anyway.
Manchester Cathedral - hallowed ground indeed - made an excellent visual setting, its versatile lighting rig used to picturesque effect, and after the buzz of conversation died down there was a ready-made atmosphere of quiet expectation before things began.
Was Hugo Ticciati (pictured below in meditative mode) quite expecting that? The Camerata knows its audience, the publicity suggested we all come prepared for meditation, and it felt as if many were. What we got was a laid-back pre-music spiel from the soloist/maestro, ending with the suggestion that we all do our own version of Cage's 4'33''. I suppose someone had to say "This is where we begin" (and of course there were the usual crashes of late-comers arriving), but the first Pärt piece, played in the distance in the quire and so quiet at first you hardly noticed it, was a near-unearthly experience of sound emerging from nothingness.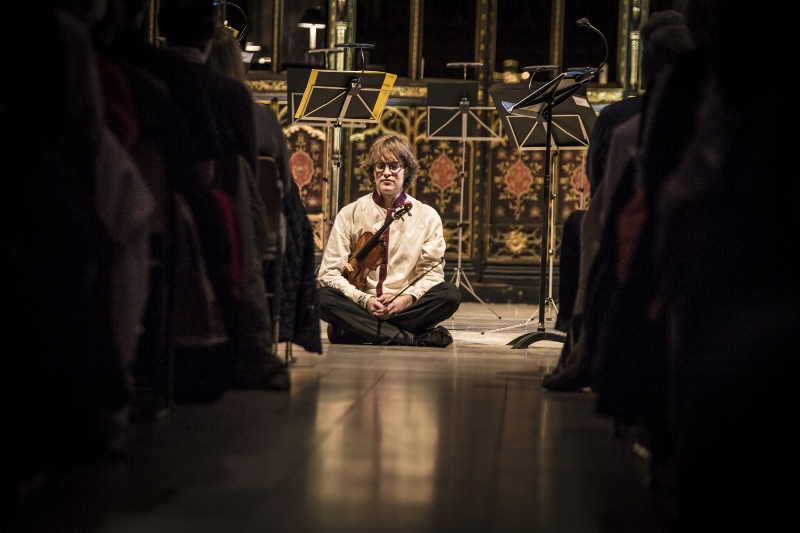 Spiritual? Effectively theatrical, certainly - indeed that was the impression of the concert as a whole. It communicated very well and earned a standing ovation at the end. And strangely no one seemed to mind the short, high-pitched bleep that emerged from (I think) some part of the cathedral's high-tech systems every 30 seconds - most of the time smothered by music, but in the context of real quietness a tiny bit disconcerting.
Once re-located in the nave of the cathedral, the musicians' big piece in the first part was Peteris Vasks' Concerto for Violin and Strings: Distant Light, from 1997. I am a big fan of Vasks' music. Whether it counts as "holy minimalism" or not, it can be ineffably beautiful and has an earthy strength that gives it real backbone. Some of its lyrical passages, and the textures of the string writing, can sound quite like Elgar. It's also incredibly demanding, in this case, on the solo violinist. It's a concerto, after all, and Hugo Ticciati laid into his role with a will, some showmanship and a lot of energy. Only once did intonation slip a tiny bit, and the contrasts of dynamic in the piece were given at the max.
Theatrical is also the word that comes to mind to describe Haydn's Symphony No 45 ("The Farewell"), as well it might. The players each finish playing in turn in the final section and depart the scene: it's an oft-told story and may have been an early example of musicians' union affirmative action in pursuit of better conditions. In the first movement the style is Haydn in "storm and stress" mode, and Ticciati, now as conductor, went for that completely. It was a relaxed and fulsome approach, with contrasts and emphases that seemed like Beethoven. Leader Adi Brett and the Camerata forces responded to this vision, and also to the ultra-classical, non-vibrato, non-legato slow movement, its whispered pianissimi at times recalling those of Pärt and Vasks. Ensemble was a wee bit ragged in the jolly bonhomie of the minuet, and the finale's beginning was a scurrying business until the procession to the exit began.
Only this time they didn't leave the scene entirely, but moved to the back of the cathedral nave for Pärt's homage to Britten. They've played this subtly and memorably before (with Gábor Takács-Nagy, their music director, back in 2013), and gave it the same glowing tone and thrilling crescendo he did. And it was good to find, for once, that the seats at the back got the best sound of all. Maybe there's a spiritual lesson in that.
Spiritual? Effectively theatrical, certainly - indeed that was the impression of the concert as a whole
rating
Share this article