The Passing of the Third Floor Back, Finborough Theatre review - the better nature of Jerome K Jerome |

reviews, news & interviews
The Passing of the Third Floor Back, Finborough Theatre review - the better nature of Jerome K Jerome
The Passing of the Third Floor Back, Finborough Theatre review - the better nature of Jerome K Jerome
Edwardian rediscovery verges towards the sentimental, but satisfyingly so
Rooming-house ruses: the cast of 'The Passing of the Third Floor Back' in their Edwardian finery
Even by the standards of theatrical archaeology that the Finborough has made its own, The Passing of the Third Floor Back is a curiosity. Jerome K Jerome's 1908 play was a long-running hit in the West End – with Johnston Forbes-Robertson, one of the leading English classical actors of his day, in the lead – before transferring to Broadway for a year. The author termed it an "idle fancy", though there's nothing at all here of the indolent comedy of the work for which he remains far and away best know, Three Men in a Boat.
Instead Jerome charts a determined course from comedy of a rather bitter kind, through a surprising but theatrically effective development device, to a final redemption that must have sent his Edwardian viewers out into the night on a gust of moral uplift. We may wonder if its overtly Christian overtones might have seemed even then a little passé: it's the darker first half that stands up more strongly today. A faint whiff of Wilde seems occasionally to hang in the air, and the piece's contrasting moods are caught rather neatly by one of that wit's adages, that sentimentality is the bank holiday of cynicism.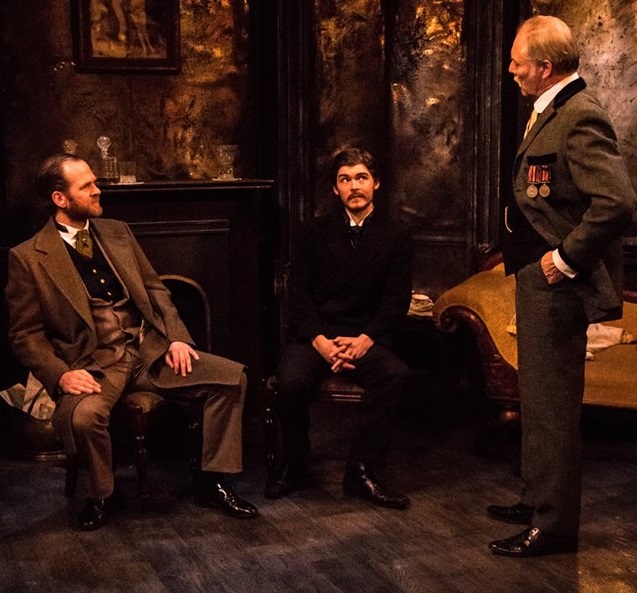 The contrast is there in the character descriptions that Jerome added to his Prologue-Play-Epilogue structure. The setting throughout is the front room of a Bloomsbury boarding house – "Third Floor Back" is the worst room, the one most difficult to let – presided over by its landlady, Mrs Sharpe (Anna Mottram). Going from "A Cheat" in the prologue to "The Lady of the House" for the epilogue, she oversees a guest list that includes, among other choice single-word put-downs, a hussy, snob, cad, rogue and slut. Her own moniker is earned by her propensity to cook the bills as much as the menus ("the milk will bear a little more water" is a lovely line, all the better for being delivered with a frisson of Downton's Isobel Crawley).
That's just one of the many rooming-house ruses around, all distinctly dodgy by moral, if not actually legal standards. It's a world in which poverty, however much it's dressed up in the vestiges of gentility, hovers (Jerome himself knew it well from his early working life, not least from his time in a down-at-heel theatrical troupe). There's an impecunious major (Graham Pountney, pictured above, right), desperate to marry off his daughter to the only one in the company with a hint of money, however tainted, though she loves a proverbial penniless artist. The city gentleman is far from such for all his Scottish gab, complete with "jackal" side-kick to ease his plans along. The distaff company is stronger still, from a nobility name-dropping snob (Carmen Rodrigues) to the perennially "unattached" Miss Kite (Paddy Nevin), whose lavish rouge fails to disguise the advancing years that she fibs about.
Just when we think we are going to be watching this company stew in its bilious juices for the duration, enter the mysterious stranger… Alexander Knox's character is the classic interloper who sets about bouleversing the world he has moved into (the first impression he makes on Mrs Sharpe has her beating her own rates down, rather than up: pictured below, Anna Mottram, Alexander Knox). It's a familiar plot trope, but we're used to the outsider who wreaks havoc (Pasolini's Teorema, inter alia), rather than the antipode. But the reverse process has its fascination, as this "knight of better intention" performs his strange and transforming "drawing-room miracle".
There's an almost detective quality to his ability to convince each character that he has known them before – "Who are you? I know your voice. I hear it in the wind" – in their better days, and to convince them that they have a better nature to recapture, along with a simple empathetic regard for one another. The Passing of the Third Floor Back runs, with interval, at a shade over two hours, so the device does not overstay its welcome. I wasn't entirely convinced that Alexander Knox has yet caught the transfixing simplicity that his character needs to convince the audience as much as Jerome's cast of his Christ-like higher nature (interesting that Forbes-Robertson, otherwise acclaimed as one of the great Victorian Hamlets, was 55 when he played the role: he reprised it a decade later in a silent film). But, like the bursts of sunlight that periodically shine into this otherwise dowdy world, the belief he embodies – that all could be otherwise, that you can choose self-respect over self-interest – convinces, occasionally rather movingly.
Jonny Kelly's production for NorthSee Theatre is very satisfying, his cast of 12 playing fluently together in a lovely set by Jasmine Swan, all burnished metal. Jerome's text seems somehow very fluent too, rolling along very naturally, and Lizzie Faber's harp accompaniment, singing almost like a score in itself, is a touch of genius, the melodic enticement that does convince us to suspend our disbelief.