The Grinning Man, Trafalgar Studios review - cool puppets but too convoluted by half |

reviews, news & interviews
The Grinning Man, Trafalgar Studios review - cool puppets but too convoluted by half
The Grinning Man, Trafalgar Studios review - cool puppets but too convoluted by half
Visually alluring Victor Hugo rewrite needs to go back to the storyboard
Tuesday, 19 December 2017
No laughing matter: Louis Maskell as Grinpayne in 'The Grinning Man'
These are challenging times for new British musicals. Following quickly on from a Pinocchio that ought to be way more joyful than it is, along comes The Grinning Man, a Victor Hugo-inspired musical first seen in autumn 2016 in Bristol.
Sharing with its immediate predecessor a thematic interest in the transformative value of pain, Tom Morris's production is a visual delight that needs considerable streamlining and strengthening of tone if it is to amount to more than the musical theatre catch-all that it would seem to be at present.
Its literary antecedent (Hugo's 1869 novel L'Homme qui rit) begs the question as to whether we might be experiencing a second-generation Les Misérables, when in fact The Grinning Man is far closer in spirit to The Phantom of the Opera, especially when its hard-working leading man, Louis Maskell, sings one of various plaintive solos that function as this show's direct equivalent to "Music of the Night". (The Grinning Man score, book and lyrics are credited to four people, including Morris, the director, as one of the lyricists.) Maskell plays the facially disfigured Grinpayne, a sort of inverse variant on the Phantom who shares that character's lovesickness and yearning but becomes a figure of exaltation rather than vilification and psychosis. For one thing, the "ugly/beautiful" Grinpayne, whose mouth is mysteriously locked in an ineradicable smile, doesn't set out to kill people.
On a witty Jon Bausor set that encloses events within a giant maw (I love the gnashers atop the proscenium arch), we get a, well, arch introduction to Grinpayne's plight from the eccentric and metatheatrically-minded Barkilphedro (Julian Bleach, pictured above), the Iago-esque clown who would seem within the array of showbiz borrowings on view to owe at least a glancing debt to the Emcee in Cabaret. Given to wry commentary on the action ("puppetry's not as easy as it looks"), Barkilphedro drifts in and out of falsetto on the way towards a character reckoning of his own that will go unreported here.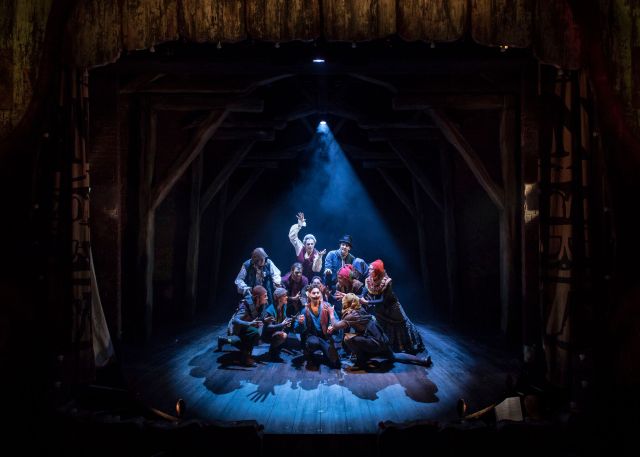 The storytelling itself in Kneehigh veteran Carl Grose's book relies on flashbacks, reversals of character, puppet shows-within-puppet shows and occasional clamberings into the audience to arrive at the solution of the mystery that drives the piece: how Grinpayne came by his grievous facial fate, We get storm-tossed seas, forays into high camp, and lots of London-centric jokes (the Royal Palace at Catford, if you please), alongside some fairly dubious royals – spot the Richard III reference! – that include the always-welcome Julie Atherton in vampy form as a stridently spoken queen who against the odds ends up as an agent of healing all her own.
The puppets themselves come from the War Horse team of Finn Caldwell and Toby Olié (Morris was that play's co-director) and exist on a smaller scale than the roof-raising creatures on view at Pinocchio: there's a companionable wolf called Mojo who has two puppeteers to see him through. Romantic interest arises in the startling speed with which Grinpayne fixates on the blind Dea (Dutch performer Sanne den Besten, in lovely voice), and it's not the fault of these attractive performers if they can't do much with bald-faced lyrical pronouncements on the order of "I am the secret of your pain." (At times, too, the lyrics struggle to sit on the melodic line.) The tortuous narrative reaches a lachrymose, revelation-packed ending whose emotions go unearned. "Confounding," Grinpayne announces at one point, and I'm with him on that.