Annihilation, Netflix review - not quite a sci-fi masterpiece |

reviews, news & interviews
Annihilation, Netflix review - not quite a sci-fi masterpiece
Annihilation, Netflix review - not quite a sci-fi masterpiece
Girl-power cast can't send Alex Garland's Earth-in-peril saga into orbit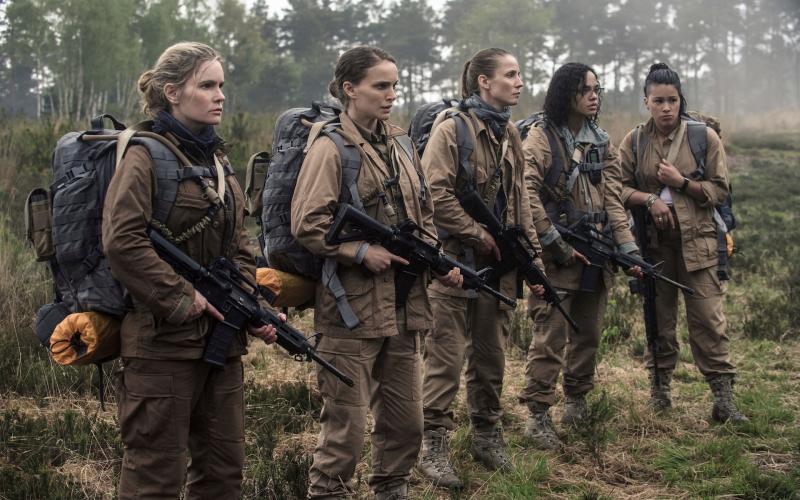 Mission inexplicable: Natalie Portman (second from left) and her team set off to save the planet
Mild controversy hovers over the new film by Alex Garland, the novelist-turned-screenwriter-turned-director. Garland's 2015 directing debut, Ex Machina, was a slow-burning hit which found favour with critics and film festival juries.
This follow-up, then, should have been Garland's giant bound into the big (or at least bigger) time, but instead, after a disappointing theatrical debut in the States, it's now bypassing cinemas and streaming on
Netflix
for the rest of the world.
However, dark rumours of a science fiction masterpiece cruelly abused by a timorous Paramount Studios, who apparently considered Annihilation too cerebral to appeal to a broad audience, may be exaggerated. Which isn't to say that the film doesn't boast plenty of powerful and often disturbing sequences (it does), nor that its mostly-female cast don't deliver a forceful ensemble performance, with Natalie Portman exceptional as the traumatised but driven central character, biologist Lena. But it starts to run out of steam over the final furlongs, and its somewhat mystical conclusion disappointingly unravels amid sub-par cgi effects and characters wearing preposterous shiny suits, as though members of a low-budget experimental dance troupe.
All life forms become capable of morphing and melding into one another
As is frequently the case, the initial premise and the early set-up of bizarre and terrifying events to come work a lot better than the denouement, even if Garland has at least been shrewd enough to keep the viewer guessing about the exact meaning of his weird evolutionary fable (it's adapted from Jeff Vandermeer's novel). We first meet Lena, whose scientific speciality is the study of cancerous cells and the genetic information they contain, as she's being interrogated by men wearing biohazard suits about an experience she's just been through, a mysterious trip to an indescribable place where time itself moved in mysterious ways. As the story unravels, we learn that her soldier-husband Kane (Oscar Isaac, sadly confined to roughly one and a quarter facial expressions) went missing for a year on a special mission, only to make an eerie comeback in an alarmingly altered state.
As the title suggests, this is a humanity-in-peril yarn, and Kane's expedition was an attempt to find some kind of explanation for "The Shimmer", a sort of hungry force field steadily expanding outwards to devour and transform chunks of the planet. It's a little reminiscent of a swirling wall of melting multi-coloured plasticine.
Long story short, Lena gets herself recruited to the intrepid all-girl band of boffins making a fresh bid to get to the bottom of the Shimmer enigma. Led by dour, depressive psychologist Dr Ventress (Jennifer Jason Leigh), the band of sisters also includes physicist Josie Radek (Tessa Thompson), geologist Cass Sheppard (Tuva Novotny) and medic Anya Thorensen (Gina Rodriguez). Their journey is a trip through a fast-mutating world where all kinds of life forms (not to mention light and radio waves) become capable of morphing and melding into one another, with sometimes horrific results. The ghastly bear-dinosaur hybrid with a human voice is a notable highlight, while Lena's particular fascination with cell division is mirrored in the way a thing might become a multitude of similar things.
Yet while it's undoubtedly mind-bending, Annihilation can't shake off the ghosts of sci-fi landmarks like Solaris, Alien or 2001, and you're left feeling that somewhere there's a killer punch that never gets unleashed. Still, if you're a Netflix subscriber, this is an agreeable little bonus package.