Chicago, Phoenix Theatre review - baggy revival picks up later pace |

reviews, news & interviews
Chicago, Phoenix Theatre review - baggy revival picks up later pace
Chicago, Phoenix Theatre review - baggy revival picks up later pace
Cuba Gooding Jr hardly rises, but his co-stars shine in a show stronger on wit than tunes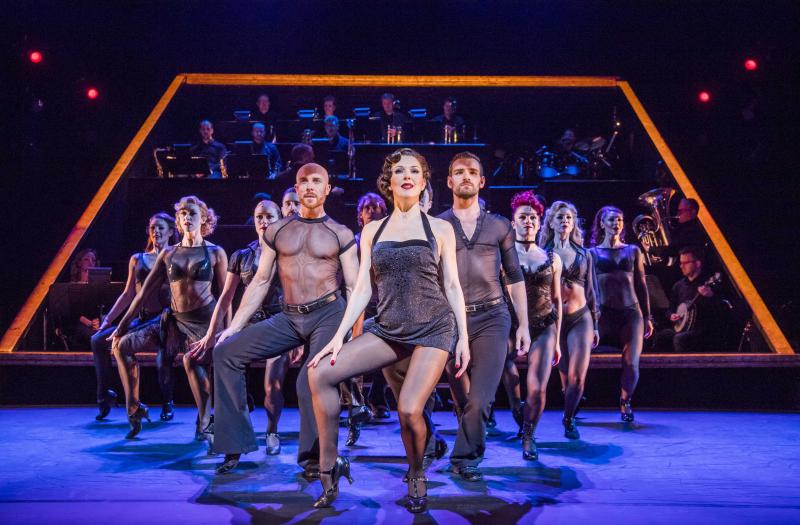 Josefina Gabrielle and the cast of 'Chicago' fail to liven up a sluggish first half
Chicago has been on, in one form or another, for a very long time.
Chicago has been on, in one form or another, for a very long time. The original Broadway production in the Seventies ran for 936 performances; the 1997 London revival was the longest-running American musical in West End history; and it feels like Cuba Gooding Jr's face has been grinning out from escalator video screens on the tube for an age. This revival at the Phoenix Theatre is uneven, but eventually finds its groove and packs a real punch of a finale.
The story, as usual with this kind of musical, is somewhat thin: wannabe vaudeville star Roxie Hart (Sarah Soetart) shoots her lover dead and winds up in Cook County Jail, where she meets a host of other female murderers, including Velma Kelly (Josefina Gabrielle), who resents Roxie for stealing both her defense attorney, Billy Flynn (Gooding Jr), and her limelight. It's based on fact: Prohibition-era Chicago was gripped by the stories of "murderesses" who had shot their husbands or lovers, as reported by journalist Maurine Dallas Watkins, who also wrote the play from which the musical is adapted.
The courthouse scenes are the best of the show: witty and slick
The trouble is that most of the songs just aren't different enough from each other. The first half drags, and goes too early with its great tunes – "All That Jazz" and "Cell Block Tango" happen within the first half-hour, and it's difficult to find anything to look forward to for the rest of the act. Act Two is much better, pacier and with more interesting songs. The courthouse scenes are the best of the show: witty and slick, the punchlines and twists and turns coming thick and fast. Ken Billington's lighting design, stellar throughout, really comes into its own here: the ensemble lean forwards to illuminate their own faces via the footlights below them, creating a lovely spooky effect.
Cuba Gooding Jr is an interesting casting choice – he's charming, but he can't sing, and a lot of his jokes fall flat. He's vastly outshone by Ruthie Henshall (pictured below right), who was London's original Roxie in 1997 and later played Velma on Broadway. That's even more impressive when she seems born to play Matron "Mama" Morton, exuding confidence and corruption in every rasp of her lovely smokey voice.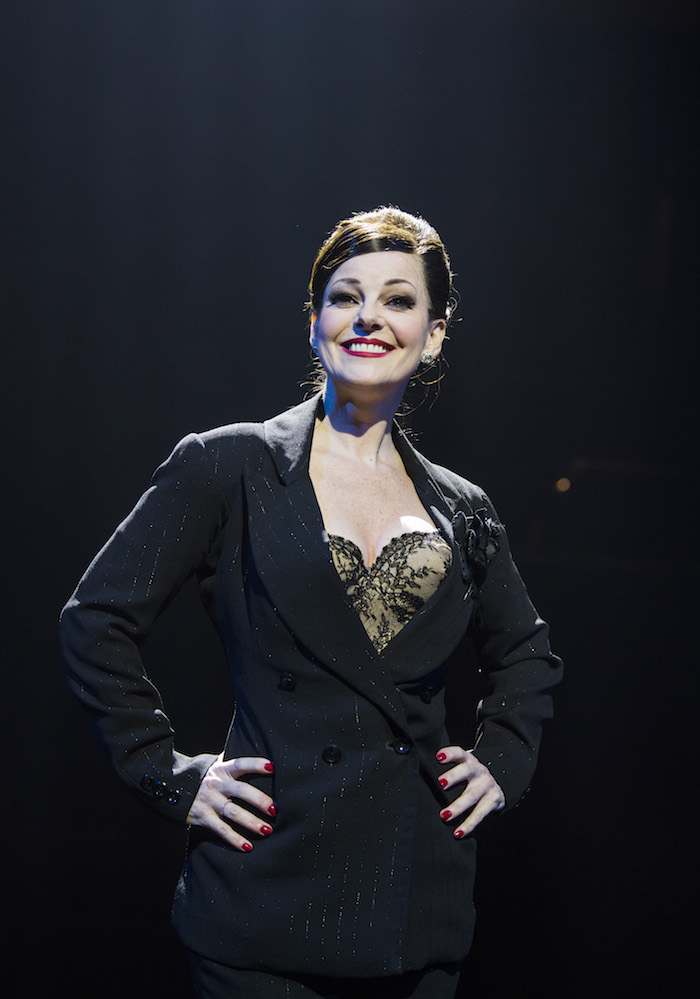 And after a slow start, Paul Rider (playing Roxie's hapless husband Amos) comes into his own in the second half – "Mr Cellophane" is one of the highlights of the evening, bouncy and bittersweet. Rider milks the audience for every last pity-laugh they have, even utilising his interactions with the musical director, Ian Townsend, to that end. Townsend and the band are loveably playful, and what the clunky end-on staging loses in depth and level-building – it leaves a very small strip for the cast to tumble around on – it gains in maintaining the vaudeville feel of the show and making the band a part of the action.
Chicago has moments of biting, whip-smart satire – the running gag about the jury being somehow unaware that killing a murderer won't bring the victim back is a prime example. But the rest falls a little flat, and though "We Both Reached for the Gun", where Roxie sits on Flynn's lap and allows him to speak through her as if she's a ventriloquist's dummy, might have a point to make about female agency, something about the way this production plays it feels off, especially in the era of #MeToo. That said, the show passes the Bechdel test with flying colours, so maybe it's not wholly stuck in the early 20th century.