The Rink, Southwark Playhouse - lesser-known musical lands afresh |

reviews, news & interviews
The Rink, Southwark Playhouse - lesser-known musical lands afresh
The Rink, Southwark Playhouse - lesser-known musical lands afresh
Eighties Broadway flop proves an Off West End knockout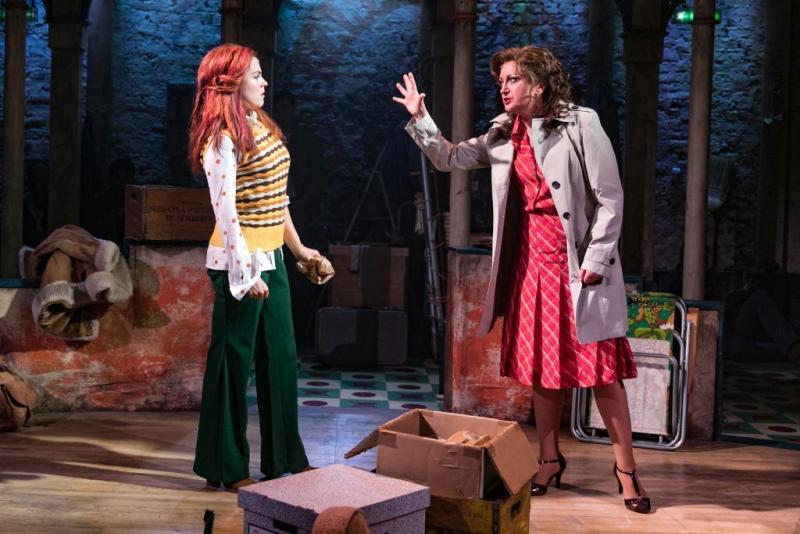 Ah, ma: Gemma Sutton and Caroline O'Connor as daughter and mother in 'The Rink'
Two dynamite lead performances and the chance to savour an underappreciated score give genuine charge to The Rink, a decades-old Broadway flop that feels reborn for Southwark Playhouse.
A short-lived star vehicle for Chita Rivera (who won a 1984 Tony for it) and Liza Minnelli, the
musical
more than survives the scaled-back if entirely impassioned approach of director Adam Lenson. It's also a great showcase for an inspired creative team - choreographer Fabian Aloise and a punchy powerhouse of a band led by musical director Joe Bunker.
Stripped ot its starry sheen, one can appreciate anew the acting opportunities inherent in the leading roles of the gutsy, been-there-done-that Anna (Caroline O'Connor, fresh from Broadway's Anastasia) and her vagabond daughter Angela, aka Angel (Gemma Sutton, late of The Go-Between and Gypsy).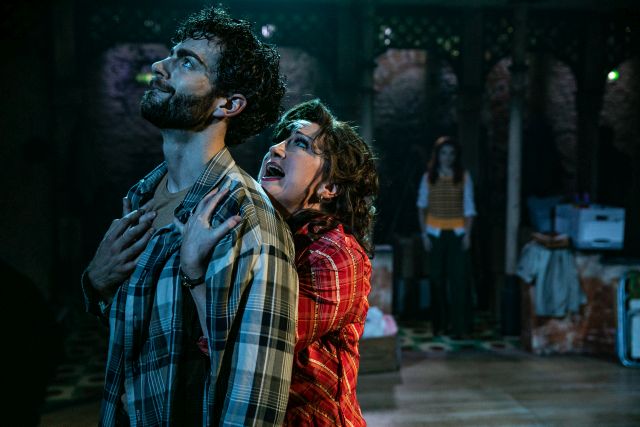 At loggerheads more or less throughout, at least until the unabashedly sentimental finish, the leads are well served by a composing team, John Kander and the late Fred Ebb, who have long put women centre-stage: think Sally Bowles, for starters, or Velma and Roxie in their Chicago. The show may not be specifically tailor-made for the strengths of its two leads, but O'Connor and Sutton land the laughs and the tears; not in a long time has an Off West End musical been on such form. (Pictured above: O'Connor, right, with Stewart Clarke as her onetime beloved, Dino.)
Terrence McNally's none-too-subtle book suggests a sort of working-class variant on Follies: a roller rink is about to be torn down, but not before its ballsy proprietress, Anna, has it out with her wayward hippie of a daughter, who has returned to the family roost, a surprise or two in tow. Moving about in time, we flash back to Angel as a child and to the various abandonment issues felt in different ways by both women; Anna, at this point, wants to make a fresh start in a Florida condo, but not before the fractious duo let fly with some home truths, followed by the ever-salutary expression of love: a word, one senses, neither Angel nor Anna has heard enough in their lives.
If the writing tends towards the pro forma, the score provides one stirring, surging number after another, quite a few of them in this airing staged without buttons so that the songs flow easily back into the scenes from which they sprang. (And when there is a button, as on Angel's propulsive "Colored Lights," here moved from the very start of the show to the first-act finale, it's for a reason.) Anna, not Angel, gets things going this time out, and O'Connor proves a high-kicking delight from her opening "Chief Cook and Bottle Washer" onwards: a song of self-definition that encapsulates an entire character in one easeful vocal swoop. Sutton enters not long after and gets many a revelatory anthem of her own, the two generations joining forces on the second-act opener, "The Apple Doesn't Fall", which remains vintage Kander and Ebb. (Their Lauren Bacall star vehicle, Woman of the Year, features the directly comparable "The Grass is Always Greener".)
The men include a silken-voiced Stewart Clarke, who manages to be both charismatic and slightly scary as the feckless Dino, and a tireless ensemble (pictured above) whose varied physiques lend a giddy sense of occasion to the rumbustious title number, in which the fellas roller-skate their way across every inch of Bec Chippendale's properly decaying set. That number alone has been reported at some performances to bring the audience to its feet, and why not? The night I attended, the lasting ovation was saved for the final bows, in acknowledgment of the shared commitment and compassion expressed toward once second-rank material that against expectation feels first-tier fresh.
The Rink at Southwark Playhouse to 23 June
If the writing tends towards the pro forma, the score provides one stirring, surging number after another
rating
Explore topics
Share this article