theartsdesk in Essaouira: Festival of Gnawa - 21st-century trance masters |

reviews, news & interviews
theartsdesk in Essaouira: Festival of Gnawa - 21st-century trance masters
theartsdesk in Essaouira: Festival of Gnawa - 21st-century trance masters
Previewing Moroccan trance music coming to London and Womad this summer
Asma Hamzaoui and her Gnawa troupe
Essaouira, on Morocco's Atlantic coast, is the place of winds. Day or night, hot or cold, year in, year out, the "Alizee" blows, and it blows.
In the local folklore it is not from the ocean but a grumbling resident of the medina – perhaps protesting the town's rapid recent expansion, its port's modernisation and the loss of legendary Chez Sam, the restaurant once beloved by an
Othello
-filming Orson Welles.
But for the 21st edition of the Gnawa Festival in Essaouria the Alizee drew breath and slept, if fitfully, through four days and nights of intense trance music featuring the ghimbri bass lute and krakeb percussion, as well as world-class jazz and superb bands from west and central Africa. The compass dances in Essaouria; musically and metaphysically, you're never quite sure where you'll end up.
Celebrating and elevating the trance music of Morocco for 21 years, Essaouira's Gnawa Festival is an adventurous highlight on World Music's calendar, and later this July, Gnawa is coming to the UK for a rare triple manifestation – at Jacob Collier's Prom on 19 July, at Vince Power's west Kensington venue, Nell's Blues & Jazz, on 25 July, and over the weekend at Womad on 28-29 July. This at a time when Gnawa is becoming the sound du jour on New York's club and gig scene, led by the likes of Grammy nominated Brooklyn-based band Innov Gnawa, featuring Moroccan ex-pat Samir Lingus and Malaam Hassan Ben Jaffer from Fez.
In Essaouira, festivities begin with the intense display of sonic and visual colour that is the opening parade, threading its cacophony of drums, pipes and voices from medina to main stage in Place Moulay Hassan, where this year's Artists in Residence Snarky Puppy opened with the first of the festival's famous fusions between visiting artists and Gnawa Maleems – the form's mighty master musicians and band leaders.
Gnawa's history stretches back to west and central Africa, and some of the festival's finest fusions have not been between western Jazz players and the Gnawa, but rather with their fellow Africans, south of the Sahara. So it was with the closing night fusion between the high-energy voudou funk of Benin International Musical with Casablanca's Hassan Boussou (pictured below), creating a thick, rich gravy of Gnawa and Voudou rhythms that gave way to another intense, free-form, very late-night fusion involving rising British star Shabaka Hutchings, who was on stage until 4.30am.
Happily, in the case of Snarky Puppy, the great, flamboyant Malaam Hamid El Kasri and his Gnawa troupe flexed their musculature while yielding the space for the New York jazzers to weave some strong guitar, horns and wonky keys through the Gnawis' rhythmic density.
Gnawa retains a powerful hold in Moroccan culture, and this festival is both about allowing it room to live and innovate and preserving it. Away from the main stages, the intimate riyad showcases and more sacred Lilas extended as deep into the night. Lila ceremonies are all-night performances of teknowit (authentic, traditional) Gnawa in which magic, ritual, possession and spooky action at a distance all take their places. They can be violently intense, almost sexual in terms of what appears to be powerfully physical bodily possession and ecstatic release. One wonders at potential parallels with tantric and kundalini practices. The shaking and abandon of those taken into trance – mainly women but men, too – resembles some auto-erotic frenzy with a peppering of self harm, presided over by a powerful woman who introduces the right incenses and herbs at the right juncture, coloured cloths covering the heads of those in trance to signify specific spiritual inhabitants. These spirits may include Lalla Mira and Lalla Aicha, entities drenched in pre-Islamic animism more than they are in any monotheistic orthodoxy.
At Zaoia Bilal, hidden away in the warren of alleys winding below the medina's ocean-side ramparts, a Lila was held on the festival's opening night to commemorate local Maleems who had recently passed. Among the ghimbri players was Mokhtar Guinea, brother to the late, great Mahmoud, and here, beginning before midnight and extending towards dawn, participants and observers experienced Gnawa in its pure, unadulturated form, traditional and at full force, a great beast operating exclusively under its own laws.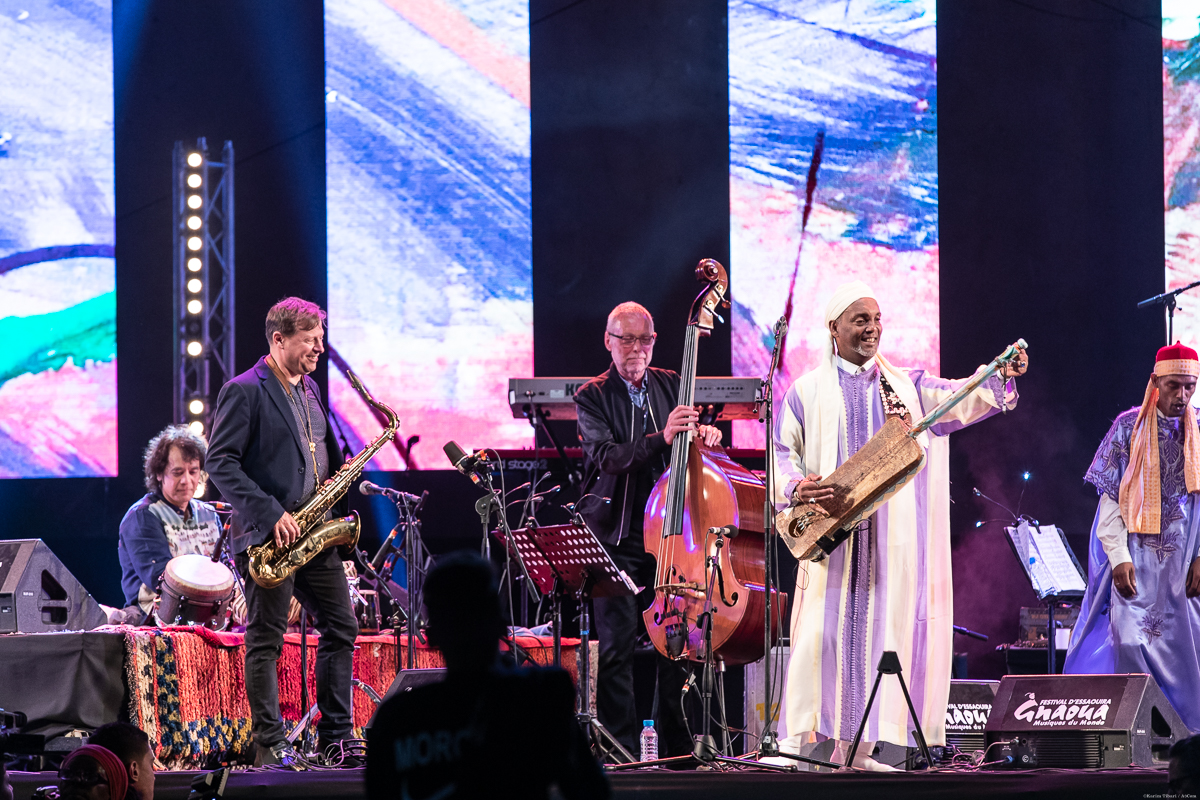 Back on the main stage, on Friday bassist Dave Holland delivered a sublime set with his trio of saxophonist Chris Potter and percussionist Zakir Hussain (pictured left), dazzling the audience of some 30,000 with the floating-world lyricism of their playing and interaction. Guitarist John McLaughlin's drummer Mark Gilmore guested towards the end – McLaughlin was there in the crowd, checking it out as the rhythmic power rose between this impromptu quartet, Potter's rich, rounded spiritual sax dropping out for Hussain's percussive fantasias, syncopating with Gilmore's kit to explore the rhythmic depths opening up between them. In the following fusion with Malaam Said Oughessal, pictured, those depths became oceanic, the vibrant and powerful Gnawa shaking the stage alongside Holland's double bass and Gilmore and Hussain's percussive attack.
Earlier that day, Malian superstar Fatoumata Diawara (pictured below) talked at length about the changing position and role of women in Africa, drawing sharply and often critically on her own life and experiences in music. Preceding her Friday night headlining appearance at around 2am was Morocco's first ever female Gnawa troupe, led by Asma Hamzaoui, who made her festival debut last year at the nearby Dar Louban, an intimate riyad venue. Their very existence as female Gnawi is without precedent, and they delivered a powerful set topped by a glorious
finale, but the step from riyad to main stage was perhaps too soon – a set on the smaller Borj Bab Marrakech stage, high up on the medina's huge 16th-century battlements, would have been a more assured second step with which to focus and marshall their powers.
It was here on the Borj that Hamid El Kasri, in advance of his Proms, Womad and west London appearances, played a superb set of unadulterated Gnawa for sundown over the medina. When he comes to the UK later this month, wise punters should put their money down for Gnawa Night at Nell's Jazz and Blues, a fantastically intimate venue in which to experience the full force of this most powerful Moroccan trance music.
And with the Proms and Womad's stages to follow, this long hot summer looks set to be a prime opportunity to climb aboard Gnawa Airways for the trip of a lifetime.
The Gnawa Festival is an adventurous highlight on World Music's calendar, and later this July, Gnawa is coming to the UK
rating
Explore topics
Share this article