Prom 44, Gringytė, CBSO, Morlot review - eloquently sculpted Gallic riches |

reviews, news & interviews
Prom 44, Gringytė, CBSO, Morlot review - eloquently sculpted Gallic riches
Prom 44, Gringytė, CBSO, Morlot review - eloquently sculpted Gallic riches
An impressive rarity lours between established French masterpieces
Lili Boulanger: apocalyptic ambition
So those of us who hadn't experienced Ludovic Morlot live before had a chance to witness what a splendid moulder and shaper he is, here in a skilfully co-ordinated all-French programme. It was not the fault of his impeccable presentation if prodigiously gifted Lili Boulanger's setting of Psalm 130 didn't come across quite as anticipated from estimable note-writer Roger Nichols' declaration of the work as a masterpiece or from the eloquently-phrased claims of theartsdesk's Richard Bratby when he reviewed Gražinytė-Tyla's Birmingham performance earlier this season.
"Du fond de l'abîme je t'invoke", "de profundis clamavi": a psalmic cry of desperation tempered by hope is bound to merit a sombre setting only briefly illuminated by consolation, and though Boulanger structures the choral and orchestral plaints, the teasingly brief prospect of redemption flung into the hall with such clarion tones by Mirga's fellow Lithuanian, the superb mezzo Justina Gringytė, with great skill, the musical language does seem to be rooted in the last fling of decadent romanticism. Tellingly for its subject matter, it was composed between 1914 and 1917, and must already have seemed a bit of a throwback at its first performance in the modernist Paris of 1923.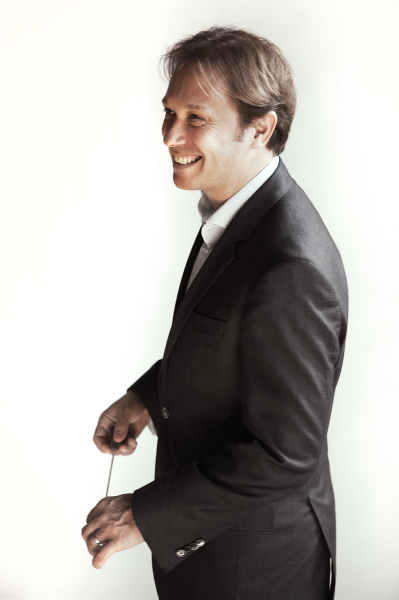 It's selectively orchestrated though, with clear lines rising from the abyss, luminously spangled in its brief ray of light and a gift for the superlative CBSO Chorus, perhaps the best of its kind in the country (the men especially, and rarely, sound like professionals). What might the wondrous Lili not have gone on to achieve had she not died at the age of 25 100 years ago, shortly after completing this magnum opus?

Boulanger's ambition had, perhaps, the bad luck to be placed between two unquestionable Debussy masterpieces. In Prélude à l'après-midi d'un faune, a daring work to launch a concert with an audience of about 5000, flautist Marie-Christine Zupancic's well-projected nuancing turned out to be shared by the rest of the woodwind in unison; in other words, Morlot's work on well-directed phrasing was obvious (the conductor pictured above by Lisa Marie Mazzucco). It helped direct the cloudscapes in the first of the Nocturnes, arguably Debussy's greatest orchestral triptych (which probably only means it's the one I love the most), and focused the swagger-from-a-distance of the central "Fêtes" (thoughtul phrasing here, too, from muted trumpets). Choral ladies and girls from the CBSO Youth Chorus. singing from memory, perhaps sounded more church-perfect than pagan as the "Sirènes", but they worked beautifully with Morlot in the magical slow fade.
All that coughing to disrupt Debussy's magic? I blame, in part, the Boléro-fanciers around me, one of whom, having laughed and lolloped through Boulanger and Debussy started to head-bang when the tattoo of his favourite piece of music struck up ever so discreetly on a side-drummer placed not at the back of the orchestra but within the main body. Yet Ravel's unfairly infamous score, which too many affect to hate, is still a work of unrepeatable genius, a gift of an any-person's-guide-to-the-orchestra, adding subtle flecks of colour while the soloists have a certain freedom to weave their melodic magic (first prize last night went to artistically dynamic trombonis Matthew Knight, with saxophone and bassoon honourable runners up). Morlot went for a fastish tempo - the previous evening I'd been showing students in a Ravel class a film of Celibidache's mesmerising slow burn, taking about five minutes longer - but lifted the energy and the melody with unstinting energetic precision. The only shame was that we didn't get an encore to show the more refined side of Ravel's multi-faceted genius.
What might the wondrous Lili not have gone on to achieve had she not died at the age of 25 100 years ago?
rating
Explore topics
Share this article