Macbeth, Shakespeare's Globe review - sexually-charged production draws power from the shadows |

reviews, news & interviews
Macbeth, Shakespeare's Globe review - sexually-charged production draws power from the shadows
Macbeth, Shakespeare's Globe review - sexually-charged production draws power from the shadows
A daring counterintuitive reading proves richly rewarding
Thursday, 15 November 2018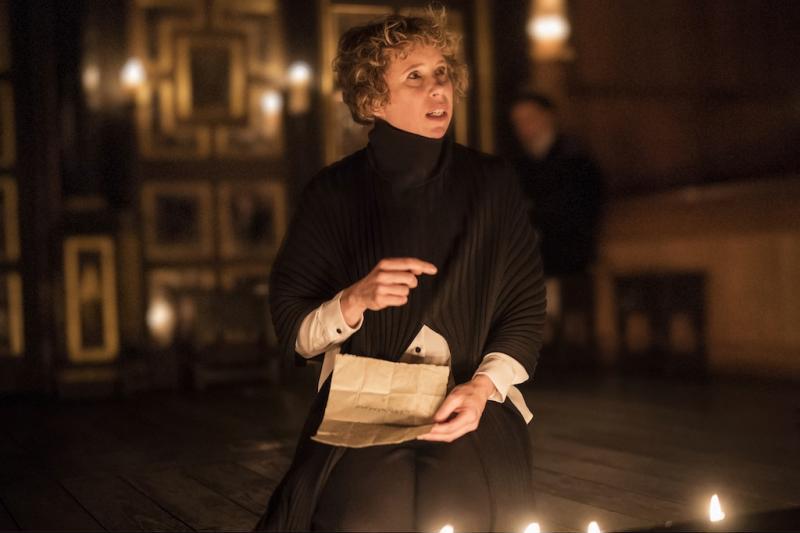 Michelle Terry's Lady Macbeth reveals her ambition through silence
Macbeth has rarely seemed quite as metrosexual as in this gorgeous shadow-painted production that marks Globe artistic director Michelle Terry's first production in the Sam Wanamaker theatre.
Even in a play that walks the tightrope between its anti-hero's fear and his ambition, it's a daring, occasionally counterintuitive ploy – yet after a precarious start, it proves a rich and rewarding reading of one of
Shakespeare's
more problematic texts.
That's down in no small part to the smouldering on-stage chemistry between Paul Ready's empathetic, emotionally mercurial Macbeth and Terry herself, famously his real-life wife, and here his Lady Macbeth. When Ready first appears with Banquo, it's difficult to believe that his Macbeth is the same man who has just "unseam'd" a man '"rom the nave to the chaps" in battle, yet the gentle sceptical exterior soon reveals hidden daggers.
In the same way that Robert Hastie's production draws substance from the shadows, lighting the stage so that you are never sure what is silhouette, and what is flesh and blood, so Terry's Lady Macbeth reveals her ambition through silence. The extraordinary pause after she reads, "Hail king that shalt be," resonates through the theatre; its effect is compounded by the second silence when she realises that the king will be spending his ill-fated night beneath their battlements.
Ready – whose impressive range has been demonstrated in roles in TV series ranging from Motherland to The Bodyguard – has talked of the couple's fascination with the Macbeths' power-grab being tied up with their domesticity. In a volatile sequence, you see precisely why that reading of the text works so well, after an affectionate sexually-charged reunion gives way to Lady Macbeth ruthlessly playing on her husband's insecurities to reveal the monster that he can be.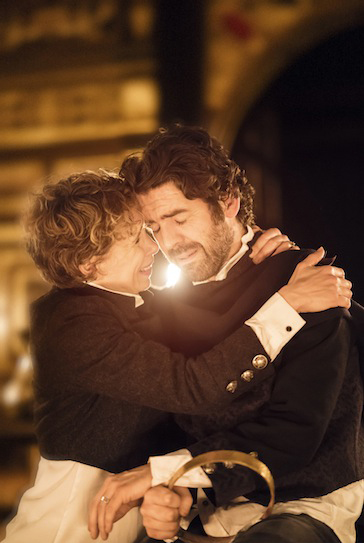 Their relationship is the dark heart of an evening that begins with a potent interpretation of the witches' scene, in which figures in the dark chant in Enochian – an occult language that was believed to allow direct interaction with spirits. Each night, through selecting different length tapers, alternate members of the cast are revealed as the witches, black-caped figures whose faces hang, disembodied, in the shadow.
The effect is heightened by Laura Moody's daring, enervating score and sound design – the play opens with a gasp, and then proceeds with a gripping blend of inventive vocal work and muted percussion. At some points the auditorium is filled with bloodcurling ululations, at others it is the quietest of sighs that disturbs us. There are moments when it feels as if the whole Wanamaker theatre is an instrument, as cast members knock from outside on the doors and walls, and the whole chamber starts to resonate. Amid the carefully calibrated cacophony, the dark mirrored doors at the back of the stage shake and gleam.
The cast, too, ably complement the Macbeths' infernal marital meltdown, not least Joseph Marcell's amiably compelling double turn, first as Duncan and then as the drunken porter. Kit Young reveals himself as an arresting Malcolm, standing out in every scene in which he appears as he treads the assassin-lined road from vulnerability to maturity.
Philip Cumbus's performance as Banquo is more mixed – at first he seems a dour, strangely dry presence in this febrile production. Yet his understatement leads to one of the greatest coups de théatre of the evening. At the banquet – which takes place above his grave – he appears first as a shadowy anonymous figure; the fact we cannot see he is there adds to the impact when he becomes a walking nightmare as he stands and removes his shirt to reveal his bloodied torso.
For all its sinister delights, the production is most definitely Ready and Terry's – the bitter fizz of ambition between them fuelling the play to its gory end. Ready's delivery of Shakespeare's words teases out every nuance, not least after Macbeth is delivered the news of his wife's death. I have never heard those three "tomorrows" declaimed in a way that conveys such a combination of horror and utter bleakness as he digests the impossible fact that he will never see his spouse alive again. This wonderful start to a season exploring power and corruption demonstrates anew that the personal and the political is an enduringly potent cocktail.
Macbeth at the Globe till 2 Feburary 2019
There are moments when it feels as if the whole Wanamaker Theatre is an instrument
rating
Explore topics
Share this article