theartsdesk on Vinyl 45: Ian Dury, Janis Joplin, Oneohtrix Point Never, Stereolab, Charles Mingus and more |

reviews, news & interviews
theartsdesk on Vinyl 45: Ian Dury, Janis Joplin, Oneohtrix Point Never, Stereolab, Charles Mingus and more
theartsdesk on Vinyl 45: Ian Dury, Janis Joplin, Oneohtrix Point Never, Stereolab, Charles Mingus and more
The wildest, most wide-ranging monthly record reviews out there
Tuesday, 11 December 2018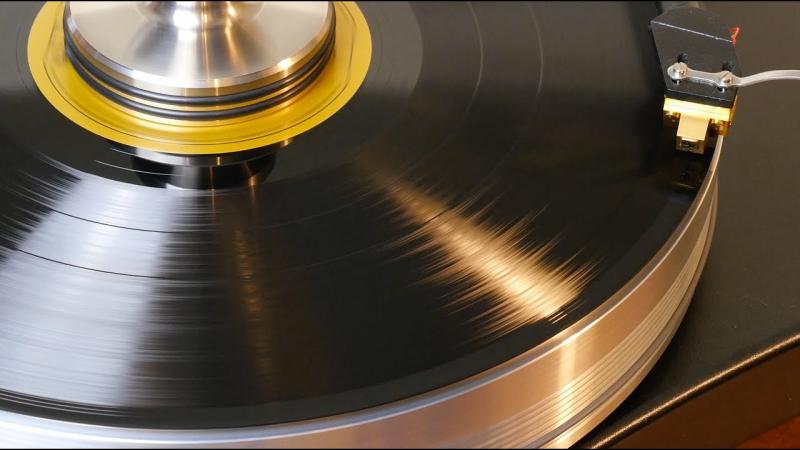 In the groove...
It's the season of giving so theartsdesk on Vinyl feels compelled to draw your attention to Unicef's Blue Vinyl campaign. This sees 17 celebrated albums auctioned off in special editions on givergy.com with all proceeds going to Unicef's Children's Emergency Relief Fund.
It's the season of giving so theartsdesk on Vinyl feels compelled to draw your attention to Unicef's Blue Vinyl campaign. This sees 17 celebrated albums auctioned off in special editions on givergy.com with all proceeds going to Unicef's Children's Emergency Relief Fund. Albums include classics by David Bowie, Kate Bush, Alicia Keys, Ozzie Osbourne, Jimi Hendrix and… The Spice Girls. Go and have a look. Meanwhile, watch out next week for the boxset-jammed Christmas theartsdesk on Vinyl special, but right now, here's the first of our two December editions. What's new and juicy and plastic? Dive in and find out!
VINYL OF THE MONTH
Farai Rebirth (Big Dada)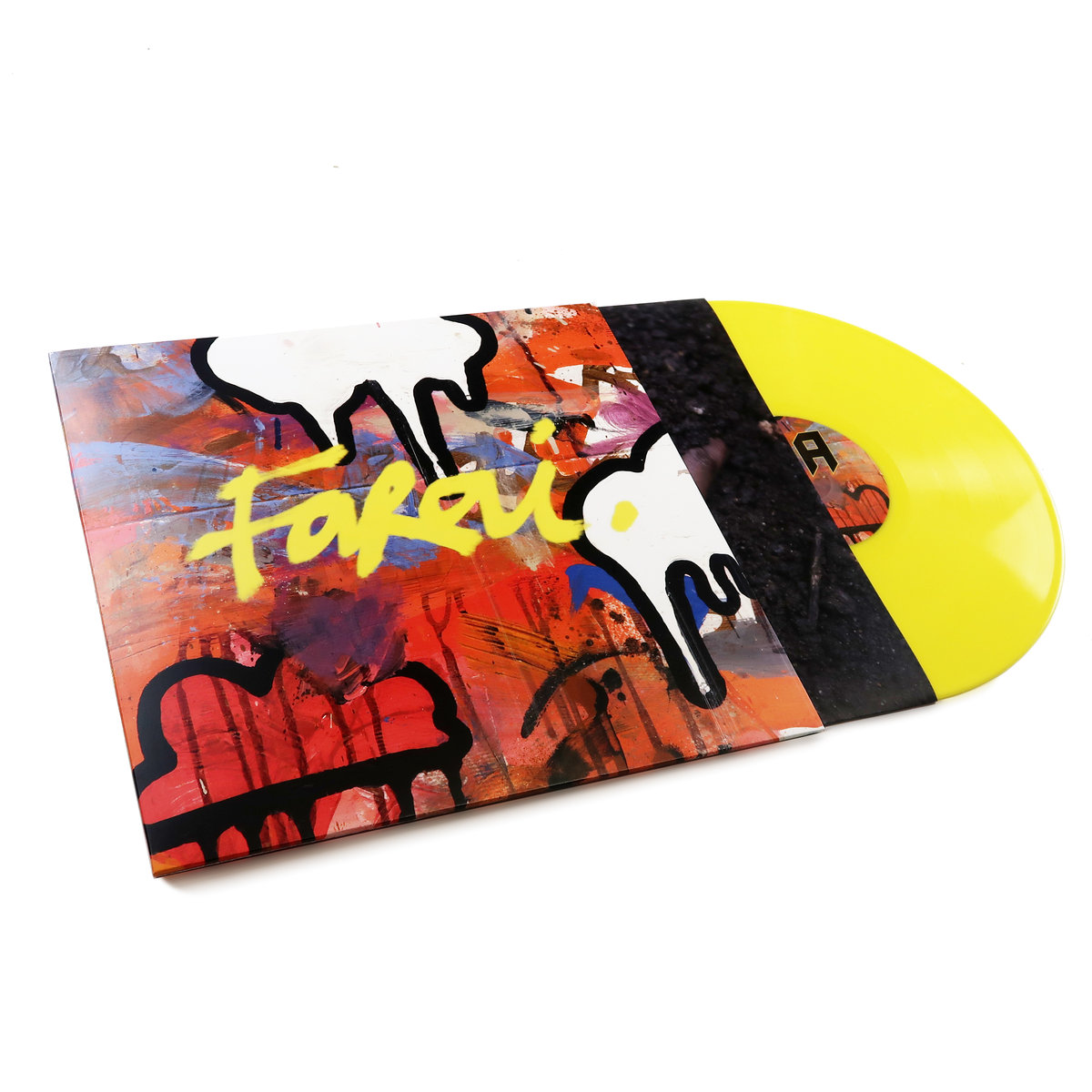 "Theresa May, do you know how it feels to count days and hours 'til pay day?" So shouts the strident female voice on "This is England" over a diseased analogue synth buzz which ebbs back'n'forth like Thomas Bangalter's soundtrack to Gaspar Noé's eye-watering revenge flick Irréversible. The music is by a London producer called TONE while the frontwoman is the Zimbabwean-British female wordsmith the band's named for. Arriving on yellow vinyl, it's a scorchingly good album, with a similarity of tone to Sleaford Mods. Not that it sounds anything like them, it just has the same sense of how anger at society's injustices can be couched in wordplay. Farai can do "proper songs" too. "Talula" and "Space is a Place" are sung songs (as is the Autotune electro number "Radiant Child"); there's a dark electro-pop feel throughout, but mostly Rebirth is an album with punk intent, via a very modern UK hip hop sensibility. On the basis of this debut album, 2019 is Farai's for the taking.
Various IF Music Presents - You Need This: World Jazz Grooves Compiled by Jean-Claude & Victor Kiswell (BBE)
Wow! BBE have nailed it here, with a lot of help from London rare record specialists If Music. This six-sided set on a note-packed gatefold takes us on a journey into jazz jams from around the planet. This turns out to be a mighty exercise, making irrelevant whether you enjoy jazz or even object strongly to the idea of "a jam". That's because World Jazz Grooves stays away from squawking saxes and aficionados-only jazz and gives us raw rhythm-driven pieces that run the gamut from the abstract steam train shuffle of Japanese pianist Masabumi Kikuchi's "Pumu #1" to the Middle-Eastern-sounding oud-led storm of "Ismaa" by Sudanese-American outfit Jazz Committee For Latin American Affairs to the brain-warping looping of the self-explanatory Le Steel-Band de la Trinidad, to the Last Poets-like beatnik poet raging of Billy Bang's Survival Ensemble. These are cuts for the most advanced dancefloors and they're going to be played to death when this writer puts his Mr DJ hat on down in sunny Worthing.
Charlene Soraia Where's My Tribe (Peacefrog)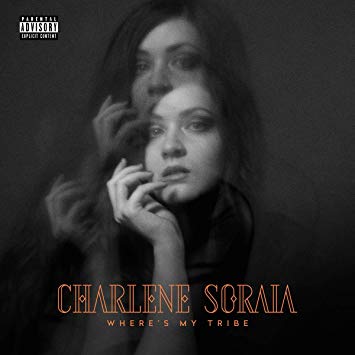 Judging from this, her third album, it would be a shame if Charlene Soraia was remembered by history as a one hit wonder for her TV advert-rocketed 2011 cover of The Calling's "Wherever You Will Go". Utilising a minimal acoustic guitar backing that's unshowy but crafted, she foregrounds her voice on a collection of songs that speak of a soul unsettled and searching. "Insatiable, unsociable, incapable at compromising/These are the things that my ex says I am," run the lyrics to "Beautiful People". In fact, I miswrote "unshowy guitar" as "The Journey" is a masterclass in inventive fret-work, pasted in ear-intriguing production. The whole album is haunted by self-doubt but leaves the listener feeling that Soraia is strong enough to deal with whatever the world can throw at her (just check out the vitriol on "Likely to Kill"!). She remains a classy singer-songwriter well worth keeping track of. Comes in fluorescent orange inner sleeve.
Big Brother & the Holding Company Sex, Dope & Cheap Thrills (Columbia)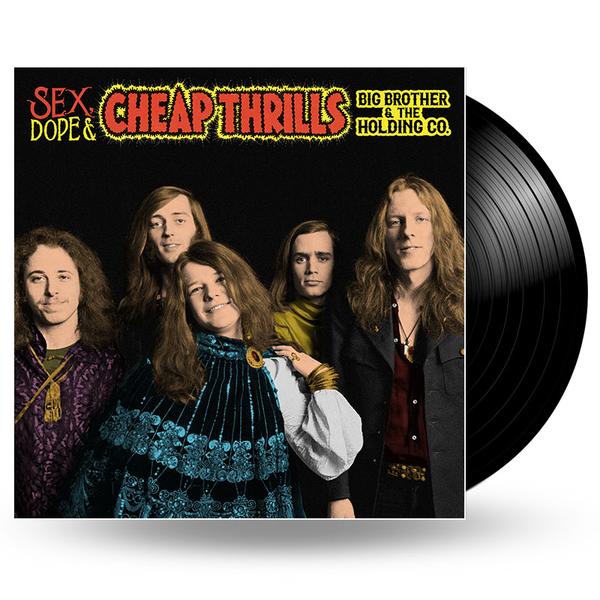 This is an alternative version of the classic 1968 album Cheap Thrills, which is generally regarded as Sixties San Francisco incarnate. The latter fact just shows how much the Bay Area sound was about stoned blues-rock jamming rather than actual psychedelia as we've later come to understand it. Listened to in 2018 the loose style of this album is just normal whereas 50 years ago even using the word "rock" to describe music (as opposed to "rock'n'roll") had only just been thought of. Sex, Dope & Cheap Thrills, the album's original title, is four sides of alternate studio takes, minus the crowd noise that was added to the original (except for "Ball and Chain" which was live originally and still is here in a different version – it's rip-roaring in either!) The whole album sounds great, all these new versions have a buzz about them, and the "How Many Times Blues Jam" quite simply lets the energy of that time truck on out of the speakers and start ransacking the room for a quarter of hash and a bottle of Jack. The cheesy gatefold art has much to be desired but the rest is impeccable, and the notes on the inner sleeves by Grace Slick and drummer Dave Getz (who's still in the current version of the band) are tight-printed and worthwhile. "Summertime" and "Piece of My Heart" aside, it simply makes you think, maaaaaaaan, what a good time that was to be on it, in it, of it and at it.
Steve's 9th Incarnation 9th Incarnation (9th Inc Inc)
Comes with a 12 page comic book, in the vein of Shaun Tann, illustrated by Bulgarian artist Diana Naneva. This album is much closer to what we now call psychedelia, or at least one version of it. Created by one Steve Head, based in London, and about whom theartsdesk on Vinyl knows nothing else, 9th Incarnation contains a wild variety of styles, from Baroque pop orchestration to the Sweetheart of the Rodeo-esque country of "Numbers". The whole is bound together by two things. First there's Head's nasal voice, an Eighties indie voice, and his lyrics that seem to touch on the personal in "Liability Steve", which seems, loosely, to be about losing the plot ("Staring fights with that dickhead from Keane"!?), but are mostly in the vein of oddball word-pictures. Second, the whole album is plastered with stereophonic suckings, swooshings and bloopings, effects that take it from the realm of indie to something more lysergic.
Eric Dolphy Musical Prophet (Resonance) + Charles Mingus Jazz in Detroit/Strata Concert Gallery/46 Selden (BBE)
Two specialist retro jazz releases curated and notated with such love and care they'll likely prove essential for fans of the artists concerned. First up is a hand-numbered limited edition (3000) triple album that folds out to the full 12" x 72" size. It includes a booklet that's tightly written, extensive and full of photos, as well as a mass of vital and touching information about its subject, Eric Dolphy, by those that loved him, worked with him, and who have watched over his legacy. Saxophonist/flautist/clarinettist Dolphy set off for a European tour with Charles Mingus in early 1964 but decided to stay on as he was enjoying the reception there compared to the harsher racism of the States. However, in June he collapsed and died in Berlin, due to the misdiagnosis of a diabetic condition. Before he left the US, he entrusted personal materials to the care of composer Hale Smith and his wife Juanita, including the recording masters of two sessions he'd done in the summer of 1963. One of these had already resulted in the album Conversations and, after his death, another selection became Iron Man. Both these are included but, also, a whole album of other material, which shows no dip in quality, and is the first unreleased Dolphy music to appear since the late 1980s. Dolphy is on fire throughout this set, especially when he's backed by the then-teenage trumpeter Woody Shaw (who's also going hell-for-leather). These guys are having a ball but Dolphy's especial skill is to knead his wild, often abstract blowing into formats that hint at a modern classical sensibility. It's strange how that works, given the
explosive nature of his art, but that's the way it is. Serendipitously, Dolphy's good friend Charles Mingus also has a spanking new boxset, five records strong, and including a piece of music never before released which, for the purposes of this release, has been entitled "Dizzy Profile" (a very relaxed, smoky piano/sax-led thing). There's also another meaty booklet and a fold-out poster. The background is that Mingus and his band were broadcast live on local Detroit radio in early 1973 from 46 Selden Street in the city. The address was a kind of all-purpose jazz joint operated by jazz aficionado Kenny Cox and his wife Barbara on very little money as part of their Strata Records set-up. The tapes were never released. They were found much more recently in the possession of Hermine Brooks, widow of Roy Brooks, who drummed on the sessions. Mingus fell into a years-long depression after Eric Dolphy's death and his greatest work was behind him by '73, but he also had a minor renaissance around that time and this boxset revels in that. His music is more approachable and immediate than Dolphy's and, while his bass holds everything together, he has a hugely capable piano man in Don Pullen adding the tastiest icing throughout, alongside Mingus's regular early-Seventies collaborator Joe Gardner on trumpet and the short-tenured but impressively passionate saxophonist John Stubblefield. In short, BBE have uncovered another minor treasure trove, as is their wont.
Deathrite Nightmares Reign (Century Media)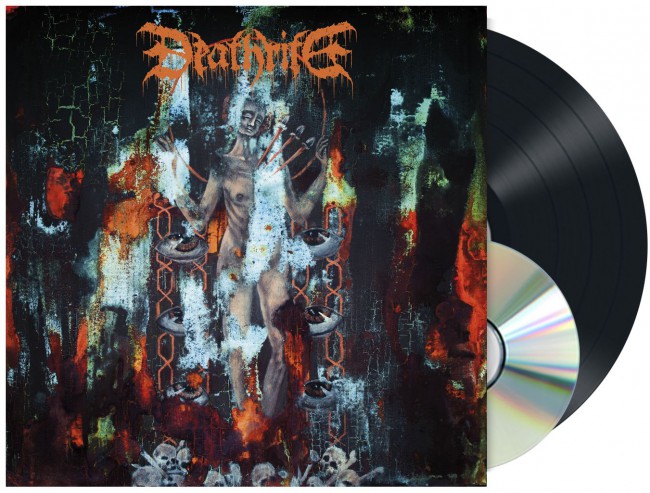 Dresden metallers Deathrite have been going for the best part of a decade but their fourth album is their first for international hard rock powerhouse Century Media. It finds them on fighting form. Lyrically, the whole thing is packed to the gills with death and demons, delirious imagery from unpleasant yet vaguely sensual dreams of corpses. So far, so typical of this musical territory, but what makes Nightmares Reign stand out is its unwillingness to adhere to any usual thrash template. The cookie monster vocals appear, but the musical backing has an aware sophistication. It's heavy and capable of galloping guitar charges, as on "Devil's Poison", but equally there are solemn, slow instrumental passages, such as "Invoke Nocturnal Light", and flitting about the guitar interplay is an actual sense of melody. Comes on gatefold with a 12" x 12" lyric sheet and 14" x 24" poster of the cover art.
Ian Dury & the Blockheads The Stiff Recordings 1977-1980 (Demon)
Elsewhere in this month's theartsdesk on Vinyl I have a pop, as I often do, at the way falsetto voice-breaking has become the default mechanism for men to show emotion in song. It's become a complete bore. It also means that the likes of Ian Dury, whose vocals have more heartbreak in the tiniest inflection than 90% of the post-Jeff Buckley tossers, would stand no chance in 2018. As it is, Dury died when the new millennium was only three months old, but the three albums he recorded with the Blockheads for Stiff records are now reissued here in a boxset, with a fourth, That's Not All, including all the non-album singles (including most of their biggest hits). The first one, New Boots and Panties, is simply a classic of the era that everyone should own, London street poetry to a rough-but-poppy post-punk Brit-funk. Just get hold of it. The next, Do It Yourself, continues the mission but band-leader/co-producer Chaz Jankel enjoying the jazzy edging more. Dury remains lyrically genius, albeit more abstract. By the time of Laughter in 1980 Jankel had left and Wilko Johnson was hauled in to briefly join the Blockheads. The result is an album that's not as smoothly of-a-piece as its predecessors but also much better than this writer remembered, full of production twists'n'turns, with Dury again, and despite being beset at this time by his demons, on playful verbal form. All albums come on picture info inner sleeves on transparent coloured vinyl.
Oneohtrix Point Never Love in the Time of Lexapro EP (Warp) + Modified Man Modifications (Set 3) (Alberts Favourites) + Marie Davidson So Right (Ninja Tune) + Lowtide Southern Mind Remixed (Opposite Number)
So let's surgically assess new electronica via a random cross section of four 12" singles. First up, Oneohtrix Point Never is one of those artists who's super-trendy yet rather good. Warp Records don't buy into hipster-ism, after all, and he's been with them for five years. The New York producer makes electronica that sometimes has song structure but also faffs around into any effects-laden region he fancies (and he surely works that kit!). Following his well-received Ago Of album, the title track of this new EP is a delicious thing, a loping bassline overlain with luscious pinging, squelching machine melodies. Then there's also an engagingly spaced out glitch-ambient Ryuichi Sakamoto rework of "Last Known Image of a Song" (from Age Of), and the other side has Philadelphia underground dude and Frank Ocean collaborator (Sandy) Alex G's acoustic/sung take on "Babylon" plus another cut. Lots to get the teeth into but the lead cut is the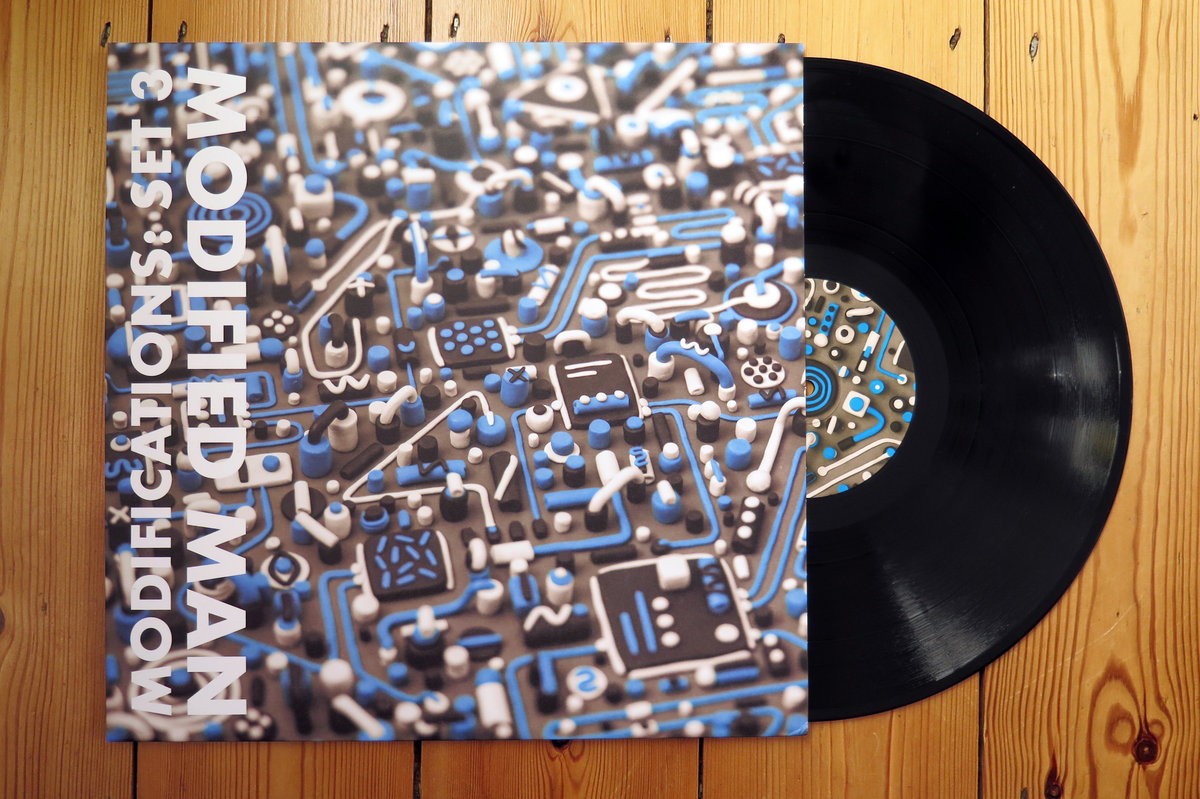 one. The Albert's Favourites imprint end their year on a high with label boss Adam Scrimshire's Modified Man duo delivering a varied six-pack on tunes. Highlights include lead cut "Blames On You Bruv", a kind of 2-step garage cut-up, the soulful bounce of "Hear Me Calling", the bass experiment "Modification 25 (The Modified Man Rap)" and a strange thing called "Love Rising From the Dark Abyss of Sorrow" which sounds like a couple of Death Star droids having a funky tiff. Sometimes Albert's Favourites can be a bit smooth for me but this EP retains the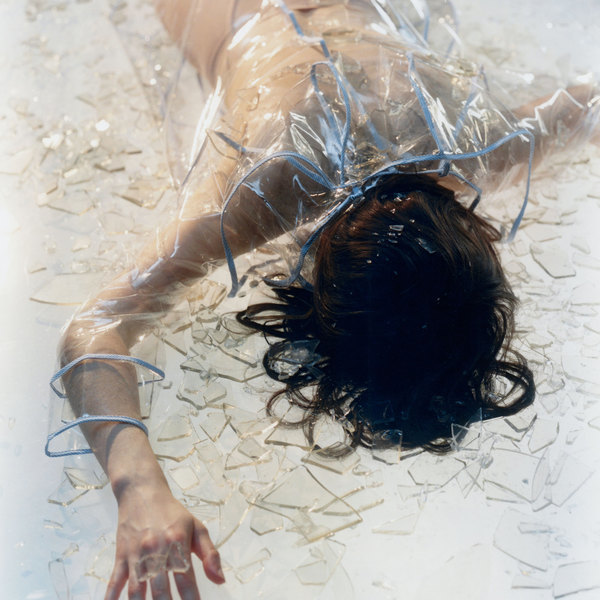 interest. Last month I gave Marie Davidson's album a passable review on theartsdesk on Vinyl but it's grown on me since. Her deadpan-femme-punk-spoken-word-+-electronica shtick eventually made more sense. "So Right", however, is more an electro-house number with trad sung vocals, also delivered in a mesmerically steady 3.00 AM druggy version by Spanish DJ-producer John Talabot. On the flip is a non-album track, "L'Ecstase", created with Italian producer Lamusa II. The Canadian Davidson breathily retreats to her native French for this electro-house throbber, alongside a stern techno version by Silent Servant, but
the A-side's the one. Anyone remember Chapterhouse? They were a shoegaze band – ie feedback-washed stoner-pop – but used to have "dance" mixes on their 12"s, as was the Nineties way. Aussies Lowtide follow in their shoes with their own opiated dream-pop from this year's Southern Mind album attended to by Ulrich Schauss (expertly amps things into a grand psychedelic-melodic orchestration), Josefin Ohrn + The Liberation (gives us a persuasive, echoing, tambourine-rhythmed Kraut-drone), Viva La Void (sounds a bit like an Oakenfold U2 remix), Black Cab (messy, lo-fi, bit bangin') and Lost Horizons (adding more opium, thanks, nurse). If I had to make one double-sided 12" out of the whole lot, I'd have John Talabot's Marie Davidson remix on the A-side and Onetrix Point Never's "Love in the Time of Lexapro" on the flip.
Stereolab Peng! + The Groop Played "Space Age Bachelor Pad Music" (Too Pure)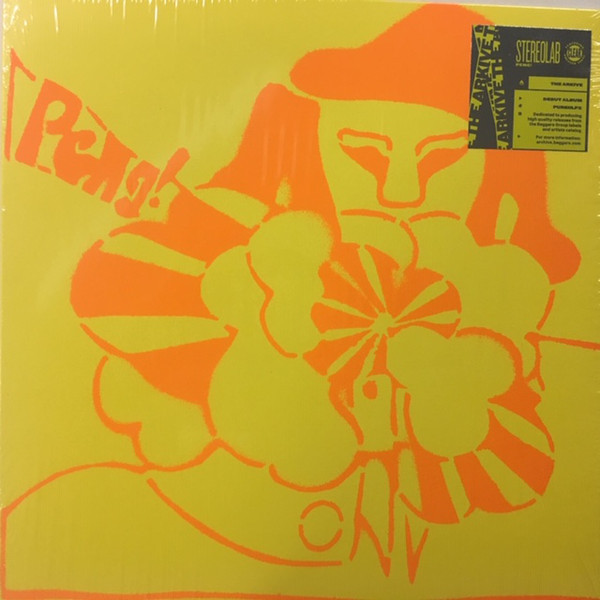 Stereolab remain a common reference point. "That band just sounds like Stereolab," being the common one. This is the blessing/curse of being too far ahead of things. They may have only achieved cult success in their lifetime (four Top 30 albums!) but, on clear vinyl, Too Pure now reissues their 1992 debut album, Peng!, and the mini-album that immediately followed it in 1993. They were clearly even ahead of things on slang given their adoption of the term "peng" quarter of a century ago, but they're more commonly remembered for the way they combined retro-pop with Krautrock's rhythmic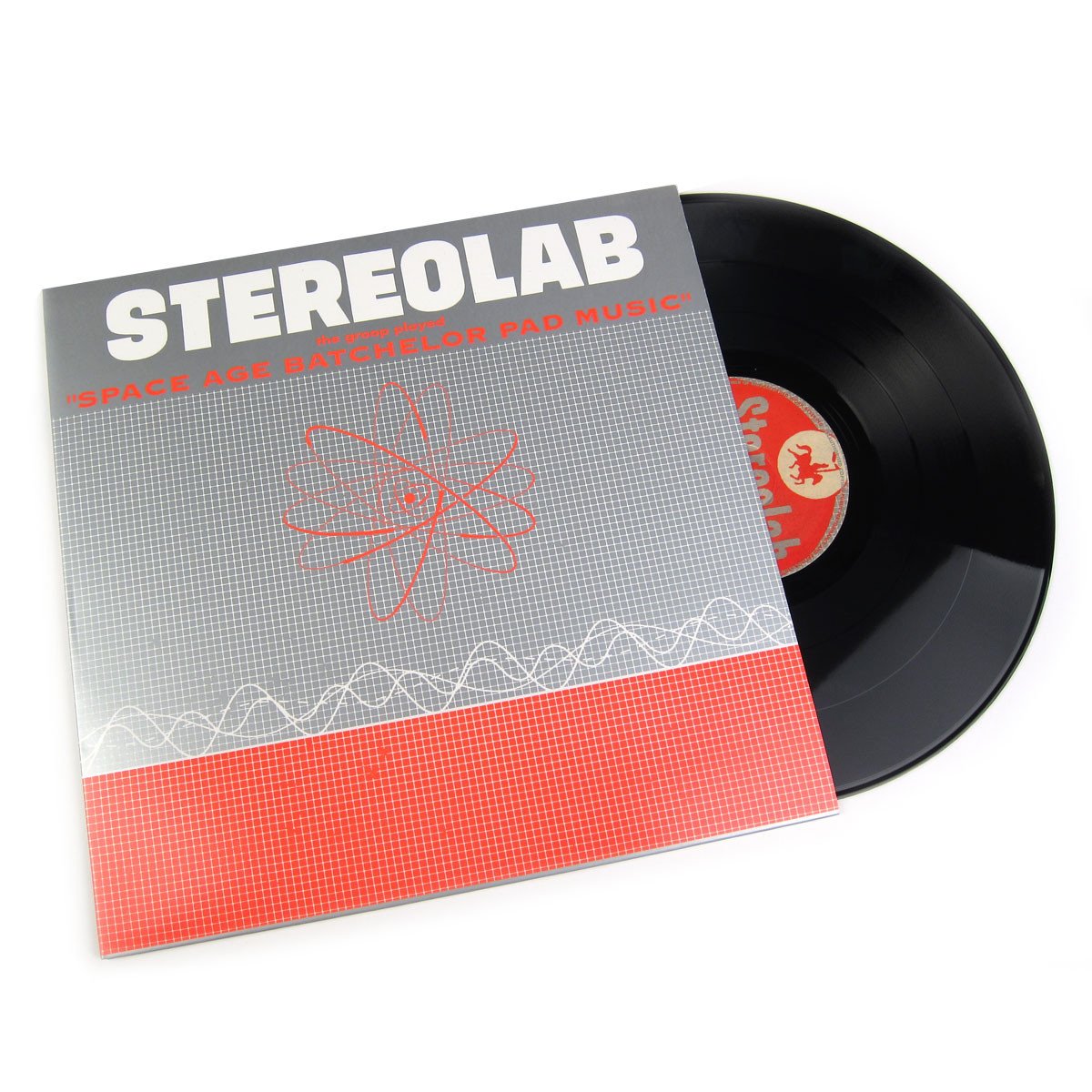 relentlessness. For every noisy guitar squall ("Perversion") or Suicide-y battering ("Mellotron") on Peng! there's sweetness such as the opening section of "Surrealchemist" (even if the philosophically conceptual lyrics are hardly conventional), while on the more developed and elegantly executed The Groop Played "Space Age Bachelor Pad Music" the two styles are separated by record sides. One is entitled "Easy Listening" and the other "New Wave". Both albums come with 12" x 12" inserts of explanatory notes by the band, and the occasional set of lyrics.
Various Kreaturen der Nacht: Deutsche Post-Punk Subkultur 1980-1984 (Strut)
The immediate effect of punk's explosion in the mid-Seventies was to make rising bands stick two crass fingers up to technique and batter at the gates, loudly and dissonantly, but by the early Eighties things had gone further, and the whole rulebook was being recalibrated in an experimental fervour. This notion took a particularly serious grip in Germany, a divided nation riven with stern political angst. Kreaturen den Nacht sees DJ JD Twitch of Optimo gather together a double set of his favourites from the era, with tight-printed and extensive sleeve notes that include photos and new interviews with key players. Sometimes redolent of the crude dub of the very earliest On-U Sound adventures (see P1/E's "Up & Above"), sometimes closer in tone to a robot disco revision of countrymen Tangerine Dream (see Stefan Blöser's "Voyager One"), sometimes coming on like a Teutonic take on New York No Wave (see Malaria!'s "Your Turn to Run (I Will Be Your Only One)", and sometimes just going weird on the cheapest recording kit available (see Aud Lauter Liebe's "Der Karibische Western"), all of it, however basic in construction, wins through via its desire to push at the boundaries, to aggressively seek the new. More of that spirit in 2018, please.
Fanna-Fi-Allah Sufi Qawwali (BUDA Musique)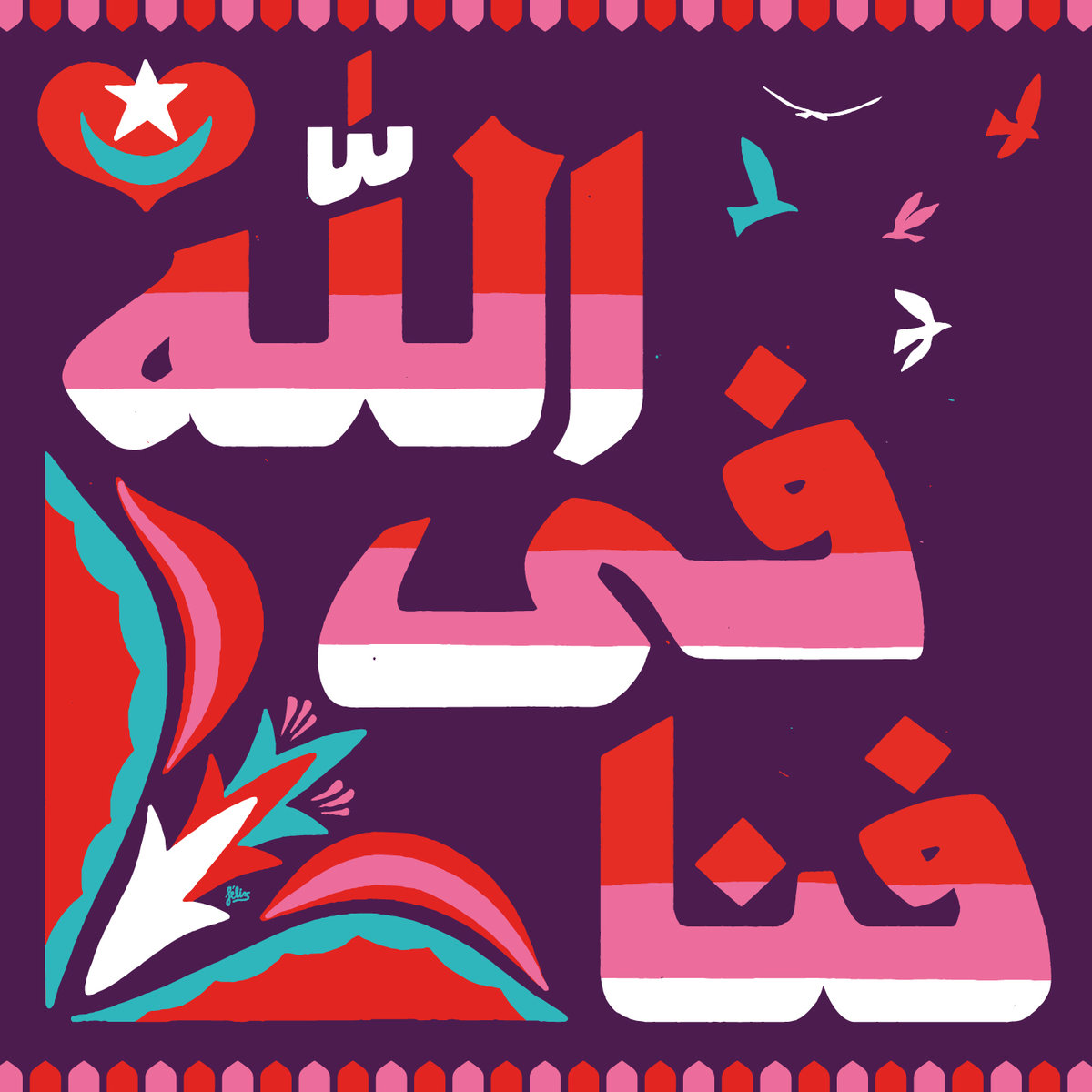 Nusrat Fateh Ali Khan may not be one of the most famous singers ever (as opposed to, say, Mick Jagger), but he is one of the most influential. Listening to Ali Khan's Qawwali music, Sufi spiritual songs, the late Jeff Buckley found a new way to sing, introducing a falsetto voice-breaking style into western popular music that was later borrowed by Thom Yorke of Radiohead, Chris Martin of Coldplay and, eventually, mindlessly, by every second rate, idea-free male singer who appears on The X Factor. Like Buckley, Ali Khan died in 1997 and, while there's undoubtedly been some great authentic Qawwali since, it's great to hear Canadian-American outfit Fann-Fi-Allah creating such a potent brew in this direction. With a driving percussive engine at its heart giving heaviness, it sounds different from the original Qawwali recorded on the Indian subcontinent, but has a zest that's contagious. If you allow them to, the three long tracks on this album drag the listener into a most involving dervish dance.
Smith & Mighty Ashley Road Sessions 1988-1994 (Tectonic/Punch Drunk)
Bristol bass music heavyweight labels Tectonic and Punch Drunk dig out archive material showcasing the very earliest roots of the city's trademark sound. Rob Smith and Ray Mighty were originators, back before even Massive Attack existed. Working in Mighty's studio/flat in the St Paul's district they experimented in the territory where hip hop collides with reggae, their sound emanating a haze of marijuana smoke. This collection of instrumentals over two discs is righteously mastered to vinyl and offers up templates for a multiplicity of dance styles from the era. "Always Be There (Step Up)" is pure breakbeat rave, while "Filmscore!" offers a slant on the "intelligent" jungle sounds later perfected by Roni Size to become known as drum & bass. Throughout, there's a looping head-nod beat, and the breakbeat version of Chopin's "Funeral March" ("Tumblin") is an essential banger for stoned undertakers. My inner geek would have liked a date on each tune so we can tell exactly how they fit into dance music's history, how far ahead of the curve – or not – they were, but this is a minor quibble.
Dammit I'm Mad Dammit I'm Mad (Ace Tunes)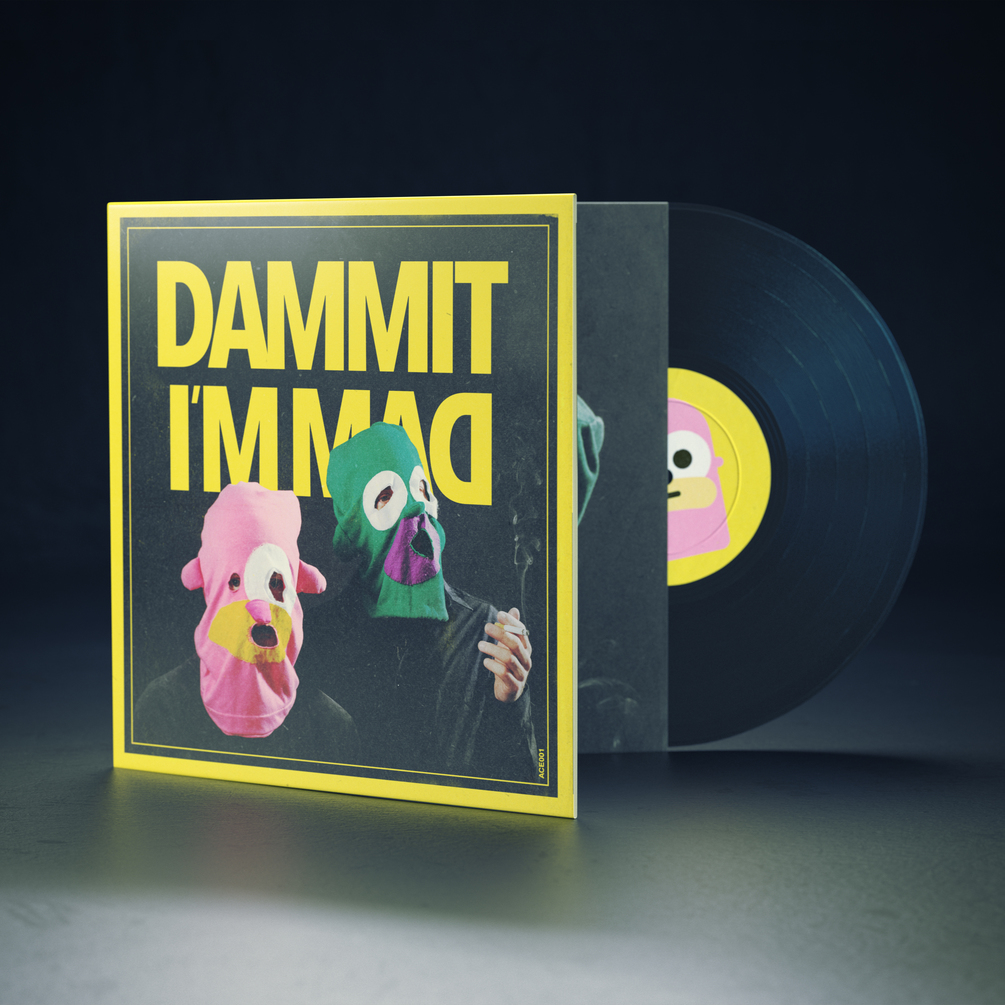 The debut album by Scandinavian freakoids Dammit I'm Mad has a bright, punchy cover, as you can see (the gatefold has another larger pic of them all masked up). The press release calls them "avant-noise pop" but I'd have to disagree with that. This is a prog rock instrumental album. No doubt about it. Their playfulness cannot disguise the hallmark shifting time signatures, wonky guitar attack and whiff of musical virtuosity (and jazz). This isn't to diss the album. It has zip and attack and is generally a light-hearted ball, never staying still for long, whether going all metallic, as on "Brylkäm", or veering into jaunty lounge organ vibes on "Pink Future". It's a 21st century imagining of a meeting between Cardiacs and King Crimson. This time round they've kept things tight enough to get away with it…
Poltrock Machines (Poltrock) + Julian Jeweil Transmission (Drumcode)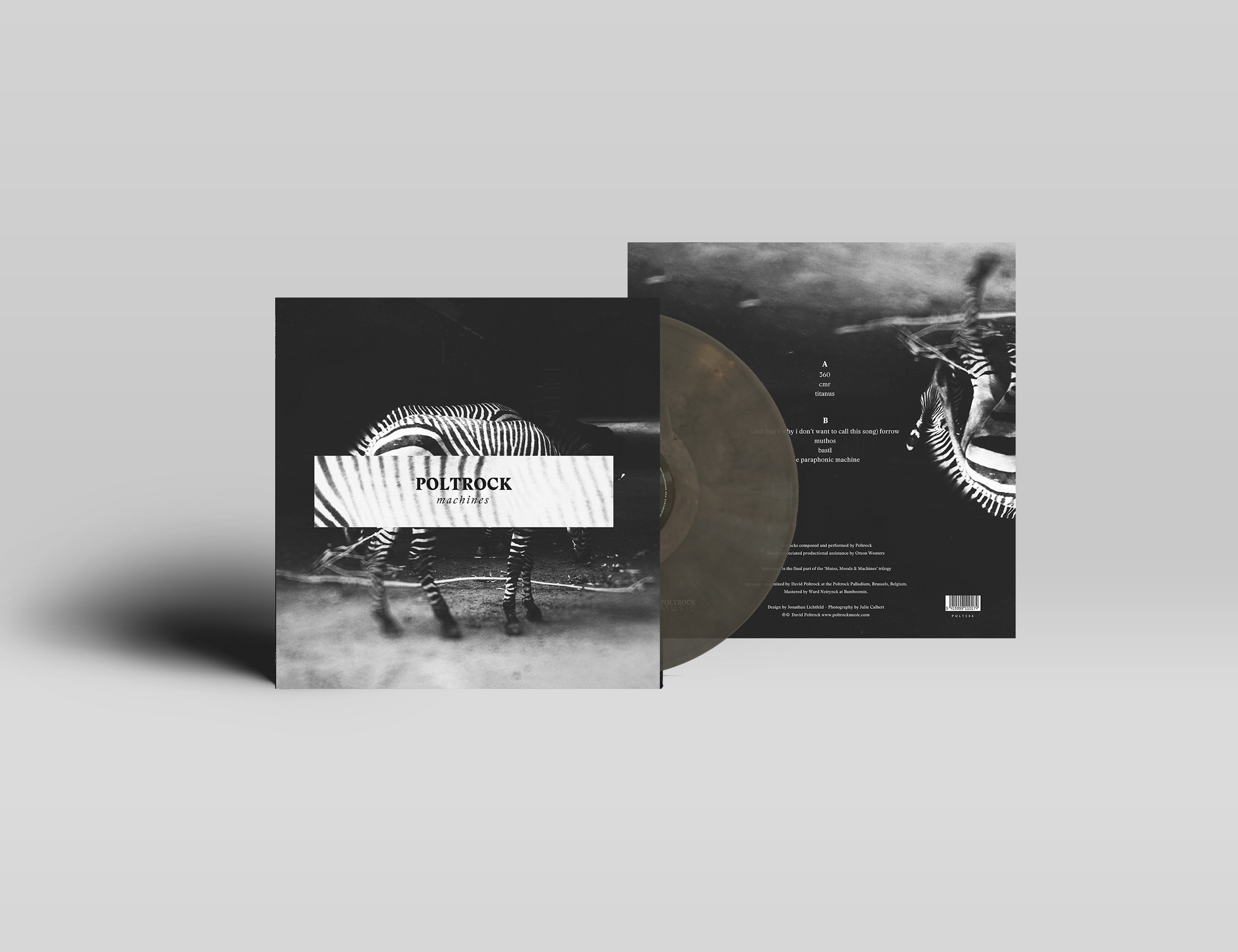 Two albums that take the idea of techno as a starting point for longer form outings. Belgian composer Poltrock does this in a more formal manner with the conclusory album of a trilogy that's being appearing during this year. The first two were Mutes, a collection of piano sketches, and Moods, which moved things into more electronic regions, blending treated piano sounds into a soundscape of samples and tones, which brings us to Machines. This one, on semi-transparent vinyl that looks like dirty smoke pollution, takes the techniques of the first two and attaches them to pulsing rhythms that add energy. It's not dancefloor boshing, clearly, but allows a stately kick-drum to sex up the music, making it more available to a casual listener. Redolent, in places, of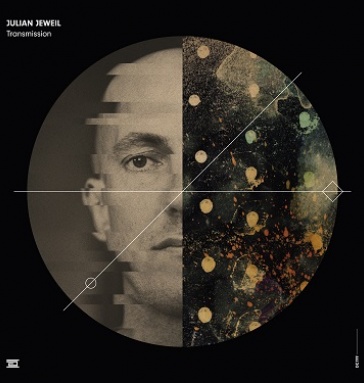 Delia Gonzalez' 2015 album, In Remembrance, Machines explores the idea of techno as an elegant dressing. French producer Julian Jeweil, on the other hand, knows which way his kick-drum is buttered and, while happy to investigate atmospherics, he eventually leads us somewhere tougher and more familiar to those who know the nightworld, the warehouse and the festival. Over two discs in gatefold, he intersperses big room dancefloor thunder with more considered pieces that still stomp all over Poltrock, in terms of sheer decibel potency. However, in the end, both albums offer different pleasures.
ALSO WORTHY OF MENTION
The Burning Hell Baby (BBIsland): Tenth anniversary reissue for Canadian Mathias Kom's third album. His remit is a mingling of Lee Hazlewood/Leonard Cohen vibes with spiked humour that's dry as tinder and a surreal wit. Musically, Baby is loosely a kind indie-folk burlesque with melodies to the forefront but it's Kom's lyrics that nail it to the consciousness. The opening track, "Old World", is a case in point. It's just brilliant, concerning a baby looking forward to being born, then, once outside the womb, chorus-pleading to be taken back whence it came. It's also probably the only album to contain a shanty about the Berlin Conference of 1884 from the perspective of Chancellor Otto Von Bismarck. Comes in photo/lyric inner sleeve with a bizarre, fascinating and long fold-out art print
Youth & Gaudi Astronaut Alchemists (LSD/Six Degrees): The London house/studio complex of producer and Killing Joke member Youth is constantly a-bubble with projects going on, whether they're the massive commercial hires that keep the whole ship afloat, or just escapades that take his fancy. This album undoubtedly falls into the latter category and is a blast. On it Youth's bassline plays a Jah Wobble-ish role on ten tracks which are the furnished with all sorts of sounds from Italian global-dub remixer and studio bod Daniele Gaudi. Somewhere between a decent Orb track and psychedelic trance, it's not music that hammers home an identity but it doesn't half rumble along in an involving manner.
Stray Ghost A Shade Under Thirty (Phases): Brighton musician Anthony Saggers follows the James Heather route of elegiac solo piano but he's also happy to build his sound outward with electronic tones and string sounds. This is his sixth album and theartsdesk on Vinyl has not heard the others but, on the basis of what's here, he'd be great to listen to as cathartic therapy, eyes closed in a quiet empty church or similar, lights low, maybe weep away your cares for a bit, come out cleansed and feeling beautiful for a walk in the sun. Comes on double
Subjective Act 1: Music For Inanimate Objects (Subjective): The first in a trilogy of albums from Goldie's new Subjective project (with producer James Davidson of drum & bass duo Ulterior Motive). Clearly influenced by albums such as Brian Eno and David Byrne's 1981 essay in tribal/experimental found sounds, My Life in the Bush of Ghosts, it's a double on gatefold that varies in tone and effectiveness. Its most interesting aspects are derived from ambient experimentalism but it also has soul and prog sides that aren't as effective. Ballads such as "Landscape – Portrait" find my attention wandering but tracks such as "Re-Entry" have muscularity and are more convincing. A mixed bag to cherrypick or a late night listen for the herb brigade.
Benjamin Wallfisch King of Thieves OST (Milan): With as quality a cast of older British character actors as it's possible to put together, King of Thieves, the film from earlier this year about the Hatton Garden robbery, was still critically lambasted. I haven't seen it so cannot evaluate. However, if it is pants, another great shame is that this great soundtrack by has been wasted. Benjamin Wallfisch worked with Hans Zimmer on the stunning score for Blade Runner 2049, as well as providing the music for the horror film It and being Oscar-nominated for his work on Hidden Figures. With King of Thieves, however, he pays tribute to the big band jazz scores of the 1960s, the work of John Barry et al, and he has great fun with it, whether going for full-on explosive brass attack, as on "The Scheme", or for moodier twilight funk moments that sound like incidental music from the old ITV show The Professionals. It would a shame if this music were to be relegated to irrelevance in the same way its parent film is likely to be. Comes with a 12" x 12" photo/info insert.
Felbm Tape 1/Tape 2 (Soundway): Perfectly likeable album of jazz-flavoured keyboard-led noodles that owe something to easy listening and a little to chill-out too. It's by a Utrecht-musician called Eelco Topper ("Felbm" is what the phone auto-corrects his name to). Tape1/Tape 2 reminds me of a period when I was enamoured of artists such as Jaffa and Pimpie Jackson as the last century turned into this one, when I used to DJ at a bar in Brighton. Early evening stuff before the beats arrive. Friendly music for chatting over and maybe a gentle puff. Every home needs a few records like this. Just not too many.
Anja Garbarek The Road is Just a Surface (Drabant Music/Membrant): First album in 13 years from Norwegian singer Anja Garbarek (daughter of the saxophonist Jan Garbarek). It's a double in gatefold in art image/info inner sleeves and it's an alt-pop concept album that's redolent in places of the way Kate Bush approaches music; obliquely, kind of prog-rock in places, but also accessible. Garbarek's voice flutters about amid electronically-enhanced pieces, her lyrics exploring the album's protagonist, "Bob", whose mind appears to be undergoing something of a melt, as is made particularly clear on the thoroughly spooky fairground twistedness of numbers such as "Less Lonely" and "Bob's Song", the latter of which features a strange exchange between Bob, his mother, an interviewer, "Bob's driving force" and "Bob's conscious being". Hints of the horror filmic in places don't stop this exercise in vicarious music psychotherapy being curiously enjoyable.
Andy White Rave On Andy White (Andy White/ALT): In the mid-Eighties Belfast singer-songwriter Andy White was regularly suggested as next-big-name material by BBC Radio One's evening DJs. His was an "alternative music" that just might break through, possibly a new Billy Bragg, albeit one with hair that looked a bit like Bunnyman Ian McCulloch. Arriving on white vinyl in artist photo gatefold, in photo/lyric inner sleeve, his 1986 debut remains a catchy creature, full of post-beatnik folk storytelling, with a ramshackle smashed-up pop charm only available to those using recording studios during the post-punk era. Thus we can hear in it hints of everyone from Van Morrison to Madness to a multitude of theatrical indie bands.
Max Richter White Boy Rick OST (StudioRichter): White Boy Rick is just hitting the cinemas as I write. Following his effective Seventies-set Irish Troubles thriller '71, Brit director Yann Demange has taken the Hollywood plunge with the true story of the youngest ever FBI informant whose life fell to pieces amid the Detroit drug wars of the 1980s. Max Richter's soundtrack breaks away from his often electro-orchestral work (it's his "On the Nature of Daylight" that provides a key theme in Denis Villeneuve's impressive science fiction film Arrival). There are cuts such as "Non-Violent Offender" that boast delicate piano to the forefront but there's more pure electronica here, even boasting a techno edge in places. Comes on double in photo gatefold.
Camila Fuchs Heart Pressed Between Stones (ATP): Listening to this album without looking at any of the notes and background I can sum it up in two words: goth Björk. Except, now I look at the notes, Camila Fuchs isn't a person, it's a German-Mexican duo. Singer Camila de Laborde channels Iceland's greatest musical export while electronic wizard Daniel Herman-Collini provides a floating, glitch-plinky soundtrack over which she emotes. There are only six tracks, pressed to vinyl the colour off watery cranberry sauce. It's more thoughtful than in-yer-face but there are moments when it does take off, notably "My Body" which has the morose power of Replicas-era Gary Numan. Full marks for the inner sleeve design wherein the record label fits neatly with the writing around the die-cut hole through which it's visible.
Preacherman Plays RJ Hustler's Greatest Hits Universal Philosophy (Luaka Bop): This one has quite a back-story. Preacherman is septuagenarian Californian eccentric and organ-player Tim Jones. A member of bands in both the Sixties and Seventies, during the Eighties he launched his puppet alter-persona T.J. Hustler with whom he would duet in performance. Universal Philosophy contains a cross-section of tunes the human/wooden duo released in the Eighties and Nineties. It sounds like a lounge band attempting to be The JBs, fronted by someone who's taken a lot of acid, with a sonic smidgeon of the clumsier moments from Sandinista by The Clash. It's entertaining enough.
Matt Corby Rainbow Valley (Warner Music): Matt Corby is an easy-going Aussie singer-songwriter who has wisely decided not to go down the tedious I'm-so-vulnerable-me route and, instead, delivered an album, his second, that's full of songs bathed in trip hop groove and lush but modern orchestral backing. "All That I See" is a typical number, Corby's voice a stoned and pleasant instrument riding a loping hip hop beat against a swathe of striking melodies. He has a small British following (his 2016 debut album made No.36 in the album charts) and this next confident outing should only see that increase. It's easy listening, for sure, but has a spirited affability and – more importantly – a genuinely soulful feel, both of which are appealing.
MMMD Hagazussa (Antifrost): Greek outfit MMMD major in weirdness and have found a suitable collaborator in Austrian film director Lukas Feigelfeld, soundtracking his debut feature, Hagazussa: A Heathen's Curse. The film was actually Feigelfeld's graduation project but is of such a calibre that it's being lauded in horror circles for its off-kilter nightmare-ish portrayal of rustic medieval superstition. MMMD's soundtrack is a sinister and unsettling affair, all rising minor tones and demonic whispers, perfect music for the CIA to play loudly to "suspects" on unregistered mind-altering drugs.
Invisible Minds Make Up Your Own Stories (Moshi Moshi): Since this album is called Make Up Your Own Stories, I will. Basically, this guy Tim Green is my brother. Tom and Tim we were. We grew up together on a small farm outside Frankfurt but one day the DJ Sven Väth, at that time just starting out at his seminal trance mecca, The Omen Club, took Tim under his wing, starting him out on adventures that took him as far afield as becoming a spirit guide in the Peruvian highlands and performances with Ennio Morricone at the Sydney Opera House. However, after the collapse of his millennial business selling search engine software to small African nations, he had a moment of enlightenment and turned to a god of his own invention called Hopusticus. This album is a ritual devoted to that deity. Alternately, if you must require the truth, it's a double album on transparent vinyl containing pleasant, bubbly alt-electro-pop, with a dancefloor wibble popping up from time to time, and effective vocals.
Tayne Breathe (Strange Brew): Here's a weird thing. I checked London industrial rock-pop group Tayne on YouTube or somewhere online and it sounded OK, but this album, pressed to transparent pink bubblegum vinyl, does not. One of the rules at theartsdesk on Vinyl, however, is to not review things if I have nothing positive to say – especially in this season of good cheer – so let's contend that despite a murky pressing that doesn't do their sound justice and a universal tone that veers definitively towards the glum, there's a certain dense potency to Tayne's sound that probably comes into its own in the live arena. Comes with A4 lyric sheet.
Lets the energy of that time truck on out of the speakers and start ransacking the room for a quarter of hash and a bottle of Jack
Share this article