Reissue CDs Weekly: Charles Mingus |

reviews, news & interviews
Reissue CDs Weekly: Charles Mingus
Reissue CDs Weekly: Charles Mingus
'Jazz in Detroit' captures the legendary bass-man with a hitherto unheard band at a 1973 show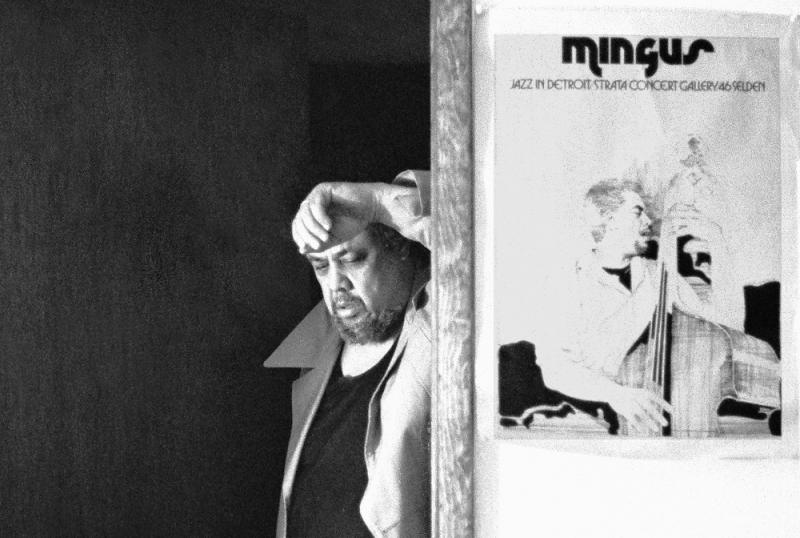 Charles Mingus checks out the length of the queue at Detroit's Strata venue in February 1973
Releases dedicated to previously unisssued live recordings can be tricky. The variables at play don't necessarily ensure that what's in the shops is worth investigating. The audio sources may be of sub-standard quality or capture an off night. Some live performances are by rote: touring acts can do the same set night after night and things get stale. Who wants to hear yet another version of a familiar composition or song? It goes on.
Equally, there may be a chance that what's heard for the first time (officially) might be an essential addition to a stellar back catalogue. Then, there are commercial concerns about a market where completists and fans will want the release but barely anyone else will.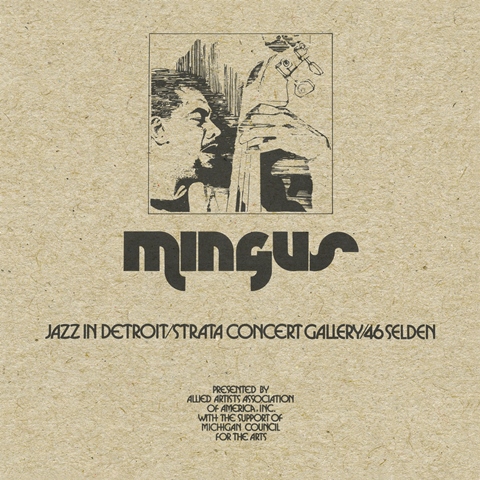 All the above considerations are raised by Jazz in Detroit / Strata Concert Gallery / 46 Selden, a five-disc or five-album set dedicated to a single concert given by Charles Mingus and his band on 13 February 1973 at Detroit's combination gallery/concert hall Strata, which opened in July 1972. It was on off-shoot of Strata Media, which also ran a record label.
The concert was broadcast live that evening by WDET-FM and the source for the release are two-track tapes of everything heard. The tapes must be of what listeners tuned into as what appears to be on-air dialogue is included. Whether the recording was done at the radio studio at the time, off-air from the broadcast or from the mixing desk as it was fed to air is not mentioned in the annotation, though the latter is most likely. The tapes were items owned by the local and now-deceased jazz drummer Roy Brooks.
Mingus and his band played Strata as part of a series of February/March 1973 concerts billed as "Jazz in Detroit", which also featured shows by Herbie Hancock and Keith Jarrett. Mingus' Strata concerts – his residency was 13 to 18 February – came a year on from the release of his Grammy nominated Columbia studio album Let my Children Hear Music and eight months before the release of the Mingus Moves set for Atlantic. Between the two albums, Charles Mingus and Friends in Concert had been issued – it was recorded nine days before the Strata show.
At Strata, Mingus wasn't playing with the extended line-up heard on Charles Mingus and Friends in Concert. Instead, he teamed-up with a band he had already toured with but wouldn't go on to record with. In Detroit, he is on bass with Roy Brooks (drums), Joe Gardner (trumpet), Don Pullen (piano) and John Stubblefield (tenor saxophone). The latter duo were recent joinees, and Stubblefield was soon out of the line-up after fighting with Mingus. Jazz in Detroit represents an opportunity to hear a band which cannot be heard anywhere else. The pared-down grouping also contrasts with the 1972 and 1973 studio albums which both featured many more musicians.
Jazz in Detroit is also interesting as – unlike the 1972 live album – it captures what Mingus presented to standard audiences rather than those ranged before him at a prestige theatre. The set list is free ranging. "Pithecanthropus Erectus", first heard in the Fifties, sits alongside a version of Duke Ellington's "C Jam Blues" and the early Sixties Mingus composition "Peggy's Blue Skylight". "Noddin' ya Head Blues", a dialogue between Mingus and Pullen is heard five years before it was recorded for release on 1977's Three or Four Shades of Blues. "Dizzy Profile" has not been issued before and, so Mingus comments, had been performed with Dizzy Gillespie at Carnegie Hall. The past, present and future co-exist at this concert.
However, Pullen dominates. Not just as his instrument rises to the surface due to the mike placement and recording balance, but in the way he fills-out the music and drives it forward. Considering Mingus' on-the-record antipathy towards free jazz, it is fascinating to hear Pullen's improvisational bent brought on board.
Wonky balance aside, the sound quality is good but not perfect. Although engaging, the interview segments and announcements interrupt the flow of the music. Of the two formats issued, the CD package is the one to go for as tracks are not split to accommodate the change-over from one side to another. The vinyl and CD versions are sequenced differently.
Caveats notwithstanding, this is an essential addition to the Charles Mingus catalogue as it reveals hitherto undocumented aspects of his progress and, as such, fills out the picture: it says something new. However, inherent to the nature of what it is, Jazz in Detroit / Strata Concert Gallery / 46 Selden is unlikely to appeal anyone beyond the already committed. For this constituency, the particular variables at play will ensure that it is worth investigating.
Next week: Third Noise Principle – four-CD set dedicated to "Formative North American Electronica 1975–1984
Explore topics
Share this article