Reissue CDs Weekly: Charles Mingus @ Bremen 1964 & 1975 |

reviews, news & interviews
Reissue CDs Weekly: Charles Mingus @ Bremen 1964 & 1975
Reissue CDs Weekly: Charles Mingus @ Bremen 1964 & 1975
Live recordings where the jazz great wouldn't 'tone down his performance to meet the audience's tastes'
George Adams (left) and Charles Mingus on stage, Bremen, 9 July 1975
Two of the four CDs in this set are of a live performance taped on 16 April 1964. The other pair of discs were recorded on 9 July 1975.
Each show issued on
Charles Mingus @ Bremen 1964 & 1975
was captured by the north German regional broadcaster Radio Bremen. There was an audience of 220 at the earlier show, 440 at the later.
While each performance runs to just short of two hours, the contrasts between them are not limited to representing different periods in the career of double bassist/pianist Charles Mingus. The compositions played are unique to each show, and there's a different approach to elasticity. In 1964 "Hope so Eric" and "Fables of Faubus" stretch out to around the half-hour mark, while "Meditations on Integration" and "Parkeriana" are each over 20 minutes (overall, six pieces are played). In 1975, when nine pieces were played, only "Sue's Changes" is comparably long.
Then, there's the bands. In 1964 it's Mingus plus Jaki Byard (piano), Johnny Coles (trumpet), Eric Dolphy (woodwind), Clifford Jordan (tenor sax) and Dannie Richmond (drums). In 1975, it's Mingus, George Adams (tenor sax), Don Pullen (piano), Jack Walrath (trumpet) and, again, Richmond (drums).
The earlier set is of interest due to Dolphy's presence. Soon afterwards, in Berlin on 29 June 1964, he died. The band takes about ten minutes to get going on 16 April, and from that point in set opener "Hope so Eric" things begin cooking. Mingus might be the bandleader but no one is held back. Just after seven minutes into "Fables of Faubus", there's a four-minute piano passage where every player takes a back seat to Byard. After this solo, Byard riotously rides up and down the keyboard while Coles and Richmond take off. Dolphy was not the only player in the spotlight. This 1964 show is edgy, rollicking.
Even so, the liner notes say the newspaper Weser Kurier's review took issue with "Mingus's seeming lack of interest in toning down his performance to meet the audience's tastes." Die Welt concurred, saying "It's a shame that the artist neither respects or admires the audience." Oh dear. Poor audience.
When the soon-to-be castigated band arrived in Bremen in 1964, they were on a European tour which began at Amsterdam's Concertgebouw on 10 April. There, "Orange Was the Color of Her Dress, Then Blue Silk" and Duke Ellington's "Sophisticated Lady" were in the set. The tour ended in Stuttgart on 28 April, when Orange…" and "Sophisticated Lady" were also played. Both were absent in Bremen, where there must have been a revision of the set to take account of it being recorded for broadcast. (pictured left, from left: Charles Mingus, Eric Dolphy and Johnny Coles on stage, Bremen, 16 April 1964)
In July 1975, Mingus and co were back in Bremen for the first time since 1964. Again, the date was part of a European tour which also took in shows at jazz festivals in Italy, Norway, Sweden and Montreux in Switzerland. It was the band's second set of European dates in 1975. This time, what was on offer wasn't a disagreeable surprise. According to the liner notes, the 1975 reviews of the Bremen concert "remarked on the breadth of the ensemble's musical grasp and span of jazz knowledge, from traditional jazz to bebop to free music." Most of what was played had been recorded in late 1974 for the Changes One and Changes Two albums, both released after the second of 1975's European tours.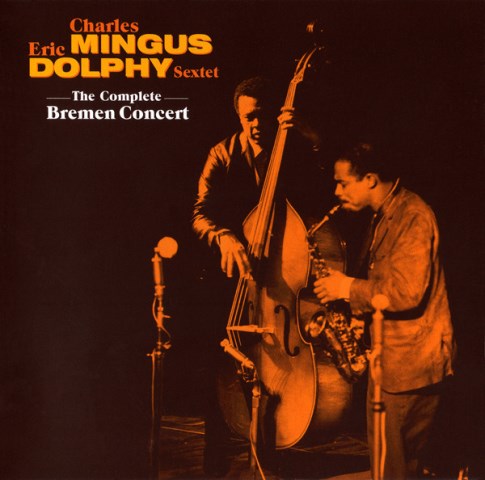 This is a less restless band than the 1964 aggregation, and the playing – though still flying – is not as tempestuous. It's possible to hear where the players are going: they are playing within a context which (unlike in 1964) had been defined. Nonetheless, the recording ends with an apparently off-the-cuff rendition of "Remember Rockefeller at Attica" and the surprisingly straightforward "Devil's Blues".
Both recordings will already at least be partially familiar to deep-digging Mingus fans. Parts of the 1964 concert were collected on the three Charles Mingus Orchestra With Eric Dolphy 1964 albums and Charles Mingus Sextet Live In Europe, while the full set was heard on 2010's grey-area Charles Mingus Eric Dolphy Sextet The Complete Bremen Concert (pictured above right). Other recordings from the same European tour, including further whole shows, have been released. The 1975 show was heard on the widely available Charles Mingus – Bremen 1975 bootleg.
Charles Mingus @ Bremen 1964 & 1975 though has flawless sound and is well packaged. More than a tidying up then, this is a positive addition to the always-increasing Mingus discography.
Next week: The First Generation – 35-CD box set of John Mayall

In 1964, the German newspaper 'Die Welt' said 'It's a shame that Mingus neither respects or admires the audience'
Share this article