Patti Smith, Roundhouse review – the priestess of punk has lost none of her power |

reviews, news & interviews
Patti Smith, Roundhouse review – the priestess of punk has lost none of her power
Patti Smith, Roundhouse review – the priestess of punk has lost none of her power
A potent combination of words and music makes for an unforgettable evening
Saturday, 26 January 2019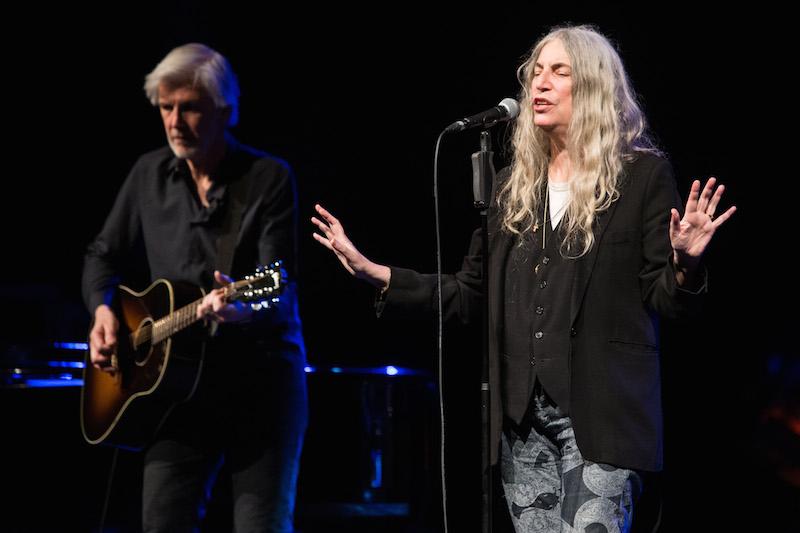 Commanding: Patti Smith
"Don't love me yet," replies Patti Smith to the first of tonight's many excitable shout-outs. "Who knows, after 20 minutes you might be gone!" An unlikely scenario, given that this show – part of the Roundhouse's annual "In the Round" series, which also features Ronnie Spector and Shirley Collins – sold out in nanoseconds and is packed with rapt fans.
It's billed as "An Evening of
Words
and
Music
", but if you've ever seen Patti Smith before you'll know that this combination is pretty much a given (I don't think I'll ever forget Smith's furious performance of Allen Ginsberg's "Footnote to Howl" in Hyde Park). But we are treated to more of the words part than usual tonight, with William Blake, Virginia Woolf and Smith's own writings woven seamlessly into a set that features everything from Easter's solemn "Ghost Dance" and the heartwrenching "Southern Cross" from
Gone Again
to covers of U2 and Midnight Oil.
From a raised vantage point at the front of the circle it's interesting to watch how Smith uses the stage. She's always moving, even when she pauses briefly to let bassist Tony Shanahan take the spotlight for a song. Waiting by the piano, Smith can't stay still so gets up and dances, darting between speakers and her band (Shanahan, drummer Seb Rochford and guitarist Jackson Smith, her son). She loves playing the Roundhouse, but her ceaseless energy is occasionally at odds with the layout – having everyone seated instead of surging forward, dancing and moving as one in a standing crowd is unusual for a Patti Smith show. It takes a little getting used to, for the audience as well as a slightly perplexed Smith.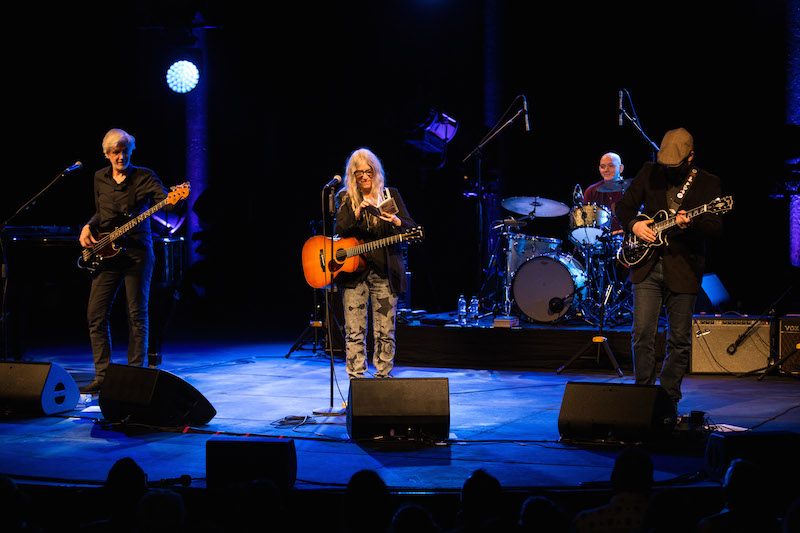 As ever, the adoring fans hang on Smith's every word, even cheering when she stumbles over a lyric – "You just like it when I fuck up!" she protests – and alternating shrieks of "Patti!" with reverent silences. Smith has this effect on people – hands stretched out, her powerful, rich voice, deepened over the years, intoning and imploring, she's like a venerable prophet, a speaker. But she's funny, too, gently poking fun at herself more than once (particularly at the start of a rambling, hilarious story about a quest to find the Delft grave of scientist Antonie van Leeuwenhoek).
"How did we get so damn old? I say to my joints, my iron-coloured hair," Smith reads from her memoir M Train. "Now I am older than my love, my departed friends…" It's one of several deeply moving moments. But while Smith may be in a reflective mood, she's still, thankfully, "refusing to surrender my pen." The pen that wrote the snarling "Pissing in a River", which gets the audience leaning forward, rocking in their seats. "It's something different," she says, "everyone sitting on their asses… Next time, we're taking out the fucking chairs!"
When she plays "Because the Night", everyone's on their feet – Smith insists – and it feels so good. And that energy carries on through to the encore, a typically rousing "People Have the Power", which follows an impassioned speech by Smith's daughter and collaborator, climate activist and musician Jesse Paris Smith (who also plays piano) on her Pathway to Paris organisation. We leave the Roundhouse – what a magical, special place it is – inspired, happy, energised and thankful. What a night.