Reissue CDs Weekly: Rainbow Ffolly |

reviews, news & interviews
Reissue CDs Weekly: Rainbow Ffolly
Reissue CDs Weekly: Rainbow Ffolly
Box set hung around the whimsical British Sixties pop gem 'Sallies Fforth'
The irrepressible Rainbow Ffolly ham it up in their period-specific finery
Learning that your band's demos are being issued as an album must be infuriating. Add to that the discovery that the deal to release the LP was made without your knowledge. Then, there was the further surprise that the record was to be released by Parlophone, The Beatles' label.
The complications were compounded by subsequently realising the release wasn't limited to the UK – inexplicably, the record was also issued in Venezuela
This is what happened to the unwitting High Wycombe quartet Rainbow Ffolly, whose sole album Sallies Fforth was issued in May 1968. Released in mono and stereo editions, it can't have sold well despite being promoted and properly distributed. Its rarity is attested to by first pressings fetching at least £150 but more typically £750 to £1200. Such prices are higher than a comparable period piece like the Five Day Week Straw People album but much less than Forever Amber's The Love Cycle. But those two were, respectively, on a small label and self-pressed so were more likely to have slipped through the pop-cultural cracks. In contrast, Sallies Fforth came out on a subsidiary of corporate behemoth EMI.
The rarity has fuelled a small Sallies Fforth industry. The album was first reissued on CD in 1998 and at least twice subsequently. There have been – counterfeit and legal – three vinyl re-editions. Now, the three-CD box set Spectromorphic Iridescence – The Complete Ffolly joins the throng. It must be the last word on Rainbow Ffolly, who issued just the one album and one single
Discs One and Two of Spectromorphic Iridescence collect the stereo and mono versions of Sallies Fforth. Each disc is supplemented by bonus tracks: alternate single versions, previously unissued demos and recordings made for hospital radio. The third disc is a reissue of the 2016 reunion album Ffollow Up! which is bulked out by tracks recorded at the time but not issued. The band's story is told in a 20-page booklet.
Setting aside the overkill Spectromorphic Iridescence represents, Sallies Fforth is wonderful. It is one of Britain's best examples of whimsical, psychedelic-influenced pop. Each track is linked by radio-style jingles and sound effects: a similar approach to December 1967's The Who Sell Out and Small Faces' Ogdens' Nut Gone Flake (which was issued a couple of weeks after Sallies Fforth). The album's song styles are diverse but capture a distinctive identity. It is as if The Bonzo Dog Doo-Dah Band were a straight, albeit still humour-laced, pop group which loved the zany side of The Beatles, The Beach Boys, Byrds, pirate radio's daftness and, to a small degree, The Zombies. But whatever its merits and despite its on-trend sleeve Sallies Fforth (pictured below left) attracted little attention contemporary to its release.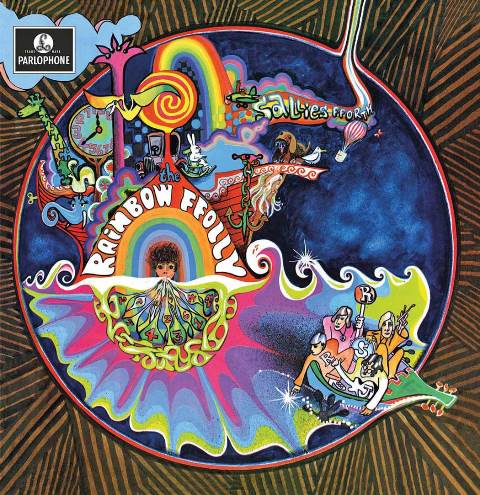 Irrespective of the minimal sales action, Rainbow Ffolly were active. They regularly recorded at a studio in Rickmansworth and it was through this connection they ended up on Parlophone. After Sallies Fforth was released, they often played London. EMI were on board, and promoted them with press ads and a special display for the album at Oxford Street's HMV shop. A marvellous single (a different mix of an album track) was also issued. The band were featured on Radio One's Saturday Club. They went to Germany in September 1968 to play Hamburg's Star Club. After that, there was a two-week residency at London's Playboy Club. But without sales, Rainbow Ffolly's lifespan was limited. They split in 1969.
The belated postscript is heard through Disc Three's rather forced and thin reunion album. However, the raw essence of prime-time Rainbow Ffolly at their most spontaneous is captured by the demos heard on Disc Two. Best of all is an irreverent "Lucy in the Sky With Diamonds" on which a conventional instrumental backing is overlain by bizarre, squeaky Chipmunks vocals. A straight version of "The Bells of Rhymney" attests to their assurance as a live band. It's clear Rainbow Ffolly could have done anything – at least musically – they fancied.
Yet they hit a buffer, swiftly became obscure and remained as such until the Eighties, when collectors began propagating their slim discography. While Spectromorphic Iridescence – The Complete Ffolly overeggs the Rainbow Ffolly pudding, its core constituents – the stereo version of Sallies Fforth, the single, the demos and its telling of the full story – make the case that this was a band which should have been widely heard. It didn't happen then, but it can now.
Next week: Kankyō Ongaku – Japanese ambient, environmental and new age music are put under the microscope
An irreverent version of 'Lucy in the Sky With Diamonds' features bizarre, squeaky Chipmunks vocals
Explore topics
Share this article