Reissue CDs Weekly: Tea & Symphony - The English Baroque Sound 1968-1974 |

reviews, news & interviews
Reissue CDs Weekly: Tea & Symphony - The English Baroque Sound 1968-1974
Reissue CDs Weekly: Tea & Symphony - The English Baroque Sound 1968-1974
Stylish, Saint Etienne-compiled digest of what else was going on when pop went glam, heavy and prog
The Honeybus: amongst the stars collected on 'Tea & Symphony - The English Baroque Sound 1968-1974'
When it was issued in May 1968, "Fading Yellow" attracted no attention. It couldn't have as it was the B-side of "Mr. Poem", Mike Batt's poor-selling debut single. The top side was good, very 1968 and along the lines of whimsical 45s like Donovan's "Jenifer Juniper" or Marty Wilde's "Abergavenny" but wasn't a hit.
Relegated to the flip, "Fading Yellow" was obviously considered the least commercial of the two songs.
However – as deep-digging collectors later discovered – "Fading Yellow" was the true treasure. Over three minutes 40 seconds Batt, who then worked as an A&R man at his label Liberty, fashioned a delicate, misty evocation of isolation; of a life where it was impossible to take part in what's going on in the wider world. Mike Batt had turned Miss Havisham into a Sixties pop song.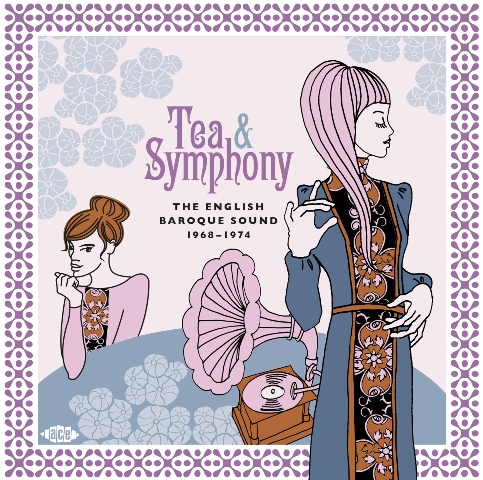 The afterlife of "Fading Yellow" formally began in 1995, when a grey area Swedish label issued the compilation album Fading Yellow. Batt's B-side was included. The collection's sub-title was "Timeless Pop-Sike & Other Delights". Then, in 2002, it was overhauled for CD (this version was released as a double album in 2012). Five years on from 2002, Mike Batt's gone-overground track cropped up a third time on Tea & Symphony – The English Baroque Sound 1967–1974, another CD comp. That one, though legit, barely hit the shops as the label it was on went under.
Now, Tea & Symphony – The English Baroque Sound 1968–1974 has arrived, and with a front cover image reconfiguring that of its 2007 predecessor. Once again, "Fading Yellow" is included. Saint Etienne's Bob Stanley, the compiler of both Tea & Symphony sets, has pointed out that the words "fading yellow" have become akin to an after-the-fact genre classification – like acid folk or freakbeat. What was in 1995 a strand of pop psychedelia ("Pop-Sike") has been given a life of its own.
In the new Tea & Symphony's liner notes (pictured left: its 2007 predecessor), Stanley says the style "made great use of string quartets, woodwind, and summer-into-autumn melancholy. This was a sound informed by the Zombies' Odessey And Oracle, the weighty chamber pop of the Bee Gees and Scott Walker, with a contemporary dash of Crosby, Stills & Nash harmony. The urtexts had all been Paul McCartney's: the bereft strings of 'Eleanor Rigby'; the buttoned-up, parlour arrangement of 'For No One'; 'Your Mother Should Know's' sepia nostalgia and insistent piano; the entire acoustic corner of The White Album. Just add harpsichord and a cor anglais to the mix, and there it was."
The new release's most well-known tracks are "I Can't Let Maggie Go" by The Honeybus and former Zombie Colin Blunstone's "Say You Don't Mind", each a rich example of this genus of British pop. Alongside them, the most familiar names are Bill Kenwright (the future football club chairman and theatre man), Nirvana, the post-Peter & Gordon Gordon Waller and Clifford T. Ward. Vigrass & Osborne's original version of "Forever Autumn", later a hit for Justin Hayward, is also heard as is, of course, "Fading Yellow". Matthew Bones, Erasmus Chorum, Sunchariot and Tandem are more obscure. None of the 22 tracks on this year's Tea & Symphony are clunkers. If a primer in this sound is needed, this is it. Even so, odd cuts stand apart.
"Mary Jane" is a 1972 B-side by a North London band named Erasmus Chorum. The sparse arrangement centres on swelling and swooning strings, moody Hammond organ, acoustic guitar and oddly fiddly drums. The melody is affectingly doleful. The lead voice is very strange: wobbly and pitched above than the singer's range. Like a very extreme version of Audience's Howard Werth. A deeply intense experience.
Gordon Waller's self-penned "The Seventh Hour" is less strange but also on its own path. The 1968 B-side of his third solo single is clearly influenced by Jimmy Webb's aural dramas, but lyrically is a very personal reflection on newly becoming a father. If it had been chosen as a plug side, perhaps its theme may have chimed with buyers? But like so many of these tracks, it was effectively buried.
Beyond rescuing lost gems, Tea & Symphony – The English Baroque Sound 1968–1974 is a coherent, consistent listen and sequenced with an ebb and flow irrespective of the familiarity or obscurity of what's collected. Four tracks are reprised from its 2007 predecessor (as are odd phrases in the liner notes) but it comes across as a fresh compilation. As such, it's a valuable reminder that hindsight may be needed before musical styles are identified.
Next week: the Hank Williams book and CD set Pictures From Life's Other Side – The Man and His Music in Rare Photos and Recordings
With 'Fading Yellow', Mike Batt turned Miss Havisham into a Sixties pop song
Share this article